One of the much-asked questions from potential customers about rowing machines is its footprint. Thus, it brings out the importance and popularity of compact rowing machines.
Don't let the compact size fool you!
Compact rowing machines provide those who are short of living spaces with the chance to enjoy the rowing pleasure at the comfort of home. There is no need to worry the rowing machines will hog too much space in your home.
In this review, I'll stay true to the meaning of compactness and include only the rowing machines that are true space savers.
Table of contents
Best compact rowing machine reviews
Workout programs on rowing machines
How to upgrade rowing experience
---
| Top picks | Rating |
| --- | --- |
| Waterrower Natural Rowing Machine | 4.8/5 |
| Xterra ERG600W water rowing machine | 4.7/5 |
WaterRower Natural Rowing Machine
The video here might give you a idea of such elegant rowing machine.
Rating: 4.8
Technical specifications
Assembled dimensions: 83.0″ x 22.0″ x 21.0″ (L x W x H)
Standing dimensions: 21.0″ x 22.0″ x 83.0″ (L x W x H)
Weight: 117 pounds [53 kg] (full water tank) / 73 pounds [33 kg] (empty water tank)
Maximum user weight: 250 pounds
Price: $1,000 – $1,499
Compactness & storage
It's really a compact rowing machine. When assembled, its dimension is 83.0″ x 22.0″ x 21.0″ (L x W x H).
After use, you can store it in an upright position. When stored, it's dimension is 21.0″ x 22.0″ x 83.0″ (L x W x H) and only takes the space of a chair.
Assembly
According to WaterRower, assembly should take no more than 30 minutes.
Assembly instructions are provided to help users assemble. There are also plenty of YouTube videos walking through the WaterRower assembly.
Build design & quality
As soon as you lay your eyes on the WaterRower, you'll fall in love with it.
It looks robust, well-constructed out of quality wood, exuding a sense of nature. The WaterRower Natural frame is built using solid Ash wood, sustainably sourced from the Appalachian mountain range. Stained in honey oak and finished with a light Danish oil, this sleek machine is the company's flagship offering.
Such delicate construction absorbs sound and vibration, making rowing smoother and quieter.
With a water flywheel, it mimics the feel of rowing in actual water.
Comfort
The molded seat has an ergonomic design and comes with extra padding to provide superior comfort while rowing.
A few users commented that this seat was the most comfortable they've experienced. So smooth in fact that many users don't realize how hard they have been working out until they get off the machine!
Aluminum-made, the handle is durable and light. Its tear-drop shape makes it easy to grip and also minimizes any development of wrist problems.
However, the footrests are where Waterrower gets mixed comments.
Some uses find the footrests are too straight and too close. If you have 'big' legs (muscular or otherwise) you may find your knees and thighs knocking together.
Resistance
As its name indicates, it uses water resistance.
It works your muscles with a flywheel spinning in water. Unlike other rowing machines you don't have the option to select the resistance level. The faster you row, the greater the resistance of the water – just like rowing on a lake.
Console
Monitor Specs
Data
Time, Distance, Intensity, SPM, Heart Rate Monitor, etc.
Bluetooth
√ with ComModule
Heart rate feature
√ Option is available when optional heart rate monitor is used
Preset programs
√
Games
×
Software/Apps
WaterRower Connect App, CITYROW Go App, Coxswain App, and SmartRow App, etc.
PC connectivity
√
Backlit
×
This rowing machine is more than just a pretty face!
Another feature is its easy-to-read Series 4 (S4) monitor.
Series 4 performance monitor tracks workout's watt/intensity, stroke rate, heart rate, and more.
Additionally, WaterRower Natural provides six preset workouts.You can set simple time/distance goals using the workout button. You could also set distance interval and target mode workouts to spice up your workouts a bit.
On top of this, S4 features PC connectivity and you can turn S4 Performance Monitor into a Bluetooth enabled device with ComModule.
There are several commercially available software products for the WaterRower, including WaterRower Connect App, CITYROW Go App, Coxswain App, and SmartRow App. With apps, you can store training data, race online against others, or try better times from previous training sessions.
Warranty
It provides three-year-warranty on all components, excluding touchscreen electronics, electronics accessories and rechargeable batteries, and five-year-warranty on the structural frame by registering the Product within the first year of purchase.
Verdict
Waterrower rowing machine is pleasing to the eyes and the ears and it works up to 85% of your muscle. Overall this piece of beautifully tuned, hand-crafted, water-resistance workout equipment sits at the high end of the water rowing machine spectrum.
| Pros | Cons |
| --- | --- |
| The whoosh sound is soothing | The console/ monitor is not easy to reach |
| Very solid and well-made construction | The foot rests may not be comfortable if you have big legs |
| Natural wood looks elegant | Lacks backlit |
| Monitor can be plugged into your PC for additional features | |
| Fairly accurate monitor | |
| Easy to store upright | |
Xterra ERG600W Compact Water Rowing Machine
Rating: 4.7
Technical specifications
Assembled Dimensions:80.7″ x 22″ x 33″ (L x W x H)
Standing dimensions:33″ x 22″ x 80.7″(L x W x H)
Weight: 83 lbs
Maximum user weight: 300 LBS
Price: $599~$899
Compactness & storage
In use, its assembled dimension is 80.7″ x 22″ x 33″ (L x W x H).
After finishing exercise, you can easily store it upright and wheel it around. All you have to do is slide the seat to the front of the rail and lift from the rear support.In upright position,the dimension of this compact rowing machine is 33″ x 22″ x 80.7″.
Build design & quality
Featuring a solid steel frame and a dual aluminum rail system, the ERG600W is a sturdy rowing machine. It is capable of supporting a user of up to 300 lbs.
One good feature is that its seat rail is 13.5″ off the floor which makes getting on and off the rowing machine a bit easier.
Another feature is its footrests with sliding footpads. This is a design of great importance allowing rowers to adjust foot placement according to their needs. For example, for those who suffer knee pains, raising footpads up a little bit might a good idea. This will relieve strain on the Achilles tendon.
However, one issue is the durability and functionality of the footrests. On some models (seems like older models), the "heel cup" portion of the footrest would break when users' shoes get caught on the plastic and when users raise their heel while rowing.
Comfort
With the large, contoured seat and the padded ergonomic handle, you can enjoy a smooth and comfortable rowing. Overall, the rowing position is good with a high seat (good for your knees), a comfortable seat, good width and well-padded handle, and long, wide footrests with a secure straps.
Resistance
Resistance is variable and adjusted by how fast you pull the handle.
The water tank has 6 different lines to measure the height of the water. The higher you fill the tank, the more difficult it feels to row. Technically, it doesn't change the 'resistance' but it does change the feeling of the rowing stroke.
Console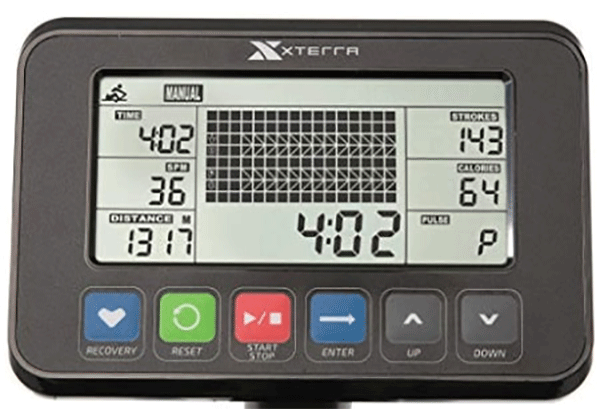 Monitor Specs
Data
Total Time, Time/500M, Calories, Distance, Strokes, Strokes/Min (SPM), Room Temp, Clock, Pulse (only with HRM)
Bluetooth
×
Heart rate feature
√ Only with used with a 5.3 KHz chest strap heart rate monitor, which is not included
Preset programs
√ 5 programmable training modes
Games
×
Software/Apps
×
PC connectivity
×
Backlit
×

The Xterra Erg600W comes with a large 5.5″ LCD monitor.
The monitor tracks Total Time, Time/500M, Calories, Distance, Strokes, Strokes/Min (SPM), Room Temp, Clock, Pulse (only with HRM). The monitor is heart rate compatible – but note, it displays your pulse but has no heart rate training programs, and the chest strap is not included.
Even though this is a budget-friendly water rower, it still has 5 programmable training modes: Race Against Computer, Time Countdown, Distance Countdown, Strokes Countdown, Calories Countdown. With such modes, you can customize and diversify your training without app subscription costs.
However,this monitor doesn't allow you to connect the console to third-party apps for interactive training or workout data transfer.
Warranty
It includes 5 years on the frame, 2 years on parts, and 90 days on labor.
Verdict
| Pros | Cons |
| --- | --- |
| Good value | Heart rate strap not included |
| One tough machine – can support users up to 300 lbs | Basic console with no PC connectivity and no preset heart rate programs |
| Good monitor with some useful features – including heart rate monitor | Poor footrest quality & design |
| Good warranty for low-cost rowing machine | |
Matrix Magnetic Rowing Machine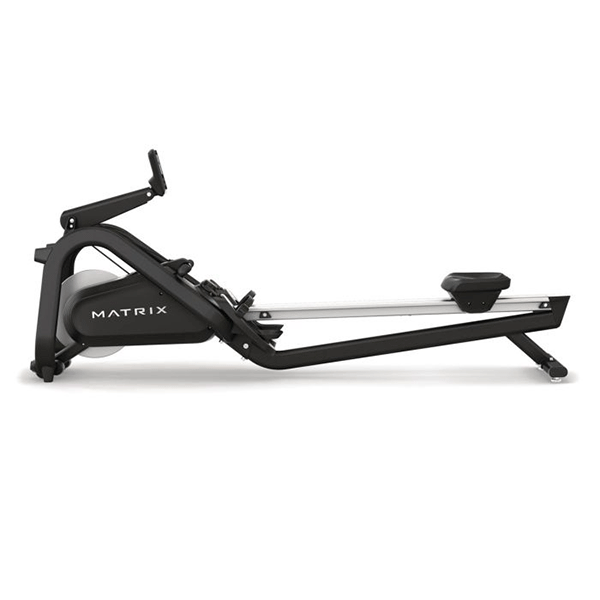 Rating: 4.5
Technical specifications
Assembled dimensions: 87.6″ x 21.5″ x 38″ (L x W x H)
Storing dimensions:
Weight:
Maximum user weight:
Price:
Compactness & storage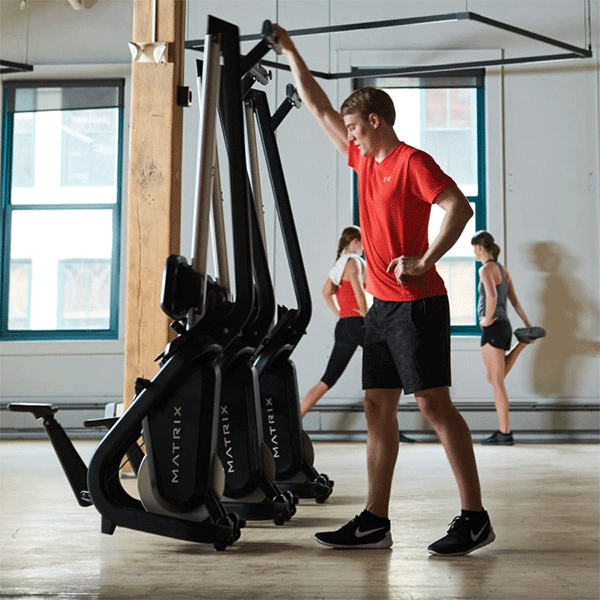 Matrix is a compact rowing machine as it can be stored vertically. There are 2 built-in caster wheels at the front of the rower, which allows users to roll around easily into place.
Assembly
Assembling this rowing machine requires 6 different steps and one person can complete the entire assembly by themselves. It should take around 45 minutes to complete.
One annoying point is that this rowing machine doesn't offer you the tools required.
Build design & quality
The Matrix Rower is often used in fitness centers so you know it can withstand a lot of abuse.
The seat rail is made from aluminum but it has stainless steel strips to add extra strength for high volume usage.
One feature that worth mentioning is that the space between footrests are wider than that on Concept 2. Because of such design, users who have a big belly can also find it easy to perform a rowing form.
Another important feature is that it features fixed footrests with sliding footpads. For beginners and professional rowers, fixed footrests ensure a correct feet angle and good rowing form. However, it may be an issue for those who have flexibility issues.
Sliding footpads allow Matrix to accommodate feet of different sizes. Such design also allow users to better meet their needs.
For example, for those who suffer knee pains, raising footpads up a little bit might a good idea. This will relieve strain on the Achilles tendon.
However, here comes one downside. Its handlebar is attached to the housing by a string, which cannot hold the handlebar properly in place. The handlebar may shift from left to right.
Comfort
Compared with Concept 2, Matrix features a slightly cushioned seat which is built for comfort (more than performance).
One key feature of the footrests is that they are slightly wider than other rowing machines. This is a good design especially for bigger users, preventing their thighs from rubbing together.
Users can also comfortably hold an extra-long ergo grip handle, enjoy pleasant rowing workout.
Resistance
As a magentic rowing machine, its resistance is adjusted by the dial.
On Matrix, resistance is hard at the catch stage, but it decreases and becomes lighter as users accelerate to the finish. Especially at the highest resistance setting, users may find it quite difficult to start at the catch stage. At the recovery stage, users may feel sort of being pulled back by the pully strap, which may encourage bad rowing form.
On the other hand, the resistance on Concept 2 is consistent throughout the rowing stage.
That said, Matrix is good for those who need intensive workout.
Monitor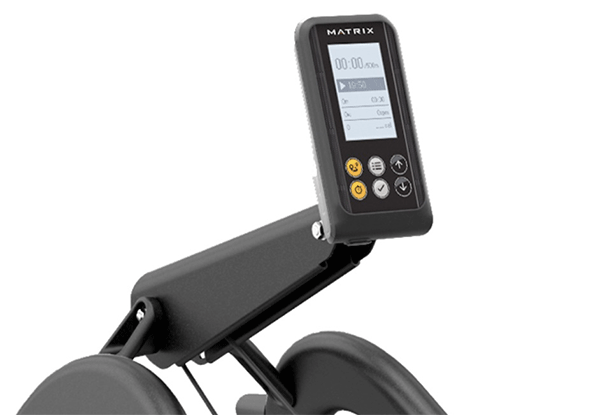 This rower comes equipped with a extra-large backlit LCD Display (3.5" x 2.5") that tracks the following data:Time, Distance, SPM (strokes per minute), Stroke, Watts, Heart Rate, Calories, 500 meter split.
The monitor has a telemetric receiver, which can sync to a heart rate monitor such as the Polar H10 Heart Rate Monitor.
It features several programs: Manual, Interval, Pace, Target Training, Sprint 8, Target HR, Tests – 500 m, 2000 m, and Max HR
One unique feature is that the monitor is powered by rower's rowing workout.
However, one main downside is that it also doesn't have pre-programmed workouts. Nor does itprovide all the features on rowing monitors like the Concept2 PM5. For a highly priced rowing machines, this is something that really needs improvement.
Warranty
Frame: 7-Years
Parts: 3-Years
Labor: 3-Years
---
Now, you might wonder why in this article, there are only three rowing machines. And why there isn't any foldable rowing machine?
First, I wanna talk more about foldable rowing machines.
Some rowing machines, such as Nordictrack, can be folded after workout. When folded, the space it takes is indeed reduced by half. However, they still need more space and is not as compact as those that can stored vertically.
And as for why only three rowing machines are listed here, well, that's because though some rowing machines are compact, they do have some common flaws and deal-breakers. Being only good in compactness is not enough to be included in the list of best compact rowing machines.
It's better to check the article of rowing machine buyer beware before jumping onto your rowing journey.
---
Workout programs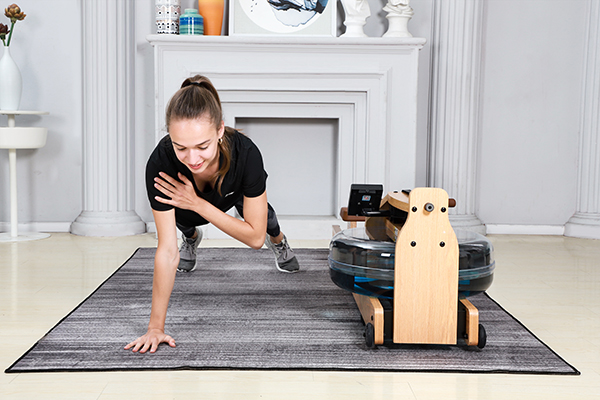 Rowing machine is a lifelone investment. Reading reviews and buying one rowing machine is only one step. More important step is to do workouts for your preferences and specific goals.
If you wanna lose weight, the article of guide of weight loss is helpful.
How about getting beautiful muscles? The article of workouts to tone muscles on rowing machines is what you need.
Upgrade rowing experience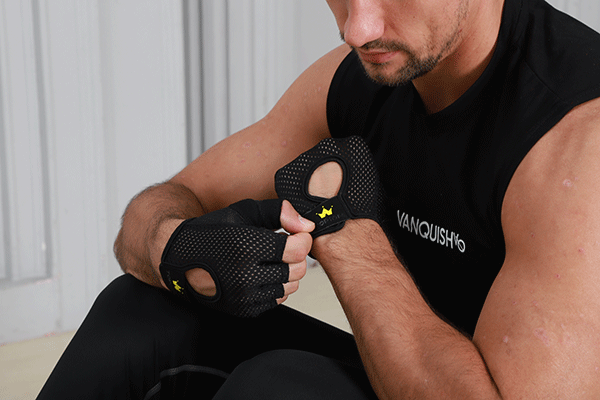 Rowing gloves can certainly help you from getting blisters, upgraing rowing workout to a more comfortable level.
Wanna bring picturesque lake scene to your home? VR rowing of Holofit provides total immersion in exceptional environments and a unique experience where wonder, change of scenery do not leave any place to boredom.
Do you know you can make a difference just by rowing at home? Rowing for charity is now on the swing.