Thank you for visiting and shopping at Topiom. Following are the terms and conditions that constitute our Shipping Policy.
I. Shipment Processing Time
Shipping times on machines, accessories, and other parts are outlined within the shopping cart and vary according to demand. If there will be a significant delay in shipment of your order, we will contact you via email or telephone.
II. Shipping Rates & Delivery Estimates
| Country | Shipping Method | Estimated Delivery Time | Shipping Rates |
| --- | --- | --- | --- |
| UK | Standard Shipping | 3~7 business days | Free shipping |
Given sufficient inventory, typically we will ship the product within 48 hours.
Please allow additional days for your delivery to take place when there are Bank Holidays, extreme/uncontrollable circumstances i.e. extreme weather conditions etc.
Given that we are working with third party carriers to ship orders, the delivery regions are subject to our shipping carriers. Please note that the shipping and delivery service is not available in JE1-5 postcode areas.
III. Shipping Dimensions
Topiom rowing machines are shipped out in two packages. One is the tank-assembly box and another is the rail box containing 2 rails. Shipping Dimensions are as follows:
Tank-assembly box
1 Box as shown 22.6kg or 49.8lbs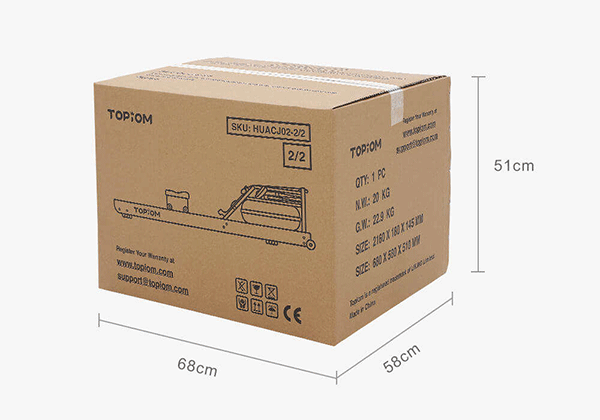 Rail box
1 Box per machine as shown containing 2 rails – ca. 11kg, 24.3 lbs each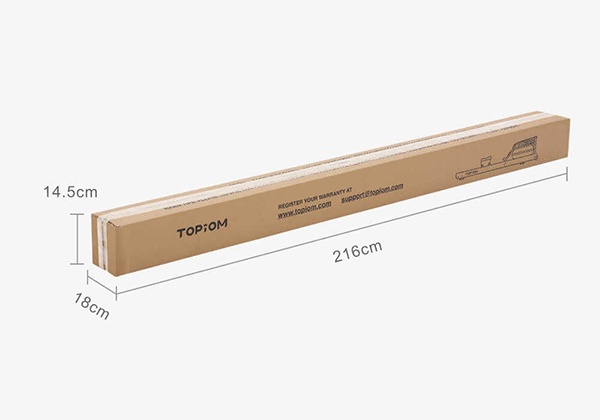 IV. Shipment Confirmation
Your order will be delivered by the designated shipping carrier, i.e., UPS, DPD or XDP.
Corresponding UPS, DPD or XDP tracking numbers will be generated for each package. Once your order has been shipped, you will receive an email notification includes the tracking numbers of your order.
Please note that once an order has been shipped, we are unable to cancel or make changes to the order. Normally the two packages of rowing machine will not be delivered at the same time due to different logistics channels, the 1st package might be arrived 1~3 days earlier than the 2nd package.
V. Delivery Time & Service Details
In view of the challenging and unprecedented times that Covid-19 has presented, lockdowns or other access control measuries are taken in some apartments or communities which will significantly impact the delivery service. You are strongly advised to track the shipping status and get the real-time progress of your delivery by simply clicking the track button on your order details page.
UPS
Your parcel will be delivered 2-3 business days after courier pickup. UPS provides a typically deliver between 9:00 a.m. and 7:00 p.m.
DPD
Your parcel will be delivered in 2 business days within UK with 1 hour to final 15 minutes slots.
XDP
Your parcel will be delivered in 2-3 business days for zone A to C on XDP's zone map, 3-5 business days to Scottish offshore islands,Southern Ireland and the channel Islands(zone D to G) with 2 hour delivery slots.
VI. Restricted Access
Although our carriers are equipped with detailed road maps of every area of the UK mainland, is there any further information that would make your home/business easier to locate?
Due to the overall size of some delivery vehicles, Topiom or any carriers delivering on behalf of us must be informed of any restrictions regarding access for the delivery vehicle. This includes, though not limited to, steps (including those required to climb to gain access to the property entrance), trees, shrubs, steeply inclined driveways, narrow lanes, tight bends or any other restrictions that may make it difficult for the delivering vehicle to gain access to the point of delivery.
Topiom will not accept any claims for compensation arising from non/failed/refused delivery of any item where the carriers or Topiom were not made aware of any points regarding access restrictions. In the event that the item is refused/cancelled due to these restrictions, you are liable for all carriage charges and a 15% re-stocking fee will be applied.
We would therefore recommend that you ensure the product will fit and can be transported to its ground floor point of installation easily. If you need to confirm the total 'boxed' dimensions of a product please check the shipping dimensions as stated hereinabove prior to placing your order.
VII. Delivery Terms
Please note: Due to Health and Safety regulations upstairs deliveries are at the carriers discretion and are not guaranteed. This includes, but not limited to, steps that are immediately outside the premises, which are required to climb in order to gain access to the property.
VIII. Installation
Topiom rowing machines are shipped partially disassembled and require some easy installation. The installation should not take longer than 30 minutes with the help of the assembly instructions.
IX. Additional Information
The delivery should be checked immediately upon receipt for completeness and any possible transportation damage, so that a quick remedy can be provided as soon as possible.
Damage in Transit
If the product has been damaged we will require you to email us at [email protected] at the day of receipt of order, with a description of the damage and photos attached to ensure we can handle it for you in a faster and more efficient manner.
Late Deliveries
If your order has not arrived, feel free to contact us at [email protected] and we will deal with it as soon as pIossible.