U.S. Rowing: An Overview
About Jupiter Water Rowing Machine
Jupiter Water Rowing Machine – the ultimate rowing machine that embodies excellence in every aspect. With its top-notch features, innovative improvements, and unique specifications, it's the perfect choice for anyone looking to take their workout to the next level.
Our Journey in Developing the Ultimate Rowing Machine
Our journey began when one of our founders experienced the joys of rowing. From that moment, we aimed to create a machine that truly delivered. We traveled globally, found the finest materials and craftsmen, experimented with various designs, and refined every detail to achieve it. As a result, we have developed a sleek, high-performance product that we offer today.
Key Features of Our Rowing Machine for Sale
Solid Wood Frame for Durability and Longevity
The Jupiter Water Rowing Machine comes with a solid wood frame that has been crafted to ensure maximum durability and longevity. This not only guarantees long-lasting use but also adds to the machine's aesthetic appeal, making it a great addition to any workout space.
Third-Generation Design for Smooth and Accurate Performance
The Jupiter Water Rowing Machine's second-generation design offers smooth and accurate performance. Its electronic meter is precise, and the transparent water tank ensures consistent resistance. The ergonomic seat provides comfort during extended workouts.
Aluminum Slide Rail for Noiseless and Wear-Resistant Performance
The Jupiter Water Rowing Machine features a wear-resistant and noiseless aluminum slide rail that offers a smooth gliding motion with each stroke. This feature not only provides an exceptional user experience but also ensures that the machine remains functional and durable for a long period.
Innovative Improvements of the Jupiter WaterRower
The Jupiter Water Rowing Machine stands out not only for its superior features, such as the solid wood frame, accurate electronic meter, transparent water tank, and noiseless aluminum slide rail. Additionally, this machine boasts several innovative improvements, setting it apart from others on the market. From an upgraded handle surface to a 2° incline slide rail, the Jupiter Water Rowing Machine takes your workout to the next level. Experience maximum comfort and better performance with our carefully designed improvements for a more enjoyable workout.
Upgraded Handle Surface with Leather Hand-Stitching
One of the key improvements to the Jupiter Water Rowing Machine is the upgraded handle surface with leather hand-stitching. Not only does this design feature enhance comfort, but it also minimizes hand abrasion. Consequently, it provides a comfortable and secure grip, which is essential for maintaining proper form and technique during your workout. With this upgraded handle surface, you can be sure to have a comfortable and enjoyable rowing experience.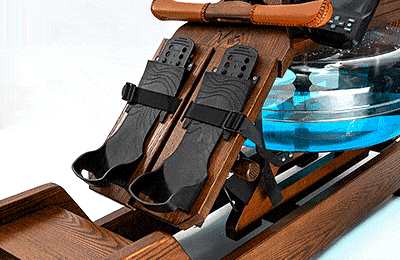 Enhanced Grip for Easy Maneuverability
Another innovative improvement is the enhanced grip at the end of the slide, making the Jupiter Water Rowing Machine incredibly easy to maneuver. This feature allows for smooth, efficient strokes, minimizing any jarring or jerking movements that can cause discomfort or even injury. With this feature, users can maintain a proper rowing posture and achieve a seamless rowing experience.
2° Incline on Slide Rail
The Jupiter Water Rowing Machine has also been designed with a 2° incline on the slide rail to minimize knee injuries during the return stroke. This incline ensures that your knees stay in a safe position and prevents any unnecessary strain or discomfort. With this feature, you can ensure your safety and avoid any potential injuries that can hinder your workout progress.
Increased Size and Volume for Better Value
Experience a more comfortable workout with our upgraded Jupiter Water Rowing Machine, now with increased size and volume for taller users. The larger wood volume also adds to the machine's overall durability, ensuring that it will last for years to come. The adjustable footrest width and angle make it possible to accommodate various body types, ensuring a comfortable and effective workout. The Jupiter Water Rowing Machine is designed to cater to users of all body types and sizes, ensuring ultimate comfort and a pleasant workout experience with its range of features.
Jupiter WaterRower Specifications
When it comes to purchasing a rowing machine, it's essential to know what you're looking for. At Topiom, we believe in providing our customers with the highest quality products possible, which is why we've designed the Jupiter Water Rowing Machine with several key features and specifications.
Dimensions and Weight
The Jupiter Water Rowing Machine boasts an impressive 214 x 570 x 62 cm size, making it a perfect fit for any home gym. Weighing in at 154 lbs, this machine is easy to maneuver and store when not in use. The compact size of this machine makes it ideal for small spaces, while still providing a comfortable and effective workout experience.
Resistance Mechanism and Color
The Jupiter Water Rowing Machine uses water resistance to provide a smooth and realistic rowing experience. The transparent round water tank allows users to see the water levels and adjust the resistance accordingly. The sleek black walnut color of the machine's frame provides a sophisticated and modern look that will fit in with any home decor.
Max User Weight and Connectivity
The Jupiter Water Rowing Machine accommodates users up to 350 lbs, suitable for all sizes and fitness levels. It also offers Bluetooth connectivity for tracking progress and connecting with other fitness apps.
Frame Material and Design
The Jupiter Water Rowing Machine boasts a solid wood frame, ensuring durability and longevity. This premium machine is built to last with daily use, ensuring reliable performance for years. The second-generation design of Jupiter features a smooth rotation, an accurate electronic meter, and a comfortable ergonomic seat. The aluminum slide rail is wear-resistant and noiseless, providing users with a smooth and quiet workout experience.
Pre-Sale Event: Don't Miss Out!
Are you ready to take your fitness journey to the next level? If so, you won't want to miss out on our upcoming Pre-Sale Event featuring the 3.0 Optimized Version of the Jupiter Water Rowing Machine.
Get the latest rowing technology at our event, perfect for all fitness levels. With our limited-time offer, you can experience the durability, longevity, and innovative features of Jupiter at an unbeatable price.
Jupiter accommodates all body types, making it a must-have for fitness enthusiasts. Its solid wood frame, smooth and noiseless aluminum slide rail, and transparent round water tank provide a premium experience that is both comfortable and effective.
Elevate your workout routine with Jupiter Water Rowing Machine 3.0!