3.0 Optimised Version-Jupiter
Embark on a journey of excellence and physical well-being with Topiom's high-performance rowing machines, crafted with the finest materials and expert craftsmanship.
Whether you're a beginner or a seasoned pro, our rowing machine is perfect for ALL fitness levels.
Comfortable seat : The seat cushion is raised to 420mm,it is easy for movement while using.

Lumbar support : The flexible and soft backrest and strap design reduce the impact of the waist.

Easy to store and move : Advantageous handle and smooth wheel desighed for household storage

Sloping trajectory : the 2 degree rail angle reduces impact on the knee and protects the knee from force bearing.
JUPITER
THE THIRD GENERATION
Why you should own a Topiom 3rd generation water rowing machine?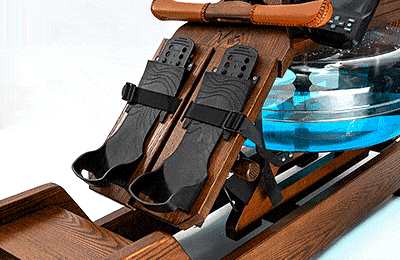 Product of Nature
The wooden body, combined with the water resistance mechanism, creates the perfect harmony with nature, delivering an unparalleled rowing experience that mimics the sensation of rowing on water. This exceptional combination provides an aesthetically pleasing design that blends seamlessly into any workout space, while also delivering a unique connection to nature.
Adujustable Pedals
The width and angle of the pedals can be adjusted freely, allowing for a more comfortable and effective workout experience that caters to different body types and personal preferences. This feature not only enhances the user's comfort and safety, but also maximizes the machine's efficiency and effectiveness.
Equipped With A
Bluetooth

Monitor

The Large LCD Console Displays Time, Distance, Strokes Per Minute, Calories Per Hour To Keep You Motivated And Reach Your Fitness Goals. You Can Also Download The 'FitShow' App and 'KINOMAP' App (IOS Or Android) Onto Your Smart Device. With It You Can Record And Track Your Data, Take Part In Competitions And Interact With Your Friends.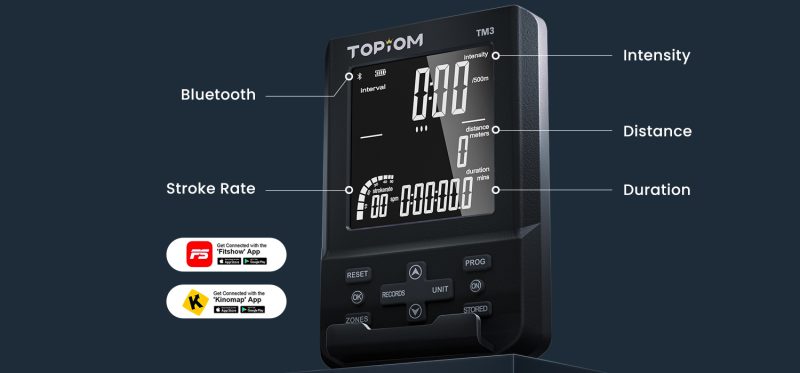 Get Accessories & Parts Easily
We Have Warehouses In The US, UK And Germany, So That You Get Fast Delivery In Days Instead Of Weeks Or Months
We release new parts & accessory each month . 

Protective cover, steel/wooden stand, mat, gloves, monitor, water purification tablet, footboard, footpads and more are available now.

Our dedicated team focus on upgrading the performance of all our equipment to enhance the customer experience.
"After analyzing thousands of reviews both on Amazon & Trustpilot, we found a common scenario. What people complain about the most is not the rowing machine itself, but their poor experience getting replacement parts.
We make it easy for you to replace any broken parts, and it won't take weeks or months for you to get the replacement.
At TOPIOM you just need to email us a request for the defective part, you can expect to receive them quickly."
Designed For Home Gym
Our Rowing Machines Are Functional Fitness Furniture, Designed Not To Be Hidden Away Like Other Unsightly Gym Equipment, But To Look At Home In Your Living Room.
Product's Weight: 154 Pounds;
Dimensions: 214 L x 57 W x 62 H (cm);
Maximum User Height : 38″ / 97cm inseam ,
Maximum User Weight : 400lbs / 180kg.
Customers'Reviews
Reviews Shown Are Real Experiences From Paying Customers Of TOPIOM
What do I do if there is a problem with my rowing machine?
In the event you may have a problem with the functioning of your Topiom rower, You can contact our Customer Service at support@topiom.com
What maintenance is required?
The Topiom rower has been designed to require little maintenance. The only regular maintenance is to keep an eye on the clarity of water in the tank. Purification tablets are recommended to be added every 3-6 months. Purification tablets are supplied on our website. Unlike other rowing machines, the Topiom rower has no cogs and chains and so no oiling is required.
Is there a lot of assembly involved?
Assembly requires about 30 minutes of joining a few main components together. informative videos can be found here. Once assembled, water will need to be added to the tank. This can be done by electric pump , refer to the manuals for water level recommendations. Be careful not to overfill the tank.
How does delivery work?
Assuming that your Topiom rowing machine is in stock, we can usually deliver within 7 days. If your rowing machine is purchased on pre-order we will be in touch when your rowing machine is ready to ship. To prevent damage during transit, as standard the Topiom rowing machine is delivered partially assembled in two boxes. The boxes are lightweight and can be handled by one person. A small amount of self-assembly is required, comprehensive instruction are provided and assembly should take no more than 30 minutes.
How do I keep the water clean?
Purification tablets are recommended to be added every 3-6 months. Purification tablets can be ordered directly from our website.
How do I change the resistance ?
Like rowing in a boat, the resistance on the Topiom rowing machine is dictated by how hard you work. Simply put, the hard you pull the greater the resistance. The Topiom's unique WaterFlywheel does not apply resistance to you, you apply work to it; you are the engine. By the "rule of cubes", the amount of work you apply dictates the speed at which you row.
What is the warranty?
If you buy Topiom rowing machine directly from www.topiom.com, then 3-year parts, 5 year frame warranty will be automatically added to your account, if you buy Topiom rowing machine from other channels, you are only eligiable for 1-year parts, 2 year frame warranty.
What are the dimensions of Topiom rowing machine?
Height : 51cm, Length : 210cm, Width : 56cm.
What are the weight/height limitations?
Maximum User Height : 38″ / 97cm inseam , Maximum User Weight : 397lbs / 180kg.
How does the rowing machine come shipped?
Topiom rowing machines are shipped partially disassembled in two boxes for protection and require some basic assembly.
100% Risk Free, 14 days free return
Please note that the 14-day free return means that you do not have to bear any return shipping or other hidden costs only if it's based on product quality. Start your shopping experience now!
Shopping with 100% Risk Free!
Less than 7 days FREE shipping time!
14 days free return with no costs only if it's based on product quality!
3 years components, 5 years frame warranty!
Start Your Full Body Workout And Improve Your Overall Health NOW !