The best guide you need before buying a rowing machine
Make sure you've read this guide before buying a rowing machine!
A rowing machine can be a terrific investment that fits perfectly to your needs – or a complete waste of money because of the dissatisfying experience.
With tons of brands and models cramming the market, rowing machines covering a wide range of price, size and mechanism in which they work.
It's understandably confusing when you're considering buying a rowing machine. This is why we went ahead and created this guide.
Whether you are just starting your research or a serious rower, our expert rowing machine buying guide lists everything you need to know and help relieve your confusion.
This guide will help you sort through what's the right decision to make and what are the things you should consider when you're going to make that decision.
#An Introduction To Different Types Of Rowing Resistance Mechanism
Why Resistance Type Matters?
Rowing machines have four different resistance types. Air, hydraulic-piston, magnetic, and water.
Each resistance type offers a distinct rowing experience for the user and typically has a list of unique features connected to them.
Knowing which type you prefer will help you narrow down your search drastically.
1.Hydraulic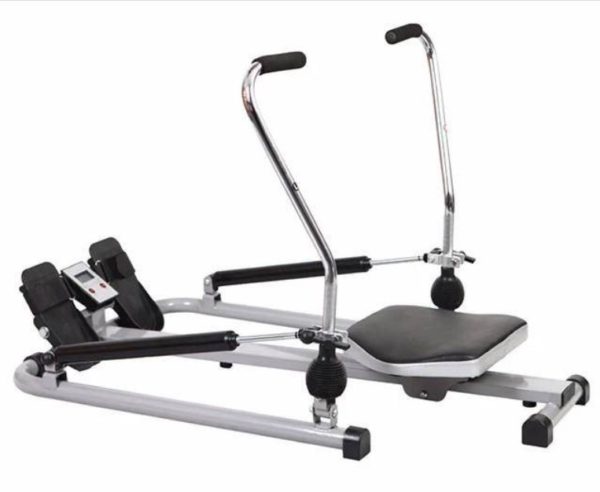 The hydraulic resistance rowers are typically the cheapest entry-level rowing machines and are usually small, compact machines that have a hydraulic cylinder underneath the sliding rail.
Its resistance is based around an oil-filled cylinder that can be fixed or have an adjustable valve that increases or decreases the hydraulic resistance, enabling the user to select the workout intensity they require. When you pull against the fluid or air compressed inside the pistons, you get resistance.
Unfortunately, they don't give the flowing and smooth feel of flywheel rowers.
In fact, they differ from air, magnetic and water rowers because the rowing machine technique doesn't allow you to pull in a straight line.
The majority of hydraulic piston based rowers require you to be placed in an exercise position that does not allow you to perform a natural rowing motion.
Because of this, you are unable to naturally synchronize your arm and leg movements together.
A view prevails among the world is that the quality comes from price – although hydraulic-based indoor rowers are low-cost usually they are not as durable as other types of rowers.
Advantages
Many of them are foldable and easier to store.
Quieter than air resistance rower.
Cheapest price.
Disadvantages
Require regular maintenance which can turn out to be costly.
The resistance level changes as the fluid inside heat up.
Don't provide a smooth rowing action.
Doesn't mimic authentic rowing on water.
Not ideal for taller user since its compact instruction.
2.Magnetic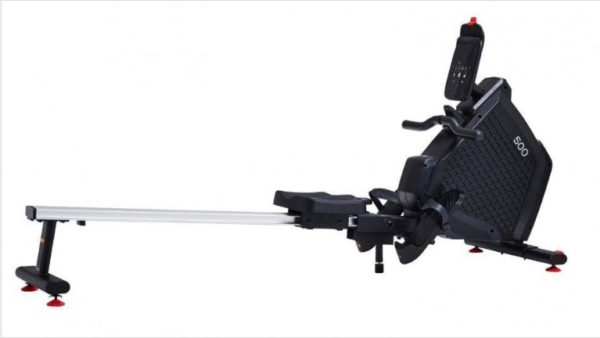 The magnetic resistance rowing machines are amongst the cheapest in the market.
They provide the benefit of reduced noise by using a magnetic mechanical brake and flywheel to control the level of resistance.
Unlike air or water resistance rowers that provide more resistance as the flywheel is spun faster, magnetic resistance is constant and requires an adequately weighted and balanced flywheel to maintain a smooth, consistent motion.
Advantages
Almost silent in operation.
Adjustable resistance levels.
Require little maintenance.
Usually smaller than water or air rowers.
Disadvantages
They don't replicate the action of rowing on water.
Resistance is sometimes less than what is found on air or water.
3.Water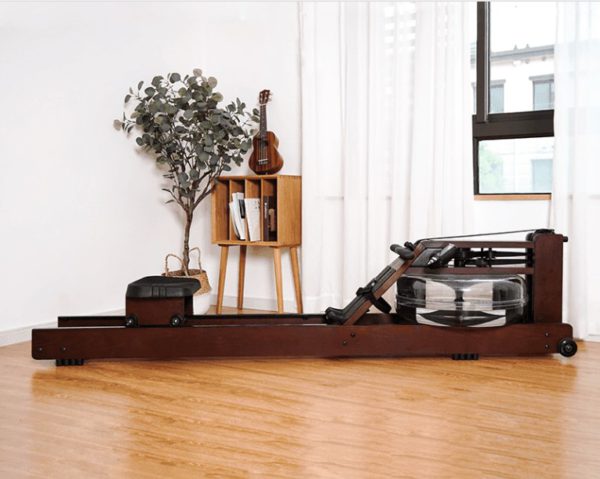 This kind of rowing machine is the most proficient and result-inducing rower on the market.
They work using paddles spin that are suspended inside an enclosed tank for resistance and provide lifelike rowing motion and variable resistance that mimics a boat in the water over your workout.
Similar to air resistance rowers, the resistance level will be determined by your pace and stroke intensity.
One major difference, though, is that water rowers are much quieter than the air type.
Usually, these rowers are beautiful wooden pieces and design worked. They are devices often bought for use at home for 4 reasons: aesthetics, their silence, their real experience and maintenance close to zero.
Advantages
Quiet in operation.
Consistent and smooth resistance throughout the stroke cycle.
Requires very little maintenance.
Have the ' whoosh' sound of water as the flywheel spins in the tank, make people feel natural.
Disadvantages
Larger than other types of rowers.
Expensive.
Heavy weights due to the water tank.
4.Air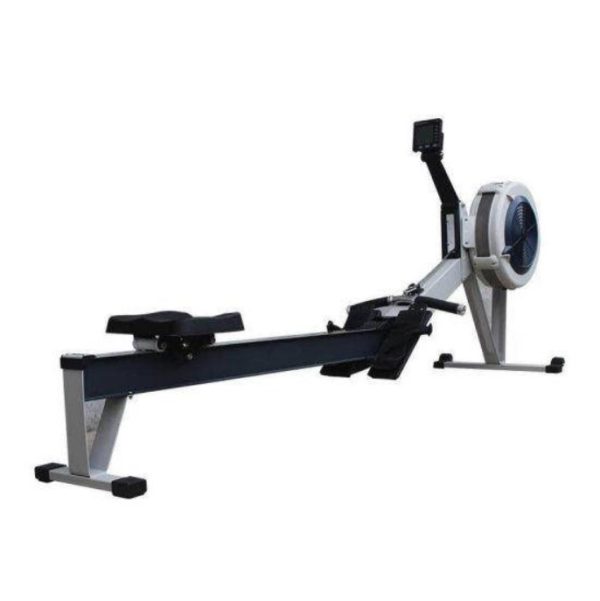 This is the most common resistance type in gyms.
Between the blades, unlike the fluid resistance mechanism, it doesn't have the medium to provide resistance before you activate the flywheel.
The resistance only occurs when you complete the first stroke to get the flywheel spinning and cause the airflow, which requires you to speed up as fast as possible to meet the resistance level at the beginning.
Higher intensity implies more resistance. The resistance level will automatically be adjusted to your pace and stroke intensity.
For some novices, it results in less effort – they won't have the good condition of the resistance level because they just pull the handlebar at ease. This will not be going to exercise the body well.
The resistance is created by fan blades and offers you a smooth stroke. Just like a drum fan, it make a fair amount of noise when rotating, if you're on the top floor it might irritate the tenants underneath you.
To have a comfortable exercise experience, it requires some extra space around the flywheel house so it won't blow directly against the wall.
Advantages
They offer a wide range of resistance options.
Smooth action.
Disadvantages
Can be noisy particularly for indoor use.
Require more rowing techniques than other types. At first, it doesn't provide you the moderate resistance at all.
#Preparing To Buy A Rowing Machin
These are the certain key features of a rowing machine. They are combined with each other, construct a variety of rowers that saturate the market and make you confused.
But don't worry, you'll clearly understand what kinds they have and figure out what you want after you read the content below.
#Frame
The rowing machine frame can be made up of a variety of materials like hardwood or steel. These frames may fold, split or be stood on their ends to maximize room for home-use.
1.Foldable / non-foldable
Rowers that fold are extremely practical for small rooms and can be put in a corner when not in use.
But it may cause stability or durability issues and need more maintenance.
Non-foldable rowers are usually designed to splittable or can be stood on their ends to store in a small place.
2.Materials & Workmanship
Construction materials have an effect on many aspects such as durability, weight and aesthetics.
While some brands use wood in their models, aluminum and plastics are the materials that you will find the most often.
The quality and gauge (thickness) of steel can differ from domestic in-home machines to the specification of the commercial industry.
The wooden frame can be made of oak, ash wood, walnut, ebony and so on. Different kinds of wood have their own texture and colour, you can choose the one you like to match the style of your home decoration. The Pros & Cons of Different Types of Wood.
While wood looks nice, it will make the rower quite heavier than some other aluminum ones which are important if you ever plan on moving it around.
The quality of wooden rowing machine is determined by multiple factors. While the well-growing timber is the basics, the main point is about workmanship. In some cases, manufacturers produce substandard rowing machines with bad condition timber in order to gain high profits or compete on price with others.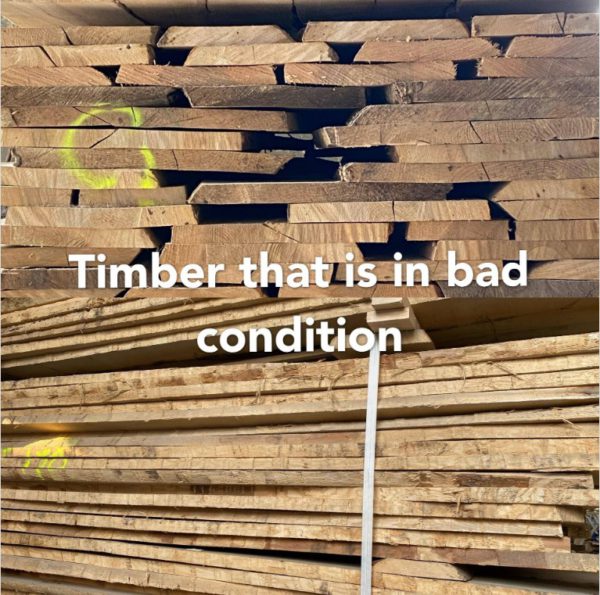 What's worse is the poor handcraft, caused a very glossy or cloudy surface, splintered edges, scratches, dents, or dust specks, etc. That's self-deceiving and irresponsible.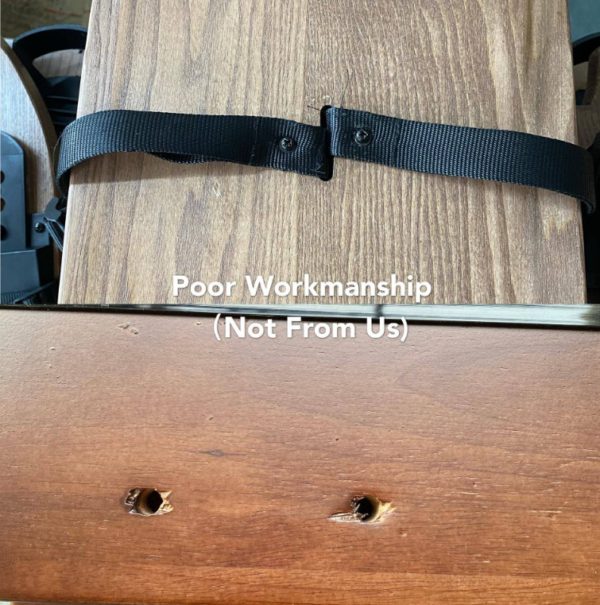 TOPIOM always insists on high requirements, no matter the woods that we use or the workmanship when producing, and we have a group of QC engineers to be the guard of every stage of the process.
With the strict quality control procedures, every part of TOPIOM's rowing machine will be cross-checked before it goes to the assembling line.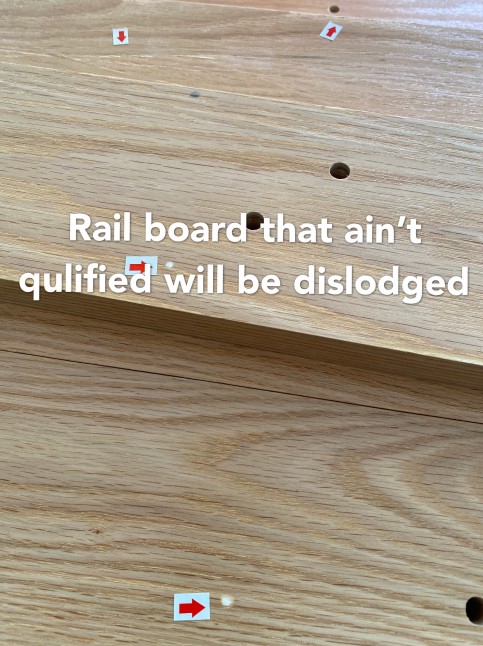 #Weight capacity
Higher weight capacities guarantee great frame solidness and safety to the user.
It's necessary for you to buy a rower that offers extended weight capacity.
#Seat
1.gliding/fixed
Most rowers have a gliding seat. This kind of seat, it goes without saying, emulates a real racing shell's rowing motion that gives you a full-body workout.
Hydraulic machines that feature a fixed seat are usually with low-price tags, and evidently, by working out on it, your leg will pretty much be left out even though you benefit from a decent cardio workout.
In a word, the gliding seat rowing machine gains ground.
2.height
The height of the seat is also important, particularly if you have a tall stature.
If you are young and mobile, then the height of the actual seat isn't really too much of an issue.
However, if you do have any kind of mobility problems, or have dodgy knees, for example, you might want to buy one that is slightly higher off the ground because many of them tend to be quite close to the floor, and are therefore harder to get on and off.
3.padding
Let's face it: the butt works hard during rowing.
You might also want to check out the design of the seat as well because some will be more padded than others. A well-padded seat will bring you great comfort while you rowing especially you do the marathon.
As you get more butt-in-seat time, you may find your buns starts to hurt and gets a little bit uncomfortable, rocking back and forth at the seat.
From beginners, all the way up to high-level rowers use seat pads as the way to just make the row more comfortable.
Just like rowing machines, tons of seat pad cramming the marketplace. There some just barely like thick memory foam pads, the problem with these is they elevate you so much that it actually changes the physiological approach to the stroke on the machine.
So make sure you choose the right seat pad made with great materials and appropriate thickness (no more than an inch but not too thin either) that will maximize your rowing experiences.
This video may give you the idea to make your own marathon seat pad.
#Seat rail
1.horizontal/inclined
There is no doubt to choose the rowing machine with a horizontal seat rail if you want to experience a full-body workout. This is how many indoor rowing machines are designed.
Now, the evidence shows the inclined seat rail doesn't supply a decent rowing motion and might lead the user to develop bad habits in rowing unless. Inclined rowing machines are typically used to exercise the leg and thigh muscles.
2.length
Before you shop for a rowing machine, you'll need to take a measurement of your own body. Besides your weight, there is another dimension you should learn about is the inseam length.
Inseam is the length of your inside legs while rowing. The height of a person can be the same, but the inseam length differs.
This is the key factor to ensure you have sufficient length in the rail to fully extend your legs and pull the handlebar to your lower abdomen without restriction.
You can check this inseam length chart to pick the right one. Be sure to remove your shoes prior to taking this measurement.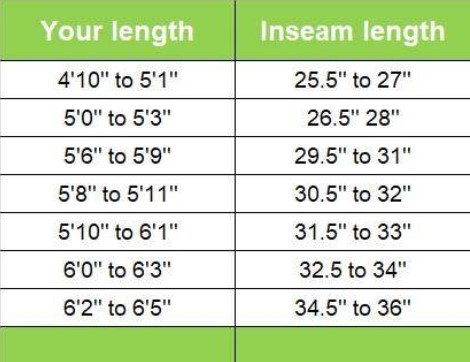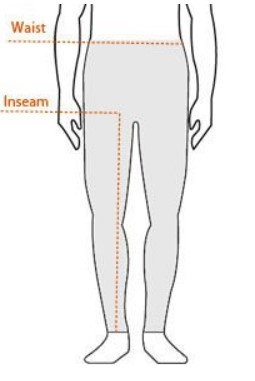 #Strap vs chain
Most rowing machines come with a strap that connects the pulling handle to the machine's mechanism while others are equipped with a chain.
The chain system is a hard-wearing and durable feature but generally noisier than the more favoured strap or belt systems.
In matters of maintenance, it does require lubrication. In addition, even though the chain is durable, the chain that travels into and out of the sprocket may wear out, causing the chain to skip.
Along with that, erratic rowing motion could lead the chain, which requires its adjustment, to jump off the sprocket.
The strap is typically made of nylon and able to last for years of regular use without maintenance.
Nylon rope is extremely strong that is used mainly in the marine industry on boats or yachts for mooring ropes. However, the strap still may wear out especially if multiple people use the machine.
Therefore, it's a good idea to order one additional in case of replacement needs.
#Footplates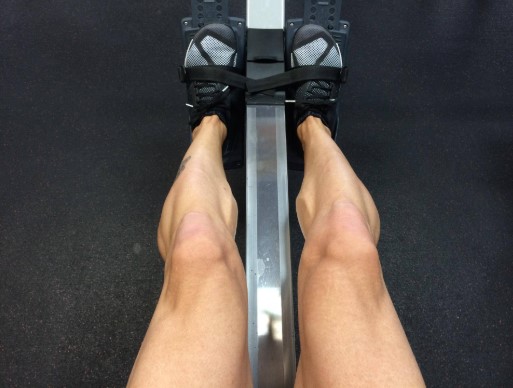 1.pivoting/fixed
Some machines are fitted with pivoting or rotating footplates that move with the user or a fixed mounting plate that can be adjustable with a heel clip.
The pivoting one can't be locked in place, allowing your feet to find their best position. But, some users may find it somewhat 'uncertain', as they prefer solid support from their footplates.
Both types work well and are a case of personal preference as to which one feels best.
2.pedal spacing
The best biomechanical position of the distance between the padel is attained when the hip, knee and ankle joints are kept in alignment.
This spacing will vary with the rower design and where the seat rail fixes to the main body. Look for the narrowest location possible if you have any joint injuries.
TOPIOM rower is a safer machine, as well as the texture non-slip pedals, allow you to keep your footing even during intense workouts.
#Monitor Is a Vital Component to Have
The digital monitor is seen as the brain of the rowing machine that eases the problem about knowing how well you exercise and guide you to row scientifically.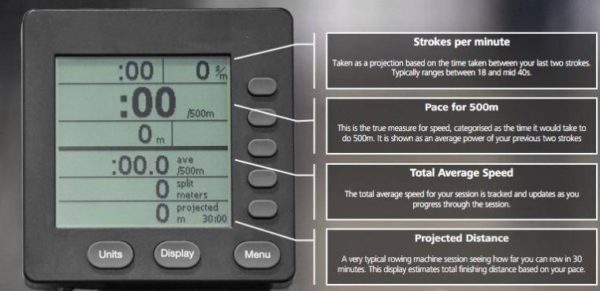 1.Pre-program workouts
This is the key factor to make your workout more interesting and challenging.
While if you're trying to get the heart rate into the upper zones and lose fat, most rowing machines offer workout programs that cater to interval training.
You can also find monitors on the advanced rowing machines that have different user profiles to store workouts and programs for each user.
2.Console basics
Nearly every rowing machine monitor will calculate your time, distance, strokes and spm.
If you want to learn more about your exercise sessions such as calories and average intensity, you will need a rower with a more advanced display.
3.Performance Monitor With Bluetooth & app
It's better to pick a monitor that allows you to connect your rowing machine to an app so that you can record and track your fitness journey.
Many commercial suppliers of top-end rowing machines have developed their own rowing programmes and racing games to cater to individuals who want to strengthen and advance their rowing technique or fitness goal.
So what steps can you take to ensure the best Bluetooth experience with the rower monitor and apps?
Aside from those complex technical problems which are to be fixed by firmware and software developer, if you're considering purchasing a rowing machine with a Bluetooth-enabled monitor, a good first step would be to look at the reviews and consumer forums to see if people commonly report errors with Bluetooth pairing the rower monitor you would use.
Secondly, search the internet and check the Compatible Apps of a certain brand. (Search the internet for "compatibility check- app name" )
Beyond that, there is an easy way to search this, go into the App Store on whatever mobile device you have, Android or iPhone, and search for the app name or the product name, and you'll generally get an idea of if apps even exist to support the rowing machine you're considering or not and that will tell you whether or not you're going to be moving into a higher-tech product or a lower-tech product.
That's ultimately up to you as to whether it's important to have a fancy monitor or not. Maybe you just want some basic information like duration, distance, SPM, etc.
Maybe you don't even want information when it comes to your workouts. That's up to you to decide, but it's sth you should put into your consideration. As the type of monitor you choose will influence the price of the value.
The Bluetooth enabled TOPIOM V2 performance monitor is equipped with Fitshow Smart BTM and is therefore compatible with the Fitshow app (available on both App Store and Google Play). This app allows you to choose a workout and will then programme the monitor for you.
In the end, it will save your data and give you an analysis of your performance. Free to download, login required, in-app paid upgrades.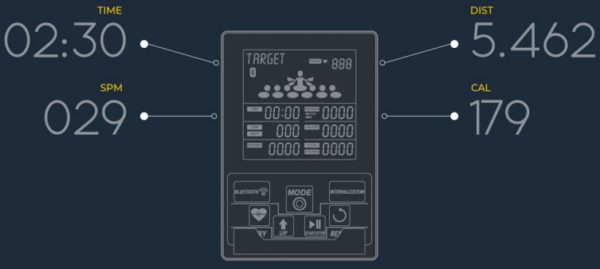 4.Physical location
It needs to be positioned in the middle and at the level of the eye while you're sitting on the rower. In some cases, the monitor is placed on an extending arm and able to be pivot up and down so that you can watch it clearly or tuck it away when storing the machine.
5.Big and clear
The monitor isn't of much usage if all of your exercise data is shown but you're not able to see it. Choose a monitor that has a big screen.
The backlit monitor gains ground if you are used to working out in places where the lights are dim.
6.Accuracy is the key
"They claim they have it, but that doesn't mean it works that well." A monitor that displays inaccurate value is skimble-skamble.
To make sure the rower has a great monitor, you'd better search reviews about how this monitor performs.
In order to avoid data inaccuracy as much as possible, TOPIOM applies a magnetoelectric sensor that is more suitable for our rowing machine.
Compared with infrared sensors that are sensitive to temperature changes, photoelectric sensors are prone to interference from changes in light.
The performance stability and measurement accuracy of magnetoelectric sensors in various environments are excellent.
Its accuracy in the operating temperature zone can be within an error range of 1%. Therefore, magnetoelectric sensors are also widely used in aero-engines.
It's appropriate to use such an accurate and stable sensor to measure the rotation of the blades in the water tank of our rowing machine.
At present, we are constantly following the industry-leading technologies, using high-precision sensors that are a perfect fit for our rowing machine.
#Other Aspects You Should Consider
By the time you reach this step, you may have a general idea of what rowing machine you're interested in buying.
However, there are still some aspects you need to consider before making the final choice.
Brand/Product reviews
When reading reviews, it's important to find out specific details about the machine you're researching.
You can find in-depth details including build quality, performance monitor, comfort, services, warranty, pros and cons, and much more.
Be careful about what people say about fitness equipment, not everything is right. A lot of negative reviews on lower-end rowing machines are from buyers who opted to purchase the lower-priced model but expected the quality of the higher priced model.
Some people form their opinion based solely on what they've heard.
Click here to see common comments about rowing machines.
Guarantee & Services
Can your rower supplier support the product you purchased from them for years to come?
Pretty sure you get peace in mind that your rower has a decent warranty because even the best rowing machines may go wrong from time to time.
An often overlooked aspect of buying a rower is the after-sales service. It serves as the channel to contact your rower supplier when your machine having some issues.
TOPIOM aims to help our customers live a healthy lifestyle through our cost-effective home gym equipment.
With your purchase of a new TOPIOM product, you are eligible for a solid hassle-free – up to 5 years guarantee at no additional cost. And it goes further than that, our At-Home-Trial tells the prospect that we stand behind and believe in our product.
Durability & Maintenance
Durability is one of the biggest selling points of some rowing machines mainly because there are quite a few moving parts with some models.
Flywheel models tend to suffer the most from build quality issues and require a bit of maintenance in the long run.
Everything from the paddle, pedals, resistance mechanism and slide rail have to be built quite well for it to be able to last constant workouts.
In terms of foldable rowing machines, they might need a bit more maintenance than others, oiling the joint regularly to make sure you won't hear the creak during exercise.
Availability of spares
A common scene is, the user can't find or purchase the right fit spare parts when they aged.
Make sure that your rower supplier will supply parts for years to come when you wear them out, so you can keep rowing.
You can also buy the spares from local fitness equipment retailers, but make sure the parts you bought are fit your machine model.
Due to our sophisticated supply chains, all of the spare parts of our rowing machine, even a tiny nut, are available.

Easy assembly
You might only have to assemble your rowing machine once, but you don't want it to be a complete nightmare.
Do your due diligence to make sure that instead of a piece of workout equipment you're not having some insane puzzle.
The assembly of our rowing machine was completed by 80%, delivering in 2 packages. Eventually, it only takes about 30 minutes to install them into a single.
See how easy to assemble a TOPIOM rowing machine through this video.
Noise level
If you live in an apartment or your family members can't tolerate the noise while rowing, you should consider the noise level.
Resistance accounts for 90% of the noise created by rowing machines. The other 10% is affected by the build quality. Lower quality rowing machines will have cheaper parts that creak, squeak, rub, and make more noise.
In general case, magnetic resistance machine is almost silent, then comes to hydraulic.
The loudness of rowing machines with water resistance mechanism during the workout is usually under 70 decibels which considered quiet, compared to the air resistance rower that makes a loud noise.
Storage features
Being able to easily store your rower is a huge plus. Make sure you investigate how well the machine stores.
As you might expect, hydraulic-piston machines are fairly light and compact and can often be folded away.
Water and air resistance machines stand for the top-end machines that cannot always be folded away but able to stand at their end or come apart easily when not being used.
Take TOPIOM rowing machine as an example, the size of the rower is smaller and easier to store upright in 20×22 square inches. Due to the aesthetic design of the wooden frame, it can be stored in the corner without absurdity.
More important is, it stands very stable. So you don't need to worry about it falling over if someone runs into it.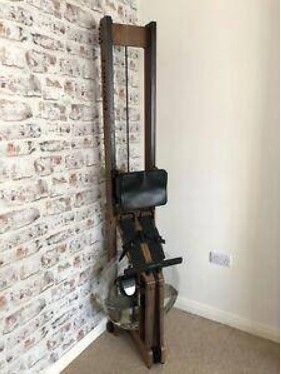 Portability
Most rowing machines aren't easy to lift. It's better to choose a rowing machine that has attached wheels if you plan to regularly move your machine.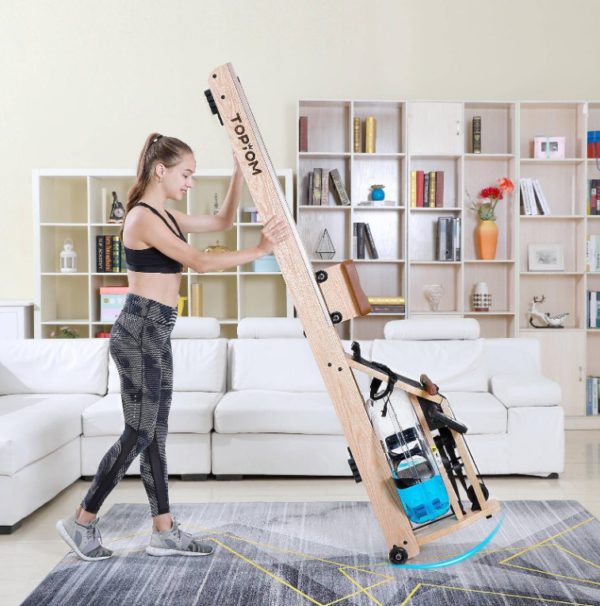 Try before you buy
Product close-ups, size guides, augmented reality… No matter how much they visualize their products to you, online shopping will always carry a certain amount of risk for you.
After all, you can't touch, feel, and try on the products.
Ideally, consider visiting a gym first and trying the same model of rower to see if you enjoy using it before investing in it.
Unfortunately, nowadays it's a little difficult to try out rowing machines from a local store as most of them don't have showrooms for you to try them out.
If this isn't possible, the best way to find out is to google it, type in the actual product name, find comments about that machine.
At TOPIOM, we know that there are endless options to research and consider for an item that is a substantial financial investment.
In order to make sure you're happy with your choice, we launched our 21-day, at-home trial policy for just this reason.
With this policy, if you are not completely satisfied with your TOPIOM rowing machine for any reason within the first 21 days of its arrival, simply pack it back into its original box and ship it back to us.
We highly believe our rowing machine could bring you an excellent exercising experience. Click here and start your trial.

#Final Thoughts
Rowing machines contribute to a healthy life
This kind of exercise maintains a healthy balance between fat-free mass and fat mass in your body, supports speedy calorie burn and significantly limits the impact of knocks on joints.
Rowing machines can improve your whole quality of life.
Because it doesn't let you get away with just moving mindlessly. You have to learn how to move, placing the body in the appropriate place at the right time, using the appropriate muscles.
By learning this entire movement path, come you learning more and more about your body. It increases the range of motion that you probably haven't been hitting in your life.
Like it works your muscles that haven't been strengthened and get your mind in tune with your body working together.
This is a huge advantage. There aren't enough opportunities in our life that we are all taking advantage of and improving us in that way.
Definitely a great value for you and your family members' health.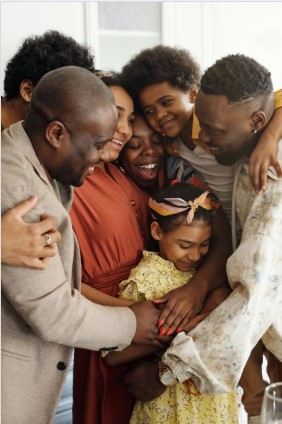 You're making a good choice if you're considering picking one up. But it's also critical that you end up with the right one for you, not just buying what everybody tells you to buy.
A rowing machine will certainly be considered a fine piece of equipment in your home gym. Whether a novice or a professional can benefit from rowing and improve the quality of their lives.
Make a smart investment.
Just keep in mind – you always get what you pay for. There are lots of rowing machine brands on the market, some are only there to get a cheaper alternative, and no sooner do you get them, you start to encounter different issues with them.
So an inappropriate decision is detrimental to your spending. To make sure you're investing in this versatile piece of equipment wisely, you should explore user feedback, reviews, and examinations before drawing conclusions. Click here to browse reviews on common brands and models.
About TOPIOM
When our customers tell us that, "TOPIOM is among those elite and rare companies that actually deliver on their promises," it is our responsibility to live up to that image every single day.
Designed by craftsmen and manufactured to standards that are far above those of any competitor, TOPIOM rowing machine (and exclusive Full Body Ergometers) are manufactured to available at all levels.
Compare feature, aesthetic and quality, side by side with other brands, and the difference is obvious. Value for money equipment, which guarantees a great investment in your future health, is the hallmark of TOPIOM. Learn more about the TOPIOM guarantee.
Don't wait to get fit
I'm sure you're able to evaluate all of the machines that are in the spectrum against one another after reading the content above.
And that's gonna help you reach a faster, more effective conclusion finding the right machine for you.
The most important thing is: make the evaluation for yourself, and you'll be happy in the long run.
At last, one more tip for you – If you found this article useful, consider downloading and printing it out, so that you can have a handy guide when making the decision.