As the king of the cardio, rowing adds an extra level of luxury to your workouts. And if you are looking for whisper-silent exercise, magnetic rowing machine is certainly the choice.
Many rowing-lovers prefer magnetic rowing machines over the gentle splashing of water rowers or the humming of air rowers.
Magnetic rowing machines involve a magnet close to the spinning flywheel to create drag. Therefore, magnetic rowers are quiet during rowing due to its magnetic breaking system. Learn more about the mechanism of magnetic resistance.
Looking for near-silent indoor rowing experience? If so, a magnetic rowing machine is your best bet.
Table of contents
Top picks of magnetic rowing machines
Common questions of magnetic rowing machines
Buyer beware – serious deal-breaker
Workout programs on rowing machines
Upgrade your rowing experience
---
It's time to dive into our top magnetic rowing machines on the market below.
| Top picks | Rating |
| --- | --- |
| Hydrow Magnetic Rowing Machine | 4.7/5 |
| Matrix Magnetic Rowing Machine | 4.5/5 |
Hydrow Magnetic Rowing Machine
This premium magnetic rower is seen as the Peloton of rowing machines. The machine itself is a stunning piece of equipment with a streamlined commercial-grade aluminium body, looking as if it is a spacecraft.
It is an exercise machine that will blow your mind away. With the help of your Hydrow Athlete and team, you'll receive boatloads of support and motivation.
This video will give you an idea of this magnificent rowing machine.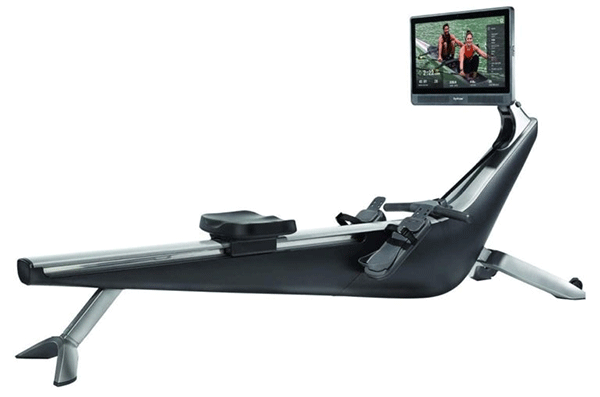 Rating 4.7
Technical specifications
Assembled dimensions: 86.0″ x 25.0″ x 47.0″ (L x W x H)
Storing dimensions: 25.0″ x 33.0″ x 86.0″
Weight: 145 lbs (assembled)
Maximum user weight: 375 lbs
Price: $2,245.00
Assembly
When it comes to assembly, Hydrow is in the category of "more difficult" to assemble.
However, Hydrow does offer an assembly video on their website if you choose to purchase. Due to the heavy nature of some parts, you need some help from others during your assembly.
Build design & quality
It has an aluminium frame, with a high-quality plastic shell. All the bearings, footrests, handle, seat, etc. are made from commercial grade material.
There is also a nylon belt used to attach the handle to the magnetic drive system that is similar to seatbelt material.
Hydrow's most important feature is its professional design.
Hydrow features footrests with sliding footpads, which allow users to adjust foot placement according to their height, weight and flexibility.
For example, for those who suffer knee pains, raising footpads up a little bit might a good idea. This will relieve strain on the Achilles tendon. And for those who have belly or are pregnant, lowering the footpads might provide more comfortable rowing posture. Check the article of rowing machine specific features to learn more.
Another important feature is that, when users hold the handlebar, there is some room for users to stretch their arms to be fully compressed (though the room is not as big as the room of Concept 2). Therefore, users can enjoy a full stroke.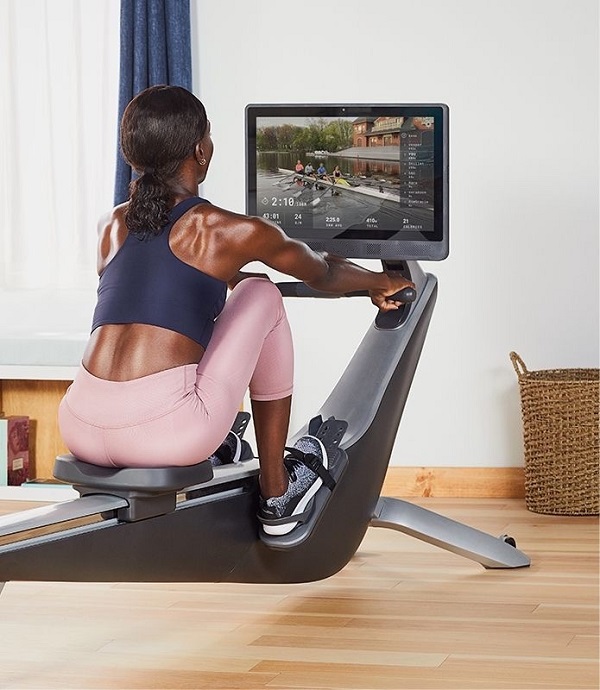 Speaking of the model, the model does set a good example of catch form – her arms stretched, body straight and shin vertical. Honest, it does take some time to learn good rowing form. Here is a guide of rowing machine technique.
However, on the websites of some rowing machine brands, pictures/videos of rowing form and techniques are totally wrong. Please beware.
Comfort
Hydrow promises an awesome shopping experience.
Users enjoy a comfortable seat, with their hands gripping an ergonomic handle.
The footpads are adjustable and can accommodate any shoe size.
Therefore, comfort is not a problem for Hydrow.
Resistance
Hydrow's resistance is "computer-controlled, electromagnetic resistance system".
Its awesome 22″ HD sweat-proof touchscreen controls the resistance, an edge that help Hydrow stand out from its competitors. This provides one of the smoothest, quietest rowing strokes on the market! You can easily adjust the resistance by sliding a "resistance" bar on the touch-screen monitor.
Monitor / Control Panel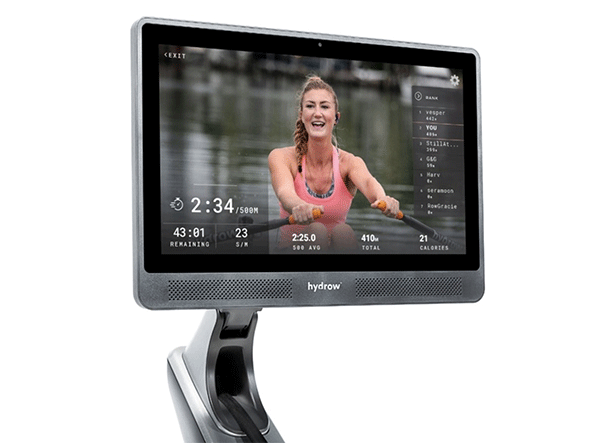 Monitor Specs
Data
SPM, Calories, Time, 500m Split, Avg Split, etc.
Bluetooth
√
Heart rate feature
√ Work with most Bluetooth heart rate monitors like the Polar H7 or Wahoo TICKR.
Preset programs
√ Live and on-demand rowing workouts delivered by world-renowned athletes on the water. even includes yoga, pilates, and strength training sessions.
Preset programs
√
Games
√
Software/Apps
×
PC connectivity
×
Family sharing
√ unlimited user profiles
Requirements
Memebership fee / a standard WIFI connection / a standard outlet plug
Monitor data
The Hydrow is a smart connected rower, with its focus on recreating the on-water experience.
The monitor on the Hydrow Rower is probably the most sought after feature. It tracks all the necessary rowing data, including SPM, Calories, Time, 500m Split, Avg Split.
Its monitor offers more than data.
Monitor function
It is Bluetooth enabled, meaning it can work with most Bluetooth heart rate monitors like the Polar H7 or Wahoo TICKR.
Being WIFI enabled, Hydrow is the first ( probably the only one) offering a Live Outdoor Reality™ experience consisting of live and on-demand rowing workouts delivered by world-renowned athletes on the water.
You can listen to your virtual instructors and follow along with the program while listening to high-energy music that will pump you up.
There is also "journey" mode by which you can enjoy serene river rowing and navigate your way through scenic routes at whatever pace you are comfortable with.
There are four different workout levels that you can choose from: breathe, sweat, push, and drive.
One more thing about Hydrow is they keep adding more and more sessions with each update!
That being said, the monitor needs a standard WIFI connection to stream the in-app rowing sessions and a standard outlet plug to operate the screen and resistance.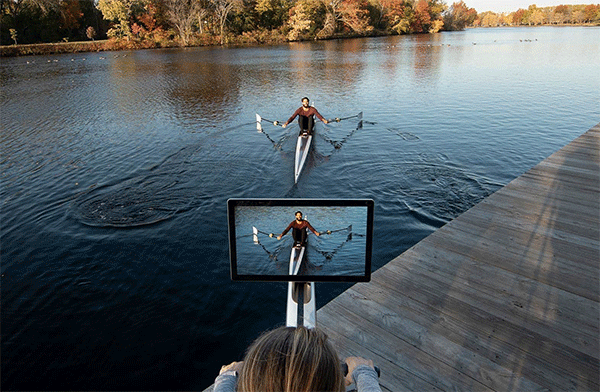 Sounds awesome! But, it doesn't come free.
After paying a nice price for the Hydrow Rower, users will have to subscribe to a monthly membership $38/month (subject to change) to get access to all of the sessions. A membership allows for unlimited user profiles, which means every member of your household can enjoy Hydrow.
Storage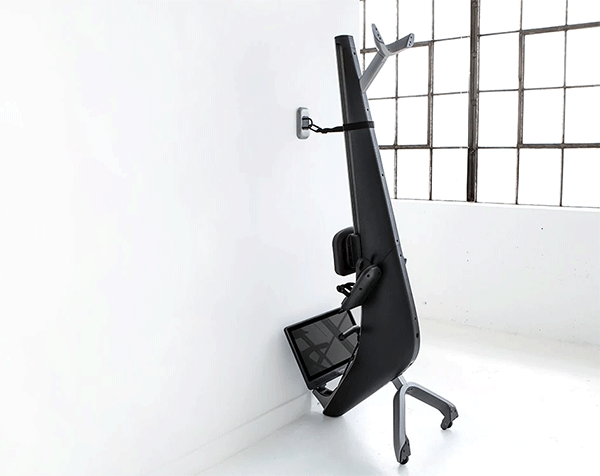 While the Hydrow itself wouldn't be considered compact, it is easily storable.
You can tilt the machine into an upright position. There is an upright storage kit (sold separately) that locks the product into the wall for safety.
Warranty
Structural Frame & Upright Storage Kit: Five Years
All-Parts: 2 Years
Labor: 1 Year
Verdict
One letdown of this machine is that it's expensive even without considering the ongoing membership fees.
But one thing worth mentioning is the brand's philanthropic efforts.
When you row 60 days with Hydrow, they donate to Water.org in your name to grant long-term access to safe water for an individual in the developing world. This demonstrates how the brand has considered the user's whole experience of being part of the Hydrow community.
Isn't it great that you can make a difference by rowing at home? Donation truly upgrades your rowing experience.
Interested in knowing other ways to upgrade your rowing workout? Check this article.
| Pros | Cons |
| --- | --- |
| Quiet, electromagnetic resistance | Not easy to move around |
| Very solid and well-made construction | Needs to be plugged in and connected to Wi-Fi to work |
| 22.0″ touchscreen monitor | Expensive price tag |
| Adjustable resistance adequate for beginner to advanced | Ongoing cost for membership |
| Newly added workouts with each software update |   |
| 400+ rowing sessions with membership |   |
Matrix Magnetic Rowing Machine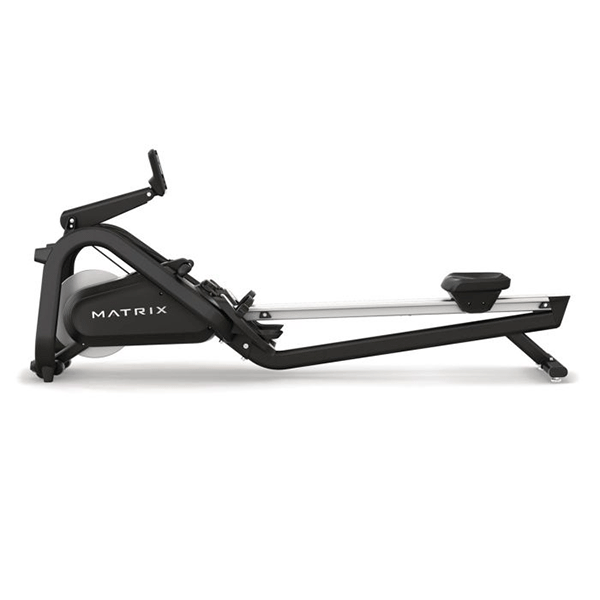 Rating: 4.5
Technical specifications
Assembled dimensions: 87.6″ x 21.5″ x 38″ (L x W x H)
Storing dimensions:
Weight:
Maximum user weight:
Price:
Assembly
Assembling this rowing machine requires 6 different steps and one person can complete the entire assembly by themselves. It should take around 45 minutes to complete.
One annoying point is that this rowing machine doesn't offer you the tools required.
Build design & quality
The Matrix Rower is often used in fitness centers so you know it can withstand a lot of abuse.
The seat rail is made from aluminum but it has stainless steel strips to add extra strength for high volume usage.
One feature that worth mentioning is that the space between footrests are wider than that on Concept 2. Because of such design, users who have a big belly can also find it easy to perform a rowing form.
Another important feature is that it features fixed footrests with sliding footpads. For beginners and professional rowers, fixed footrests ensure a correct feet angle and good rowing form. However, it may be an issue for those who have flexibility issues.
Sliding footpads allow Matrix to accommodate feet of different sizes. Such design also allow users to better meet their needs.
For example, for those who suffer knee pains, raising footpads up a little bit might a good idea. This will relieve strain on the Achilles tendon.
However, here comes one downside. Its handlebar is attached to the housing by a string, which cannot hold the handlebar properly in place. The handlebar may shift from left to right.
Comfort
Compared with Concept 2, Matrix features a slightly cushioned seat which is built for comfort (more than performance).
One key feature of the footrests is that they are slightly wider than other rowing machines. This is a good design especially for bigger users, preventing their thighs from rubbing together.
Users can also comfortably hold an extra-long ergo grip handle, enjoy pleasant rowing workout.
Resistance
As a magnetic rowing machine, its resistance is adjusted by the dial.
On Matrix, resistance is hard at the catch stage, but it decreases and becomes lighter as users accelerate to the finish. Especially at the highest resistance setting, users may find it quite difficult to start at the catch stage. At the recovery stage, users may feel sort of being pulled back by the pulley strap, which may encourage bad rowing form.
On the other hand, the resistance on Concept 2 is consistent throughout the rowing stage.
That said, Matrix is good for those who need intensive workout.
Monitor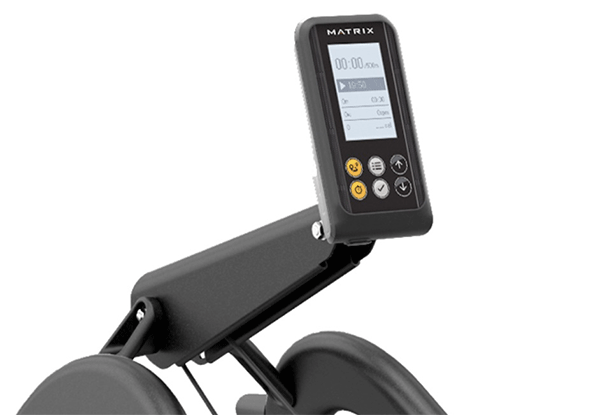 Monitor Specs
Data
Time, Distance, SPM (strokes per minute), Stroke, Watts, Heart Rate, Calories, 500 meter split
Bluetooth
√
Heart rate feature
√
Preset program
√
Preset workout
×
Games
×
Software/Apps
×
PC connectivity
×
This rower comes equipped with a extra-large backlit LCD Display (3.5" x 2.5") that tracks the following data: Time, Distance, SPM (strokes per minute), Stroke, Watts, Heart Rate, Calories, 500 meter split.
The monitor has a telemetric receiver, which can sync to a heart rate monitor such as the Polar H10 Heart Rate Monitor.
It features several programs: Manual, Interval, Pace, Target Training, Sprint 8, Target HR, Tests – 500 m, 2000 m, and Max HR
One unique feature is that the monitor is powered by rower's rowing workout.
However, one main downside is that it also doesn't have pre-programmed workouts. Nor does it provide all the features on rowing monitors like the Concept2 PM5. For a highly priced rowing machines, this is something that really needs improvement.
Storage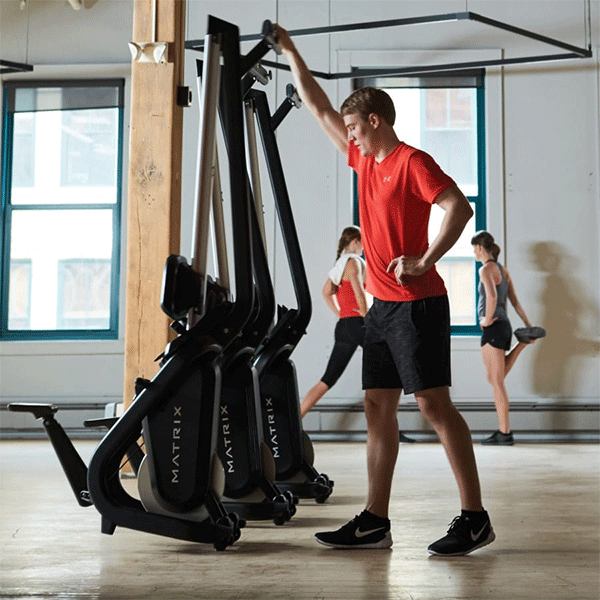 Storing Matrix is quite easy. It can be stored vertically. There are 2 built-in caster wheels at the front of the rower, which allows users to roll around easily into place.
Warranty
Frame: 7-Years
Parts: 3-Years
Labor: 3-Years
---
Frequently asked questions
How to adjust resistance on a magnetic rowing machine?
Unlike water/air resistance that changes according to your rowing intensity, the resistance on magnetic rowing machine is adjusted by your selected level. Once you set the resistance level on a magnetic rower it stays the same no matter how fast or slow you row.
This article of full breakdown of rowing machine resistance illustrates how does resistance mechanism work.
---
Buyer beware
You might wonder why there are only two rowing machines listed in this article?
Honest, it give me huge shock when I research magnetic rowing machines on the market.
I was about to include some well-known magnetic rowing machines such as FITNESS REALITY 1000 PLUS bluetooth magnetic rowing machine in this review.
However, after research, it turns out that those so-called top sellers on Amazon do have some issues.
Though issues are inevitable and rowing machine companies constantly improve products, issues of those rowing machines are in the serious deal-breaker category.
Check the article of rowing machine buyer beware to avoid bad investment.
---
Workout programs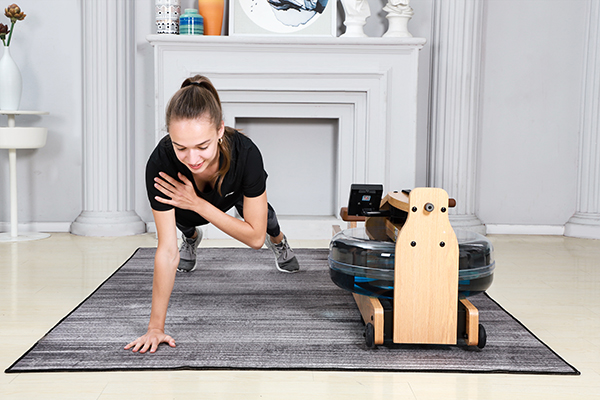 Rowing machine is a lifelong investment. Reading reviews and buying one rowing machine is only one step. More important step is to do workouts for your preferences and specific goals.
If you wanna lose weight, the article of guide of weight loss is helpful.
How about getting beautiful muscles? The article of workouts to tone muscles on rowing machines is what you need.
Rowing your belly off and getting abs is not a fantasy. Read the article to make your abs pop.
---
Upgrade rowing experience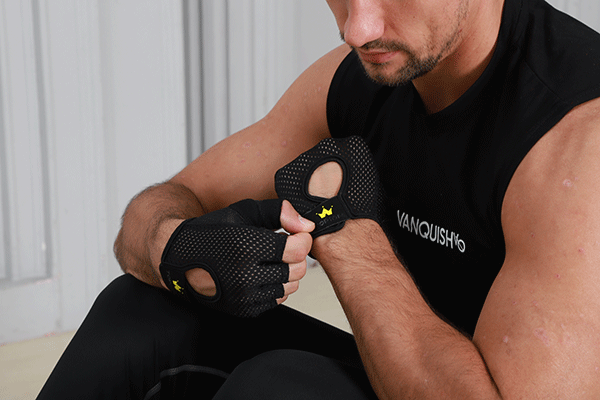 Rowing gloves can certainly help you from getting blisters, upgrading rowing workout to a more comfortable level.
Wanna bring picturesque lake scene to your home? VR rowing of Holofit provides total immersion in exceptional environments and a unique experience where wonder, change of scenery do not leave any place to boredom.
Do you know you can make a difference just by rowing at home? Rowing for charity is now on the swing.