If you have extra $500, how will you spend? How about a lifelong rowing exercise machine. Yes, you've read it right. Starting a healthy and energetic journey doesn't have to be expensive. A rowing machine around $500 is all that needs. Table of contents
Reveiws of rowing machine around $500
Workout programs on rowing machines
How to upgrade rowing experience
---
Our top choices of rowing machines around $500 are as follows:
| Top picks | Rating |
| --- | --- |
| Maxkare water rowing machine | 4.2/5 |
| Fitness Reality 1000 Plus Magnetic Rowing Machine | 4.1/5 |
| Sunny Health & Fitness Rowing Machine Obsidian SF-RW5713 | 4/5 |
Maxkare Water Rowing Machine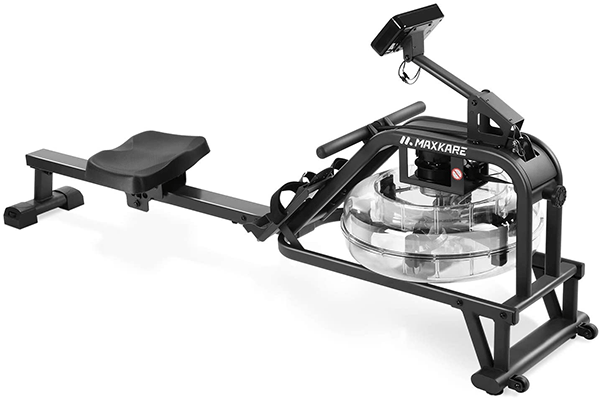 Rating of this rowing machine around $500: 4.2
Technical specifications
Assembled dimensions: 78.0″ x 20.0″ x 30.0″ (L x W x H)
Stored dimensions: 30.0″ x 20.0″ x 80.0″ (L x W x H)
Weight: 81 lbs
Maximum user weight: 264 lbs
Price: $250 – $499
Assembly
Assembly isn't too complicated and the instructions are clear. Normally, it take around 30 minutes to assemble.
Build design & quality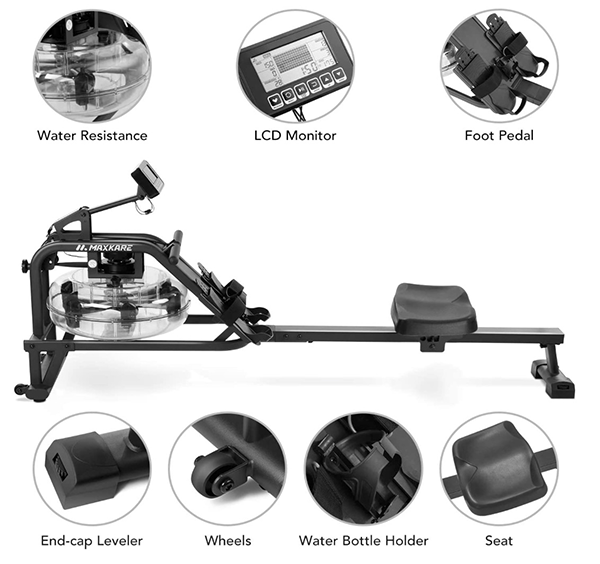 As a rowing machine around $500, the MaxKare water rowign machine has great build quality and is constructed with steel tubing and an aluminum frame. The rower's rail is approx. 43.3″ (~110 cm). Therefore, the machine should accommodate users up to 6'2″ (188 cm) with no problem, promoting a complete leg extension. Its seat is at approx. 16″ (40.6 cm) above floor level. Therefore, entry and exit shouldn't be too difficult even for elderly users, or users with certain disabilities. Maxkare water rowing machine features a fixed footrests, which are set at an optimal angle of 45°. This is a good design for beginners compared with pivoting footpads, which need users to find the right foot angle. Plus, on this rowing machine, users can stretch their hands well in-front of a users feet at catch and recovery stage. So users can complete a full rowing stroke. This is sometimes an issue on lower cost rowers where the handle cannot go very far past a users feet, which limits the rowing stroke. Read
the article of rowing machine buyer beware
to avoid such rowing machines. Another important feature that I really wanna exphasize is that its footrests feature sliding footpads. This is a must feature of rowing machine. Sliding footpads allow users to adjust in accordance with their heights, weight and flexibility. For example, if you are a barefoot rowing lover, raise your footpads higher as you don't have the cushion or sole of shoes getting in the way.
A video by dark horse rowing
will give you a clear idea of how to row properly without shoes. And for those who suffer knee pains, raising footpads up a little bit might a good idea. This will relieve strain on the Achilles tendon.
This video
might give you a better explanation of why adjusting footpads will help relieve knee pain. The lack of such feature will result in wrong rowing form. Read
the article of rowing machine buyer beware
to know more. The monitor sits on a long, adjustable arm making it easy to find a good position for ease of use and reading — a nice design intention, but not perfect. Users are unable to tighten the bolt that holds the arm in position, so it drops with gravity or the slightest touch.
Comfort
​​The top of the seat does not integrate any cushioning. It's made of PU material though and it has a contoured surface. A contoured seat can help with the rowing motion, as inexperienced users may find it difficult to maintain the correct position, and have to readjust frequently. If you find such padded seat uncomfortable, you can always purchase a seat cushion.
The guide of how to upgrade rowing experience
introduces the best seller cushions. The footrests are wide and hold your feet securely in place – essential when rowing as there's nothing more annoying than having to stop and re-tie the straps. The handle has a good diameter, and the padding makes it easy to grip and shouldn't move in your hands, thus prevent blisters.
Resistance
On this rowing machine, users get resistance by pulling the fan blades in the water tank. Water resistance is variable and depends on rowers' rowing intensity. If you put more strength behind your strokes, the impeller will spin faster in the water and you will benefit from more resistance, similar to rowing a real boat. Simply put, the harder you pull, the more resistance you get. Learn more about
rowing machine resistance types.
Monitor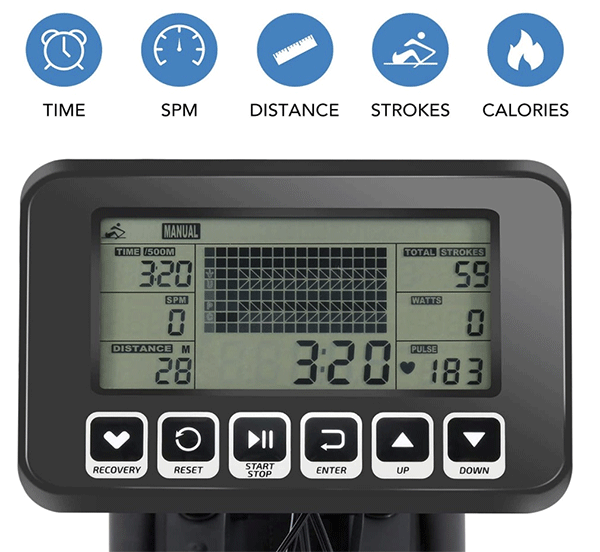 It comes equipped with a large LCD monitor that is not backlit and will track the following data:Time, SPM (stroke per minute), Strokes, 500m Split Time, Distance, Calories, Watts and Pulse. You can also set the monitor to countdown from different metrics such as a 5000m workout or 15 minute workout (monitor will countdown to 0). This monitor has heart rate reading function, but users need to purchase a wireless heart rate monitor to track their pulse onscreen as it is not included. Any ANT+ heart rate technology or any 5.3 kHz HR chest strap transmitter should work. One cool feature is the 'Race Mode'. You set the goal and then race against the computer! A good function to keep users engaged. Now, remember I said before that be prepared for rowing machine flaws? Here they come… As a rowing machine around $500, you might encounter data inaccuracy issue. This monitor will not accurately record distance, watts, etc. The calorie readings and distance measurements are incorrect and there is no way of calibrating them. Another issue is the lack of some functions. The exercise meter unit does not have any online connectivity, nor it is compatible with any online fitness apps. (Hydrow and Concept 2 have mechanisms to measure users' progress and feed it into users' computer / app so that they can compare themselves with others etc.) Nor does it feature a backlight.
Storage
Storing the MaxKare Water Rowing Machine is super easy and takes seconds. The rower can store vertically. When stored, all you have to do is lift the rear spacer end and stand it in an upright position. There is a small rubber stopper on the front of the rower that will sit on the floor to stabilize it.
Fitness Reality 1000 Plus Magnetic Rowing Machine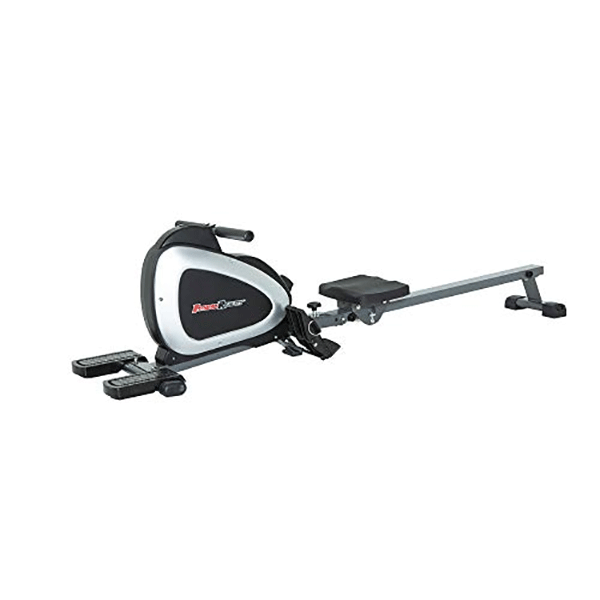 Rating: 4.1
Technical specifications
Assembled dimensions: 88″ x 22″ x 22″ (L x W x H)
Folded dimensions:
Weight: 63.6 lbs
Maximum user weight: 250 lbs
Price: $309
Build design & quality
The Fitness Reality 1000 Plus rower is a well-built magnetic rowing machine around $500. It features a durable steel frame coated with a corrosion-resistant paint finish. From the soft padded handle in your hands, to sitting on the large contoured seat, it feels like a premium rower. Its high-grade aluminium seat rail ensures a sturdy rowing stroke. Instead of being horizontal, its rail is
sloped
by a few degrees. With such design, it provides a slightly better workout. One big plus for this model is the length of the beam which makes it suitable for users of up to 6′ 6″ which its rail inseam of 39″ – roughly your inside leg length. There are "adjusters" on the rear floor stabilizers so you can make sure the rowing machine sits flat on any surface and doesn't wobble while being used. A nylon rowing strap is used to reduce noise and there are no signs of it fraying after extended use (although a nylon strap is usually less durable than a metal rowing chain). Now, as it is a rowing machine of low price, there are certainly some flaws. The first one is that its handlebar is almost just above its footrests and the housing is too near its handlerbar. Therefore, users don't have enough space to stretch arms during rowing. Another point is its footrests. First of all, its footrests lack sliding footpads, preventing users to adjust foot placement in accordance with their needs. Secondly, the footrests pivot during rowing. It is a good design for those who experience flexibility issues in ankles. But for indoor rowing beginners, it will bring trouble as beginners may find troube finding the correct foot angle. Differently put, such design encourages wrong rowing form for beginners. So, if you buy this rowing machine, you certainly need to make some trade off. A rowing machine around $500, sadly, can't provide everything.
Comfort
The extra-wide handlebar measures 21.5″ long and has a foam grip. This makes it great for changing up your grip while rowing and doing the "additional exercises". The seat is "extra-wide" and measures 3.5"L x 11.0"W. This helps for longer rowing sessions but some users did mention it was a little hard.
Resistance
It has
14
levels of
resistance
. While having 14 levels of resistance doesn't mean the overall resistance strength is greater, it does mean you can find a more exact level for you to complete your workout. Resistance is
adjustable
because a user can turn a dial to move the magnetic closer or farther from the flywheel – thus increasing or decreasing the resistance.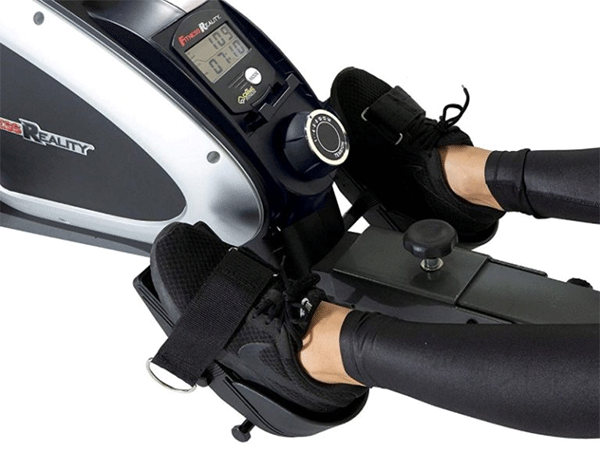 Monitor / Console
It has a no-frills LCD monitor that is easy to use – it only has one button. Being easy on eyes, The FR 1000 Plus magnetic rower has a 3.5 inch display that shows the numbers large and clear. It displays distance, time of workout, total count of strokes, calories burned, and stokes per minute. It also has a scan mode which means it will roll through all of the above every 5 seconds or so. The fitness reality 1000 is Bluetooth compatible which means you can keep track of all your workout data on your phone and even research new workouts. With Bluetooth you get a nicely laid out color display with more information. However, there is still room for the LCD monitor to improve. It will be much better if there is backlit. The other big letdown for this rowing machine around $500 is that the data produced by the console are completely inaccurate except for the stroke count and the timer. Data such as distance and calories are fake and are unrelated to the amount of effort exerted during exercise. The machine increments the distance count by 10 meters every time the seat passes back and forth by a sensor. It has NOTHING to do with how hard, fast, or long you pull the handle. Thus no matter what effort you are doing, whether you are tall or short, the distance is simply proportional to the stroke count.
"MyCloudFitness" app
And, if you like using your phone to track data, then there is a fun and useful addition– "Bluetooth Smart Fitness" capabilities to sync with the "MyCloudFitness" app. With this app, you can track the stats of each workout or create a workout goal such as "time", "distance", and "calories". The app will also allow you to input your weight each week to keep track of your progress. Another cool feature is the app will allow you to track your heart rate if you have a compatible bluetooth heart rate monitor.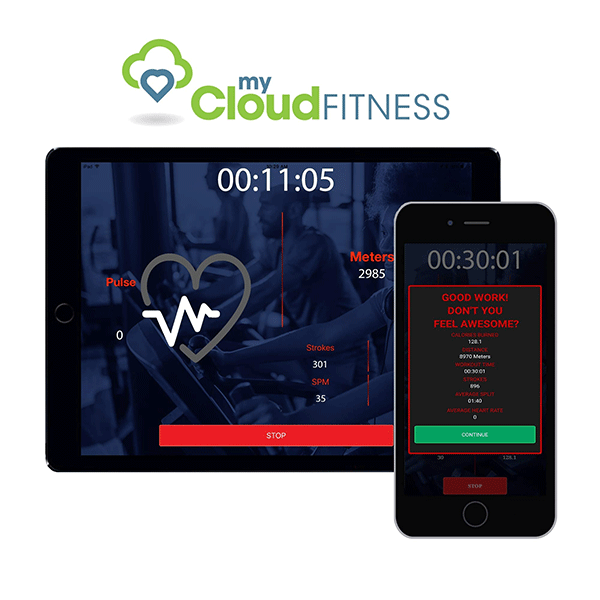 All you have to do is download the app, create a profile, and sync the app to your rower when you start a workout. The app works for all iOS and Android devices. The app allows you to input your weight each week to keep track of your progress. But, honest, the app isn't perfect and there were a lot of complaints. Still, for a rowing machine around $500 or even under $500, such feature is pretty good, though.
Diverse workout on this rowing machine around $500
According to Fitness Reality, apart from rowing, you can also perform other workout thanks to the footpads attached to the front base bar. These can serve as support for a variety of exercises apart from rowing. Depending on your feet positioning on them, you can perform bicep curls, stand-up rows, front raises, side raises, and more. Many rowing machines do not offer these possibilities.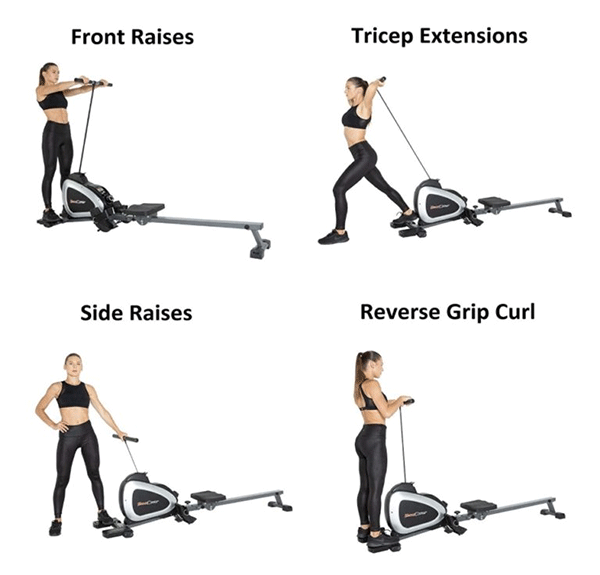 Storage
The FR 1000 Plus magnetic rowing machine is compact and foldable. Short on room space? Then this one is ideal for you. You can roll the rower into the corner of the room or a large closet because of its built in transportation wheels. You can fold the seat rail in 3 easy steps:
Unscrew the locking knob and pull the safety pin
Fold the seat rail up
Then reinsert the pin and screw in the locking knob
When folded, the dimensions are: 39.5" x 21.5" x 53.5" (L x W x H)
Verdict
It is,though not perfect, a good balance of quality and affordability. Here is
a video
reviewing this rowing machine.
Sunny Health & Fitness Rowing Machine Obsidian SF-RW5713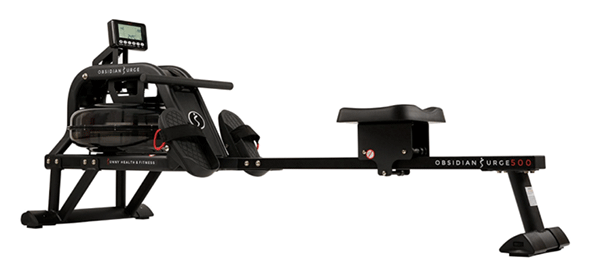 Rating: 4
Technical Specifications
Assembled dimensions: 78.74″ x 22.05″ x 33.46″ (L x W x H)
Folded dimensions: 33.46″ x 22.05″ x 78.74″
Weight: 91.9 Pounds
Maximum user weight: 300 pounds
Price: $250 – $499
Build design & quality
Its frame is constructed from lightweight, sturdy steel and the 3 hydro-blades are made of stainless steel. This means no rusting or wearing down over time! The water tank is made from polycarbonate plastic, which is extremely strong and durable. There were no issues with the tank breaking, cracking or leaking. One feature that gets mixed comments is its footrests. They are swiveling footrests that are supposed to allow you to flex your ankles as you workout. This design is great from those who have flexibility issues. But others prefer a fixed footrests that encourage correct form. Another problem is that it lacks the sliding heel pads. Without such design, users can't adjust foot placement according to their needs. For example, if you have big belly, it's better to lower the footpads. Read
the introduction of rowing machine specific features
to learn more. To some extent, the lack of sliding footpads is actually a serious deal-breaker. However, considering its price, it's better not to expect too much.
Comfort
Its molded, padded seat sits higher off of the ground than most rower seats, which makes it easier to get on and off, even for people who have lower back, hip or knee issues. The rail is 49 inches long making this a good rowing machine for any trainees who have been too tall for others. Most users felt the footrests and strap were strong but a few did have an issue with a screw or weld breaking. Luckily, Amazon was able to ensure the rower was replaced without having to send the unit back.
Resistance
One major benefit of water resistance is the noise volume is much lower than an air rower. A lot of users even find the water sound to be meditative and use it as a way to relax. On water rowing machines, the resistance is adjusted by your rowing intensity. Differently put, the harder you pull, the bigger resistance you feel.
Monitor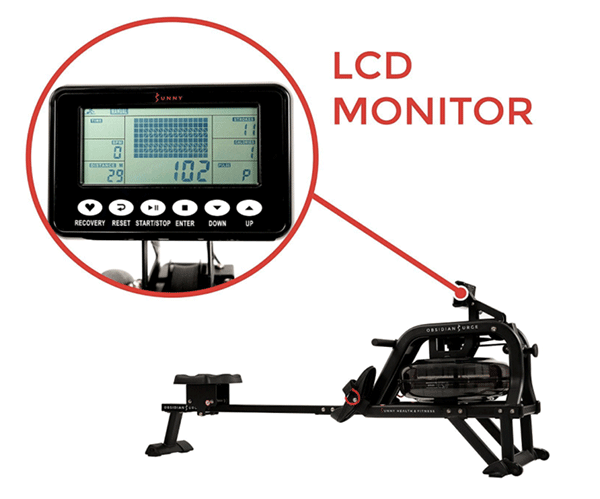 The Obsidian Surge 500 Water Rowing Machine comes equipped with the R2 Fitness Meter. It's very well organized in easy to read sections. This digital monitor is designed to track all essential workout metrics such as Total Time 500m Split Time, SPM, Total Strokes, Distance, Calories, Heart Rate. One unique point is that it also measures Room Temperature. Besides tracking data, it also has two main workout modes: Manual and Race. The Manual Mode has two options. You can just begin rowing and have the metrics start counting. You can also pre-select a value such as Time or Distance and have the monitor count down. There is also a "Race" feature where you can select the pace of an "on-screen" digital boat and race it to the finish! It also features a heart rate function, that is compatible with a wireless chest strap (not included) and can help individuals to reach and stay within their target heart-rate zone. You can then use the HRM to track your fitness level by selecting "Recovery" after a workout. Based on the heart rate at the end of the workout it will give you a fitness rating between F1 (Excellent) – F6 (Poor). But just as nothing is perfect. There are still downsides of the Obsidian Surge 500 monitor. One complaint was about the monitor not having a back-light and being difficult to read in low-light settings. The other let-down is that it doesn't have online capabilities, nor is it compatible with any online fitness apps.
Storage
It doesn't take much space when you store it upright after rowing. When stored the Obsidian Surge 500 measures is 33.46″L x 22.05″W x 78.74″H.
---
Workout programs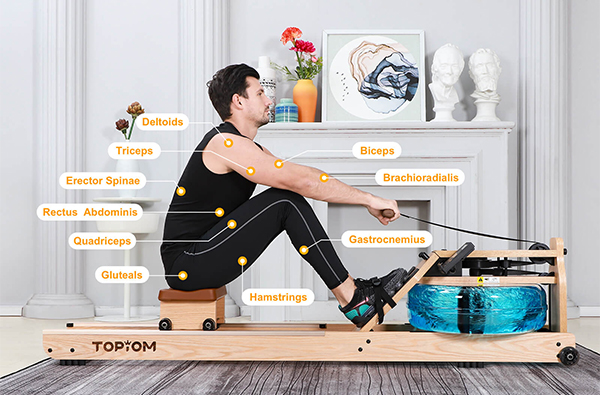 Rowing machine is a lifelone investment. Reading reviews and buying one rowing machine is only one step. More important step is to do workouts for your preferences and specific goals. If you wanna lose weight,
the article of guide of weight loss
is helpful. How about getting beautiful muscles?
The article of workouts to tone muscles on rowing machines
is what you need.
---
Upgrade rowing experience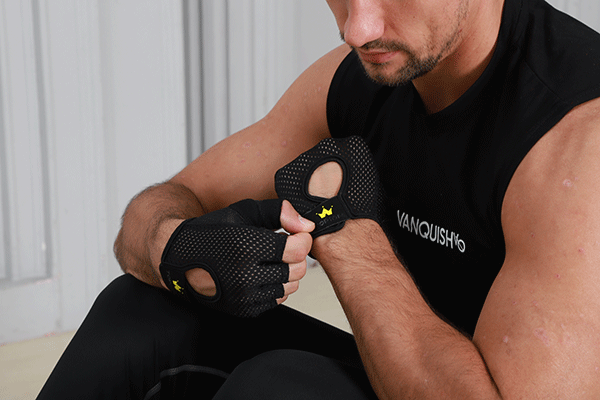 Rowing gloves can certainly help you from getting blisters, upgraing rowing workout to a more comfortable level. Wanna bring picturesque lake scene to your home? VR rowing of Holofit provides total immersion in exceptional environments and a unique experience where wonder, change of scenery do not leave any place to boredom. Do you know you can make a difference just by rowing at home? Rowing for charity is now on the swing.
Here are some ways to upgrade your rowing experience.
---