Nothing is better than jumping into a rowing boat on a picturesque lake and starting a peaceful rowing workout. However, life isn't always as good as this – especially if you live in a city where row boats, lakes and peace don't come easy! This is where
water rowing machine
comes in. These rowers use water as the resistance, simulating the soothing sound of rowing through water. Water rowing machine is relatively quiet when in use – even when you're rowing fast.
Water resistance
provides a smooth stroke and a mechanism that doesn't require much maintenance. If you don't have a lake nearby, trust us, it's the next best thing.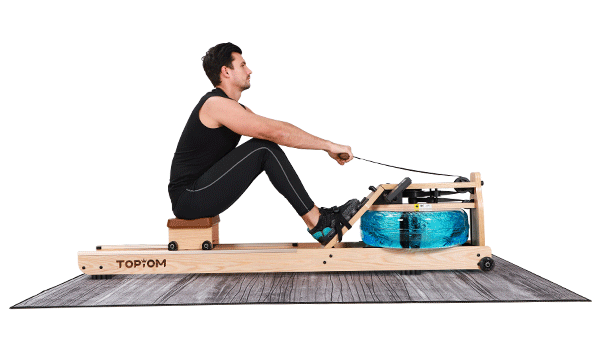 Table of contents
Top picks of water rowing machines
Common questions of water rowing machines
Workout programs on rowing machines
Upgrade your rowing experience
Why do I write this review
---
| Top picks | Rating |
| --- | --- |
| WaterRower Natural Rowing Machine in Ash Wood with S4 Monitor | 4.8/5 |
| Ergatta rowing machine | 4.5/5 |
| Xterra ERG600W Water Rower | 4.7/5 |
WaterRower natural rowing machine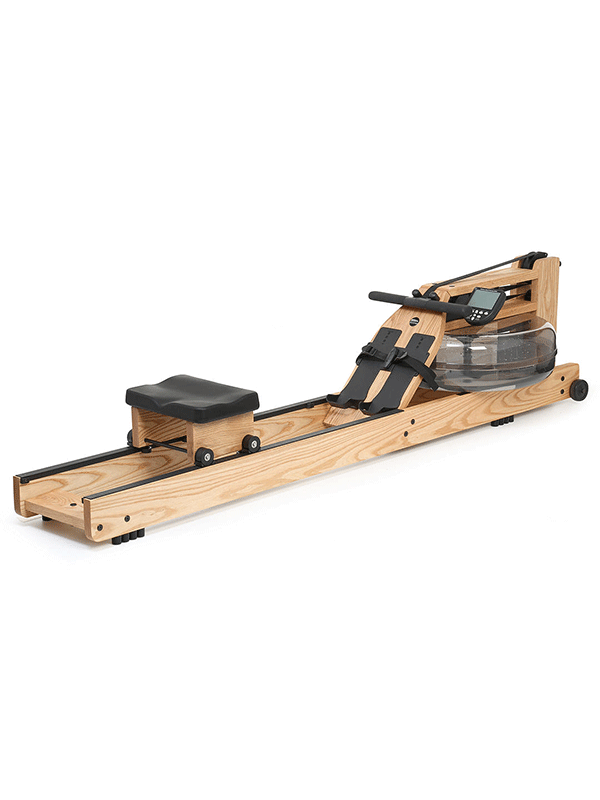 Waterrower is designed to resemble the glorious vessels found spearing down the Thames during the Oxford-Cambridge Boat Race.
This video
may give a clear idea of elegant Waterrower.
Rating: 4.8
Technical specifications
Assembled dimensions: 83.0″ x 22.0″ x 21.0″ (L x W x H)
Folded dimensions: 21.0″ x 22.0″ x 83.0″ (L x W x H)
Weight: 117 pounds [53 kg] (full water tank) / 73 pounds [33 kg] (empty water tank)
Maximum user weight: 250 pounds
Price:$1,000 – $1,499
Assembly
According to WaterRower, assembly should take no more than 30 minutes. Assembly instructions are provided to help users assemble. There are also plenty of YouTube videos walking through the WaterRower assembly.
Build design & quality
It looks robust, well-constructed out of quality wood, exuding a sense of nature. The WaterRower Natural frame is built using
solid Ash wood
, sustainably sourced from the Appalachian mountain range. Stained in honey oak and finished with a light Danish oil, this sleek machine is the company's flagship offering. Such delicate construction absorbs sound and vibration, making rowing smoother and quieter. With a water flywheel, it mimics the feel of rowing in actual water. This rowing machine features fixed footrests with sliding footpads. Footrests are fixed in a scientific angle, encouraging users to perform correct rowing form with corret feet angle. Sliding foodpads allow users to adjust footplacement to better meet their needs. For exmaple, for those who have big belly or are pregnant, lowering the footpads might provide more comfortable rowing posture. Read
the article of rowing machine specific features
to learn more. However, here comes one letdown. As a rowing machine with dual rails, the space between footrests is narrower compared with those rowing machine with monorail. This might be a question for those who have big legs.
Comfort
The molded seat has an ergonomic design and comes with extra padding to provide superior comfort while rowing. A few users commented that this seat was the most comfortable they've experienced. So smooth in fact that many users don't realize how hard they have been working out until they get off the machine! Aluminum-made, the handle is durable and light. Its tear-drop shape makes it easy to grip and also minimizes any development of wrist problems. However, some uses find the space between footrests are too close. If you have 'big' legs (muscular or otherwise) you may find your knees and thighs knocking together.
Resistance
As its name indicates, it uses water resistance. It works your muscles with a flywheel spinning in water. Unlike other rowing machines you don't have the option to select the resistance level. The faster you row, the greater the resistance of the water – just like rowing on a lake.
Monitor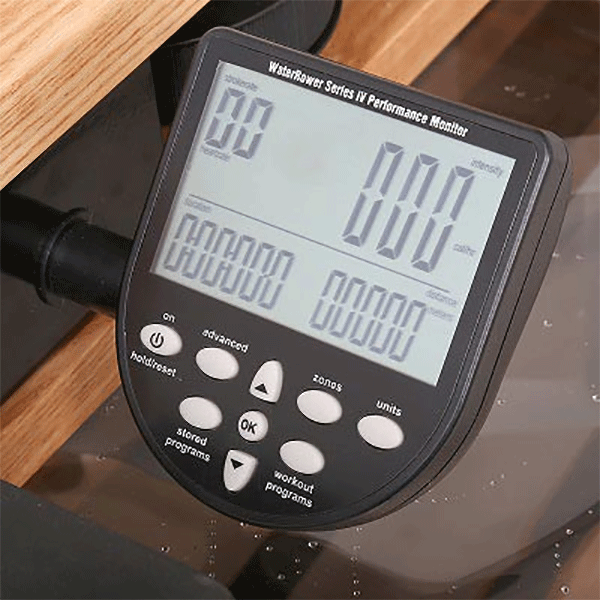 Monitor Specs
Data
Time, Distance, Intensity, SPM, Heart Rate Monitor, etc.
Bluetooth
√ with ComModule
Heart rate feature
√ Option is available when optional heart rate monitor is used
Preset programs
√
Preset workout
√
Games
×
Software/Apps
WaterRower Connect App, CITYROW Go App, Coxswain App, and SmartRow App, etc.
PC connectivity
√
Backlit
×
This water rowing machine is more than just a pretty face! Another feature is its easy-to-read Series 4 (S4) monitor. Series 4 performance monitor tracks workout's watt/intensity, stroke rate, heart rate, and more. Additionally, WaterRower Natural provides six preset workouts. You can set simple time/distance goals using the workout button. You could also set distance interval and target mode workouts to spice up your workouts a bit. On top of this, S4 features PC connectivity and you can turn S4 Performance Monitor into a Bluetooth enabled device with ComModule. There are several commercially available software products for the WaterRower, including WaterRower Connect App, CITYROW Go App, Coxswain App, and SmartRow App. With apps, you can store training data, race online against others, or try better times from previous training sessions. But a little notice: ComModule is not included in the original package – one letdown to some potential customers.
Storage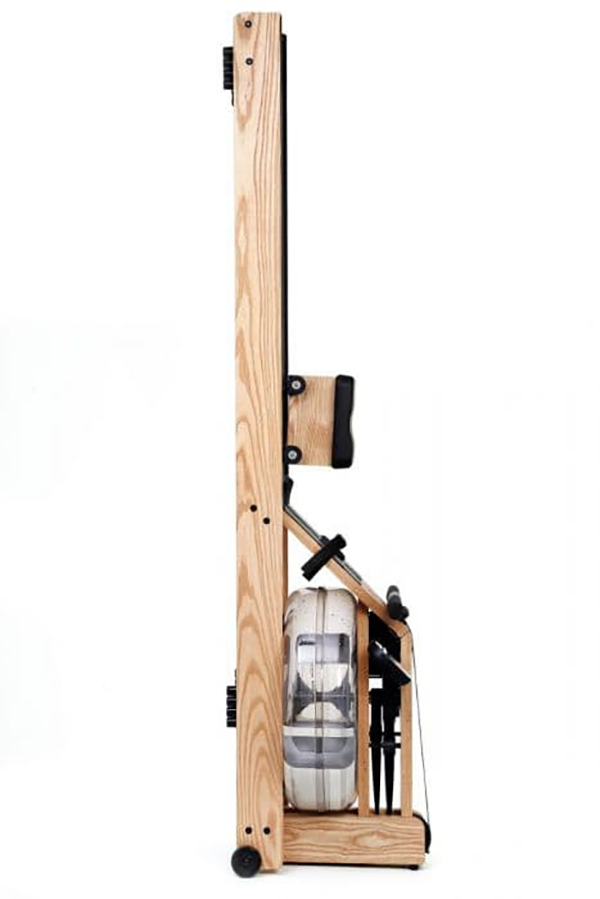 Despite the assumptions that it will be too heavy to move around after your workout, it is surprisingly portable with its wheel at the front on the rower. It is also an elegant fitness furniture, which can be stored upright when not in use.
Warranty
It provides three-year-warranty on all components, excluding touchscreen electronics, electronics accessories and rechargeable batteries, and five-year-warranty on the structural frame by registering the Product within the first year of purchase.
Verdict
Waterrower rowing machine is pleasing to the eyes and the ears and it works up to 84% of your muscle. Overall this piece of beautifully tuned, hand-crafted, water-resistance workout equipment sits at the high end of the water rowing machine spectrum.
| Pros | Cons |
| --- | --- |
| The whoosh sound is soothing | The console/ monitor is not easy to reach |
| Very solid and well-made construction | The foot rests may not be comfortable if you're tall |
| Natural wood looks elegant | Lacks backlit |
| Console can be plugged into your PC for additional features | |
| Fairly accurate monitor | |
| Easy to store upright with transportation wheels | |
Ergatta water rowing machine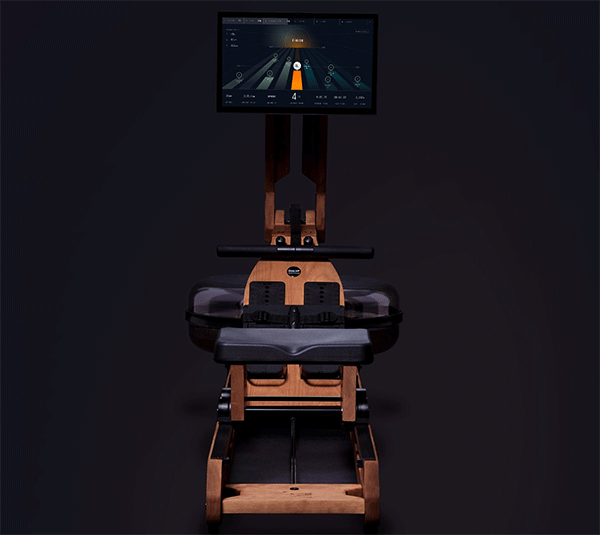 Rating: 4.5
Technical specifications
Assembled dimensions: 86" x 23" x 40"
Folded dimensions:
Weight: 103 lbs, 76.5 lbs without water
Maximum user weight: 500 pounds
Price: $2,199.00
Assembly
Assembly isn't something you'll have to worry about with the Ergatta. If you decide to purchase one, a $199 shipping fee will be added to your bill. That shipping fee covers the shipping of your rower, but it also covers professional assembly. So, your Ergatta will be assembled and installed by a professional, ensuring that your rower is put together in accordance with WaterRower guidelines and safety protocols.
Build design & quality
Like WaterRower, the Ergatta comes with a solid wood frame. To be exact, the Ergata is hand made out of American cherry wood. Not only does this give this rower a very distinctive look, but it also makes it quite durable. These rowers look more like pieces of art or furniture than exercise machines. Fixed footrests with sliding footpads are all good design features allowing users to perform correct posture and better meet their specific needs. For example, for those who suffer knee pains, raising footpads up a little bit might a good idea. This will relieve strain on the Achilles tendon. Another thing worth mentioning is its dual rail. Such design definitely contributes to the overall sturdiness of the Ergatta (and be another factor that allows this rower to hold 500 lb safely). However, the space between footrests is narrower compared with those rowing machine with monorail. This might be a question for those who have big legs.
Comfort
The machine has adjustable footboards and a comfortable seat with four small wheels on the bottom that allow it to roll on two rails. But some customers and rowing machine reviewers complain that the leg space is too close and the footpads don't feel right, affecting catch position.
Monitor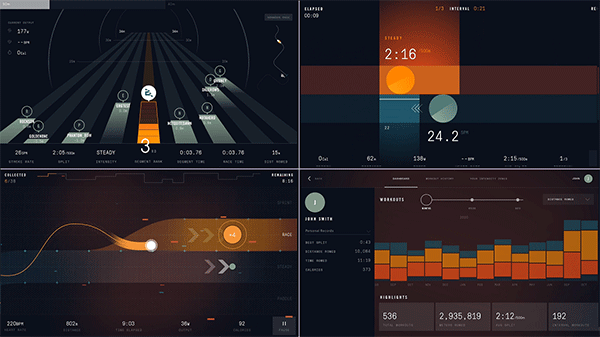 Monitor Specs
Data
Calories, Distance, Stroke rate, Heart rate, Average split, etc.
Bluetooth
√
Heart rate feature
√
Preset programs
√
Preset workout
√
Games
√
Software/Apps
×
PC connectivity
×
Backlit
×
Family sharing
√ unlimited user profiles
The Ergatta comes with a 17.3″ HD touchscreen display which is bluetooth and wi-fi compatible (you actually need wi-fi to use it). The monitor tracks progress and metrics, making it easier for users to work towards goals. One big feature of this monitor is its
gaming-inspired system
allows you to compete against yourself and other rowers, pushing you to meet goals and challenge yourself to more intense workouts. At first use, you complete a 2,000 meter row to determine your level of performance allowing the software to personalize your workouts so they're not too easy, or too hard. This calibrates what they call 'Intensity Zones', that is, representing your speed and endurance at paces of paddle, steady, race, and sprint.
Workout programs
There are hundreds of workouts to choose from, most with a game-like set up. Ergatta offers 4 different workout types:
Push programs- this section contains workout programs designed to help you reach a certain goal (improve endurance/power/or technique)
Interval workouts- these programs are designed around HIIT workouts and other interval based workouts and can be selected based on time, difficulty, or distance.
Race workouts- these programs allow you to compete against other Ergatta users that are at your skill level (your skill level is determined by the calibration workout you do at the beginning)
Open row- with open row you can simply row at your own pace, using either a time or distance as your goal
Unfortunately, there aren't any live races on Ergatta quite yet, but this is something they plan on adding soon. Some folks might be disappointed that there aren't any instructor-led courses, definitely something to consider. According to some customers, customers particularly like the idea of
personal calibration
. As compared to the Hydrow, they would prefer this as it is geared towards a more data based and personalized training program. Ergatta is a more analytical performance based approach, which is what this seems to be. However, for some customers, Ergatta is a little pressuring. Ergatta is a world full of metrics and pressure to perform, and some customers can't enjoy a less connected and more meditative rowing. Prefer a rowing machine with an advanced monitor? Read
the article introducing rowing machines with well-functioned monitors
to pick your favourite.
Storage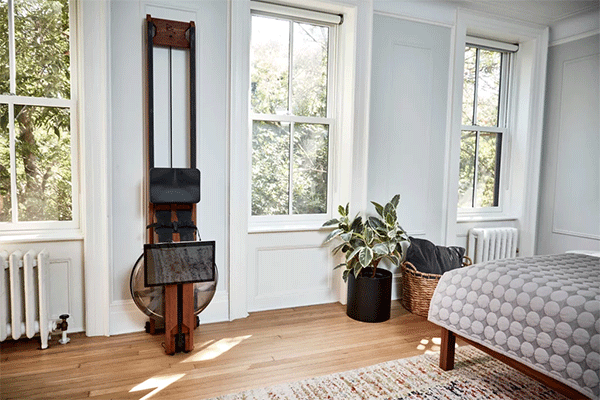 Like Waterrower, Ergatta can't be folded for storage (it's solid wood after all), but it can be stored vertically. And, you don't have to take the water out of the tank to store. When vertical, it only takes up a floor space of 23″ x 22.5″, which is less than 2′ x 2′. Ergatta is also designed to look great when in use, but they're also designed to easily be put in storage and out of the way.
Warranty
The Ergatta water rowing machine comes with the following warranty:
5 year frame
3 year parts
1 year labor
Verdict
| Pros | Cons |
| --- | --- |
| Support Bluetooth headphones and heart rate monitors | Expensive |
| Attractive design is compact, lightweight | No instructor-led workouts |
| Gaming-inspired monitor system | No live races |
| Good warranty | |
| Store vertically | |
Xterra ERG600W water rowing machine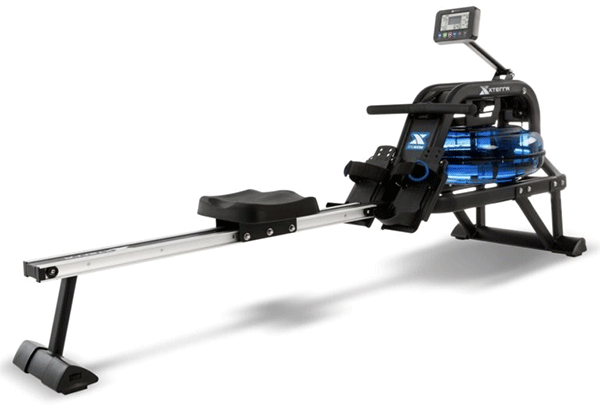 Rating: 4.7
Technical specifications
Assembled Dimensions: 80.7″ x 22″ x 33″ (L x W x H)
Folded dimensions:
Weight: 83 lbs
Maximum user weight: 300 LBS
Price: $599~$899
Build design & quality
Featuring a solid steel frame, the ERG600W water rowing machine is a sturdy rowing machine. It is capable of supporting a user of up to 300 lbs. The rowing seat rail is 13.5″ off the floor which makes getting on and off the rowing machine a bit easier. Unlike Ergatta water rowing machine, this rowing machine features a monorail. One benefit of monorail is that the space between footrests are bigger, preventing users' knees from rubbing. It also features fixed footrests with sliding footpads – a must for a properly designed rowing machine. Unlike pivoting footrests, fixed ones spare users from finding the angle of their feet and provide correct rowing form. Sliding footpads can better meet rowers' needs, preventing any rowing injuries. For exmaple, for those who have big belly or are pregnant, lowering the footpads might provide more comfortable rowing posture.
Comfort
With the large, contoured seat and the padded ergonomic handle, you can enjoy a smooth and comfortable rowing. Overall, the rowing position is good with a high seat (good for your knees), a comfortable seat, good width and well-padded handle, and long, wide footrests with a secure straps.
Resistance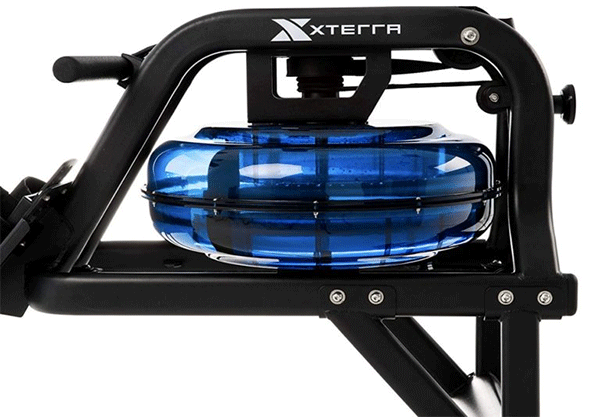 Resistance is variable and adjusted by how fast you pull the handle. The water tank has 6 different lines to measure the height of the water. The higher you fill the tank, the more difficult it feels to row. Technically, it doesn't change the 'resistance' but it does change
the feeling of the rowing stroke.
Monitor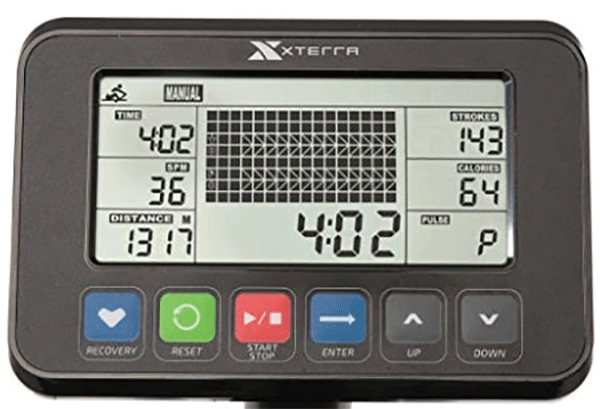 Monitor Specs
Data
Total Time, Time/500M, Calories, Distance, Strokes, Strokes/Min (SPM), Room Temp, Clock, Pulse (only with HRM)
Bluetooth
×
Heart rate feature
√ Only with used with a 5.3 KHz chest strap heart rate monitor, which is not included
Preset programs
√ 5 programmable training modes
Games
×
Software/Apps
×
PC connectivity
×
Backlit
×
The Xterra Erg600W water rowing machine comes with a large 5.5″ LCD monitor. The monitor tracks Total Time, Time/500M, Calories, Distance, Strokes, Strokes/Min (SPM), Room Temp, Clock, Pulse (only with HRM). The monitor is heart rate compatible – but note, it displays your pulse but has no heart rate training programs, and the chest strap is not included. Even though this is a budget-friendly water rower, it still has 5 programmable training modes: Race Against Computer, Time Countdown, Distance Countdown, Strokes Countdown, Calories Countdown. With such modes, you can customize and diversify your training without app subscription costs. However,this monitor doesn't allow you to connect the console to third-party apps for interactive training or workout data transfer.
Storage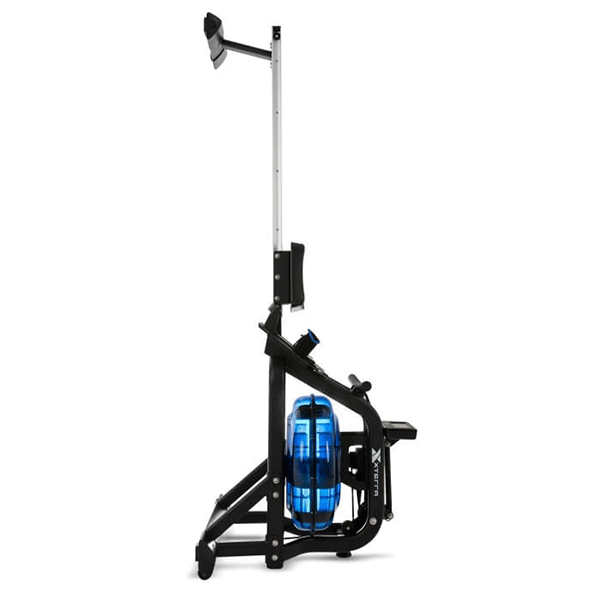 After finishing exercise, you can easily store it upright and wheel it around. All you have to do is slide the seat to the front of the rail and lift from the rear support.
Warranty
It includes 5 years on the frame, 2 years on parts, and 90 days on labor.
Verdict
| Pros | Cons |
| --- | --- |
| Good value | Heart rate strap not included |
| One tough machine – can support users up to 300 lbs | Basic console with no PC connectivity and no preset heart rate programs |
| Good monitor with some useful features – including heart rate monitor | Poor footrest quality & design |
| Good warranty for low-cost rowing machine | |
---
Frequently asked questions
1. Can I store it upright while the tank has water in it?
Yes. It's designed for just that. Water tank won't be filled over the lip of the seam between the two halves. One little note: Be sure to slide the seat forward towards the footboard prior to lifting the rear spacer end.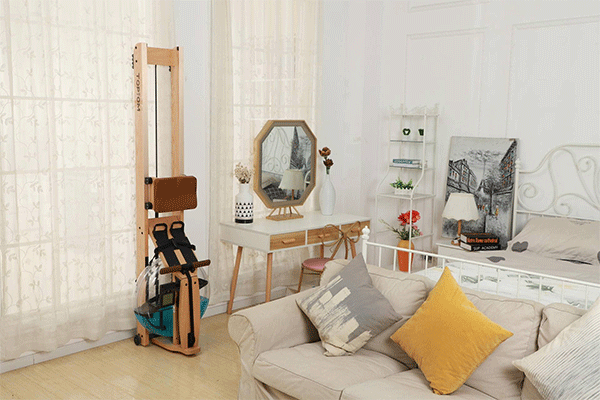 2. Is it easy to add water?
Some rowing machines provide electric water pump, which allows you to add or remove water easily.
3. Does the resistance change if I add more water?
As for some water rowing machines, like Topiom and Waterrower, changing the water level doesn't change resistance. It changes
the rowing feeling.
The more water, the "heavier" the rowing will feel (like rowing with passengers in a boat). The less water, the "lighter" the rowing will feel (like rowing by yourself). Rowing resistance depends on your rowing intensity.
4. Does the water require any maintenance?
Yes. It is recommended to perform periodic maintenance to maintain the condition of the water in the tank. Take Topiom rowing machines as an example. We strongly advise using
municipal tap water or tap water
which contains chlorine and other chemicals to keep it free from bacteria and algae, etc. It is advised to
change water every 3~6 months.
The water shall be refreshed periodically by
adding a water purification tablet.
For normal water level, one purification tablet is recommended. Generally, it is advised adding one purification tablet every 6 months. If water discoloration occurs, add a purification tablet immediately. If the water does not clear, we recommend emptying the tank, flushing it out with clean water, refilling, and adding a purification tablet. Never use chlorine bleach in the tank as this will irreparably damage the polycarbonate tank. For more information about maintenance,
the article of wooden rowing machine maintenance guid
e will be great help.
5. Can you lose weight on a rowing machine?
Yes, definitely. If you wanna lose weight on a rowing machine,
this article of the guide to weight loss
will be of great help.
---
Workout programs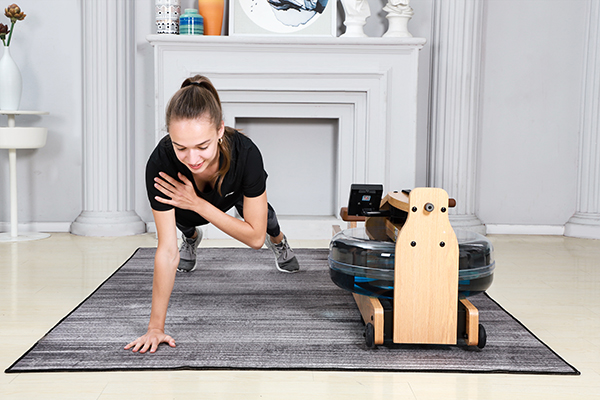 Rowing machine is a lifelong investment. Reading reviews and buying one rowing machine is only one step. More important step is to do workouts for your preferences and specific goals. If you wanna lose weight,
the article of guide of weight loss
and
the article of row belly off and make abs pop
are helpful. How about getting beautiful muscles?
The article of workouts to tone muscles on rowing machines
is what you need.
---
Upgrade rowing experience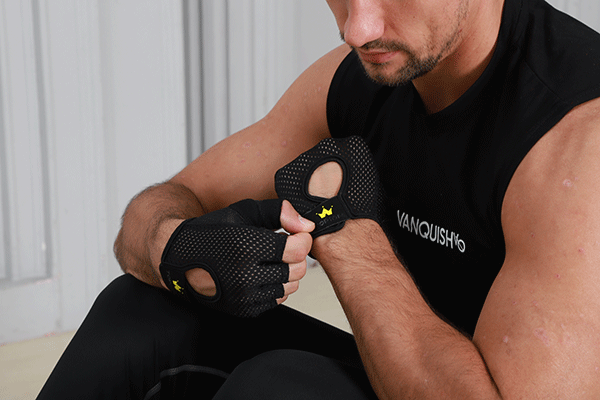 Rowing gloves can certainly help you from getting blisters, upgrading rowing workout to a more comfortable level. Wanna bring picturesque lake scene to your home? VR rowing of Holofit provides total immersion in exceptional environments and a unique experience where wonder, change of scenery do not leave any place to boredom. Do you know you can make a difference just by rowing at home? Rowing for charity is now on the swing.
Here are some ways to upgrade your rowing experience.
---
Why do I write this article?
I wrote this article because I hope I can help you simplify the searching of a rowing machine by recommending exactly what you want. It all began after I tried to search a perfect fitness equipment for my father who has knee problems. Being new to exercise equipment, it took me forever to research different exercise machines before finding the knee-friendly one — rowing machine. However, retailer websites don't offer answers to questions such as the seat comfort level, the level of noise, whether or not the rower is ideal for beginners, etc. Customer reviews can also be confusing, bias, and vague. It took me another 'forever' to find the suitable rowing machine after visiting numerous sites and comparing different brands. With a goal to spare you what I went through, I thus start writing articles. Thanks for reading my article. I'm honored to help you find the perfect rowing machine. Hope you enjoy reading and rowing!