As one of the best full-body workout machines, a rowing machine (also known as an ERG) is truly a "one-stop shop". However, it's not a "one size fits all" machine because most have a height limitation. This concern begs the question – which rowing machines are suitable for tall people? In this article, let's dig into rowing machines suitable for tall people. Table of contents
Top picks suitable for tall people
Workout programs on the rowing machines
How to upgrade rowing experience
---
Buying guide for tall people
a. Seat rail length
The rowing machine must have ample seat rail length that suitable for rowers' inseam length. So users can fully extend their legs.
What is Inseam length?
Inseam is
the length of the inside of your leg
. This is going to be the length of your leg while you are sitting down rowing. Here is a chart with a rough estimate of height vs. inseam length.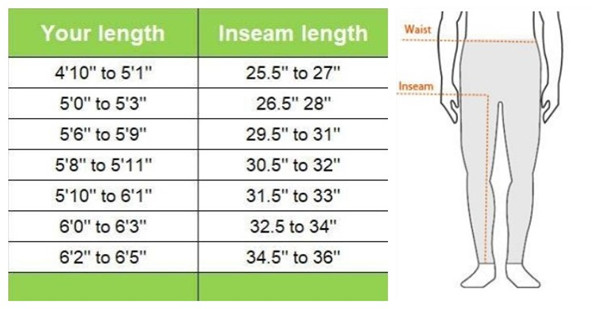 b. Housing location
Housing shouldn't be too near handlebar in order to ensure that rowing motion must not be compromised in any way. Differently put, users should be able to have a slight forward lean and extend their arms fully forward.
c. Footrest size
The footrests must be able to fit the presumably larger foot/ shoe of the user.
Top picks
Following are some good picks of rowing machines suitable for tall people.
| Top picks | Rating |
| --- | --- |
| Concept2 Model D Indoor Rowing Machine | 4.9/5 |
| Aviron rowing machine | 4.8/5 |
| Bodycraft dual resistance rowing machine | 4.5/5 |
| LifeCore R100 Rowing Machine | 4.5/5 |
Concept 2 Model D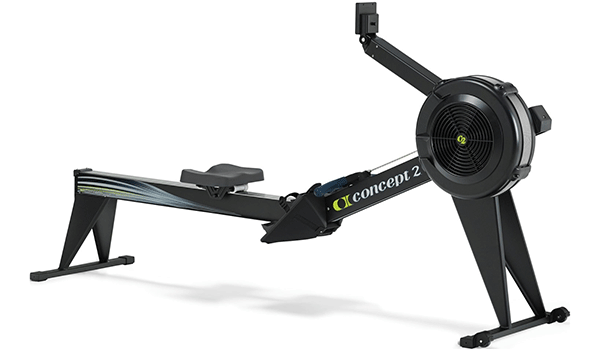 Technical specifications
Assembled dimension: 96.0″ x 24.0″ x 14.0″ (L x W x H)
Folded dimension: 25.0″ x 33.0″ x 54.0″ (L x W x H)
Weight: 57 lb (26 kg)
Maximum user weight: 500 lb (227 kg) as tested by Concept2.* / *300 lb (135 kg) as tested per European Stationary Fitness Equipment Testing Standard EN 20957-7.
Price: $500 – $999
Why is it suitable for tall people?
One of the most common problems that taller people run into with rowing machines is the handle design. The handles are often positioned in line with your feet – and that's the maximum they can go. This is a no-no for tall people. They're not able to achieve a full range of motion. That is not the case with Concept 2 Model D. The handles of Concept 2 are designed to be farther than the foot pedals. It ensures you have plenty of reaches to get a full range of motion with longer arms. Moreover, there's a monorail extension bar available too. This enables you to increase the overall length of the rowing machine by 5". So, you're able to row with a maximum length of 59". This is suitable for people who are 7' or taller! So Concept 2 Model D is definitely a rowing machine suitable for tall people. Wanna learn more about Model D? Keep reading.
Build design & quality
This rowing machine is of commercial-grade quality. The construction is very solid and will put up with years of regular use. The machine has a powder coat finish and comes in both black and light grey hues. Its front legs are aluminium, its rear legs are steel, and its chain is nickel-plated steel. When it comes to design, Concept 2 is professional. One important feature is that the footrests feature sliding footpads. Such design allows users to adjust footplacement according to their specific needs. For example, for those who suffer knee pains, raising footpads up a little bit might a good idea. This will relieve strain on the Achilles tendon. Read
the article of rowing machine specific features
to learn more. Another good feature is the space between footrests & housing and footrests. This room is where users keep their shin vertical, maintain their body straight and stretch their arms. On Concept 2, this space is large enough. However, some lower-cost rowing machines have design flaws. For example, on Sunny Health Fitness SFRW5515, the housing & handlebar are almost right above the footrests, preventing users to be fully compressed. Read
the article of buyer beware
to learn more. One beef of Concept 2 is its monitor arm. The arm on the Model D is plastic, and therefore not particularly durable.
Comfort
The Concept2 is a 'training' rowing machine and it makes sense to have a seat that is good for shorter, faster sessions. The seat is made from firm rubber. The seat height of 35.5 cm is enough to provide a comfortable fit for people of different heights. The footrests are adjustable, which shows user-friendliness again, and the handle design is ergonomic. Because of such design, after you jump onto this machine and exercise for a long session, you still feel quite comfortable.
Resistance
The Concept2 is an air resistance rower, which means it's action is smooth and will closely replicate rowing on water without any lag throughout the rowing stroke. The resistance level is determined by your rowing intensity. The faster you row, the more intensity you feel. The Concept2 Model D resistance allows you to row at your own intensity/pace and the resistance will adjust accordingly.This automatically adjusting resistance is know as 'variable' resistance. This 'variable' resistance is perfect for HIIT (high intensity interval training) exercises because you can row fast or slow and the resistance adjusts to your speed without having to stop and change any settings. But a little warning, air resistance is
noisy
. It will be a problem if you prefer a quiet and peaceful rowing experience. Conept 2 model D is also one of the best air rowing machines. Read the
top air rowing machine reviews
to learn more.
Damper setting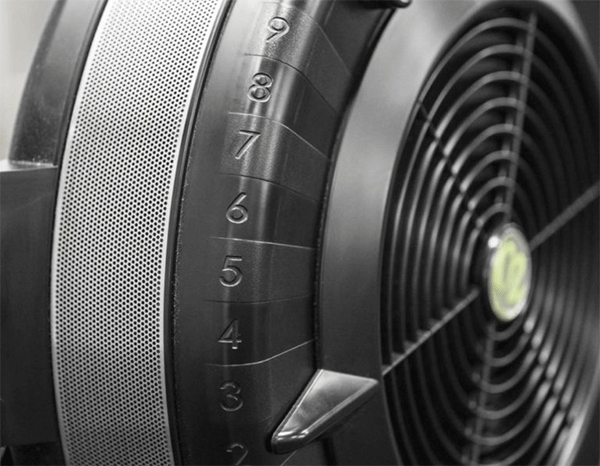 Besides adjusting resistance, users can also adjust the
"feel"
of the rowing stroke with the damper setting. Users can change the damper settings from level 1 to 10 (as seen above). Instead of representing different resistance levels, they represent the amount of air going into the flywheel, which effects the "feel" of the rowing stroke. The higher settings (6-10) give you the feeling of a slower, heavier boat, whereas the lower settings (1-5) give you the feeling of a sleeker, faster boat. Concept 2 truly brings the on-the-water feeling into dry land and into your home.
Monitor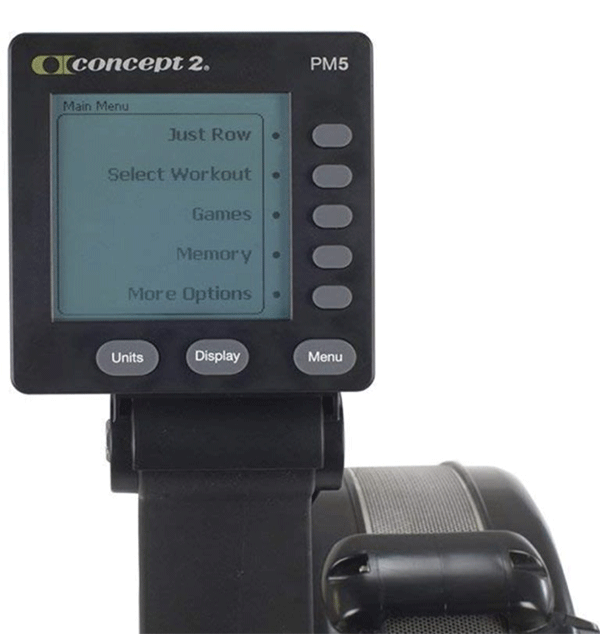 Its performance monitor is where users lavish praises on Concept 2. The top section provides total time, number of strokes per minute, rowing distance and 500m split time. You can choose from five different graphic displays for the bottom section:
All Data (shows additional data)
Force Curve (shows a graph for how force varies between your legs, back, and arms during the driving motion of your row [it basically tells you if your rowing motion is smooth or not])
Paceboat (shows graphic display of your boat against a pre-programmed boat; you can also set a previous workout of yours as the paceboat so you can race against yourself)
Bar Chart (shows graphic display in a bar chart format of the total watts of power generated during each phase of the workout)
Large Print (shows data with larger font)
PM5 is not only bluetooth compatible but also provides ANT+ connectivity as well. This gives you the freedom to connect wirelessly to fitness apps, including ErgData, asensei, Rowpro, Regatta among other apps. It can also connect to heart rate monitors for easy tracking. Wireless connectivity makes transferring workout data easy. You can also save the data to a flash drive for use with your own apps. Plus, if you're looking to save your data and compare it with past or future sessions, don't worry—the PM5 automatically stores your information in its internal memory or on an optional USB flash drive. If you are a data nut and love tracking progress, then the Model D is a fantastic choice. To spice up rowing exercise, there are also some games in it to lighten up your rowing. Additionally, to make reading easy on your eyes it comes with backlit LCD display. These top-of-the-line features do come with a top-of-the-line price. It soars around the $1,000 mark, which is among the highest on the list. However, its smart design and an impressive set of features totally worth it.
Storage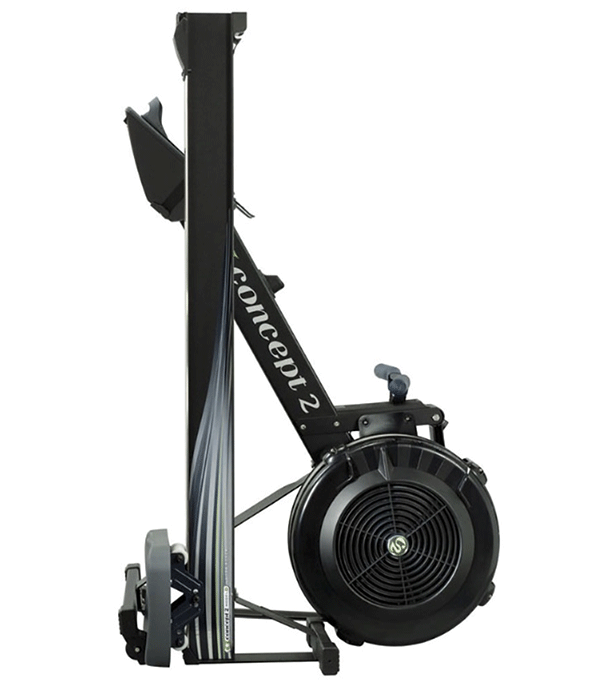 The Model D Rowing Machine has a large footprint when in use, but the size is basically cut in half when it is separated and stands up. Yes, you read it right! All you have to do is separate the monorail and the flywheel portion of the rowing machine. Then rest the flywheel portion of the rower on its "head" and make the monorail section "stand up".
Verdict
All in all, Concept 2 is known as the golden standard in the rowing industry.
This video
also gives you an idea of the top 3 reasons why you should buy a concept 2.
Aviron rowing machine – suitable for tall people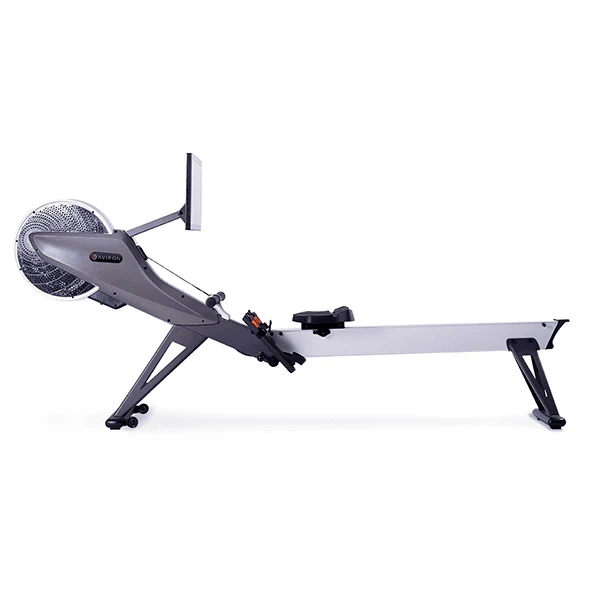 Technical specifications
Assembled dimensions: 97.0″ x 22.0″ x 43.0″ (L x W x H)
Folded dimensions: 54.0″ x 22.0″ x 62.0″
Weight: 93LBS / 42KG
Maximum user weight: 397LBS / 180KG
Price:
Why is it suitable for tall people?
The maximum inseam length that comes with this rowing machine is
97"
. This is incredibly long and provides you with plenty of room to row. So Aviron is suitable for tall people.
Build design & quality
Aviron features a design that looks quite futuristic. It is constructed with a reinforced, anodized aluminum rail that ensures both stability and durability. One good feature is its fixed footrests with sliding footpads. Fixed footrests spare users from finding the angle for feet – a good design especially for beginners. Sliding footpads help to accommodate feet of different sizes. What's more, such design allows uers to adjust footplacement according to their specific needs. For example, for those who have big belly or are pregnant, lowering the footpads might provide more comfortable rowing posture. One more point worth mentioning is its monorail, which may provides bigger space between footrests compared with rowing machines with dual rails. This is particulary good for rowers who have big legs. However, there is one letdown – the space between the housing and handlebar is not as big as that on the Concept 2.
Comfort
The rowing position is very comfortable. Durable and easy to grip, its handle features its ergonomic design. One innovation of its handle is that it rotates during your rowing workout. This design may force users' hands and wrists into a proper position. One drawback of the handlebar is that it is a little short. The footrests secure your feet while rowing and the nylon straps can be quickly adjusted to secure or loosen your feet.
Resistance
Aviron combines 16 level dual air resistance with magnetic one. There is big intensity difference between level 1 and level 16. With such a resistance design, users can get more intensive workout. However, after level 10, the stroke feeling gets insanely difficult, which is probably unnecessary.
Monitor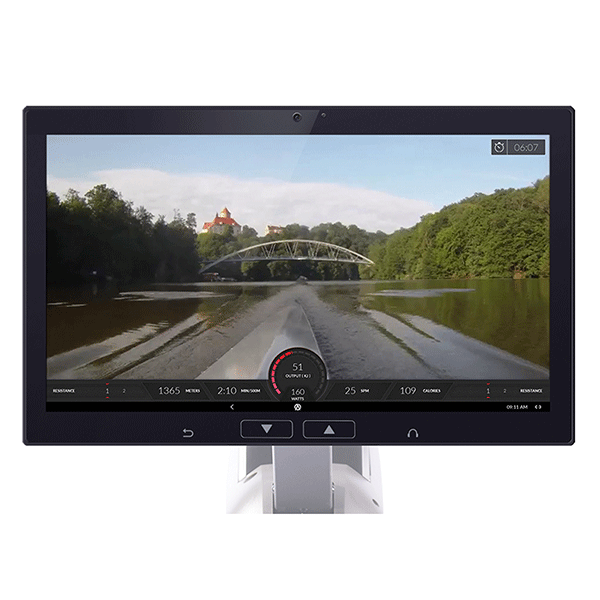 Console is one of Aviron's biggest features. This monitor is bluetooth-enabled. When synced with Bluetooth heart rate device, it helps you stay in your peak target zone for a more efficient workout. It comes with a 22" 1080P touchscreen. This monitor has 6 primary workout functions to motivate and guide your training. One function is that it offers videos, teaching you proper exercise technique to maximize your workouts. You can also set your goals and select personalized workouts to improve cardiovascular performance or increase strength, speed, and muscles. Another feature is that you can add, follow, and challenge your friends. This monitor can also spice up your rowing workout at it also has several rowing games.
Storage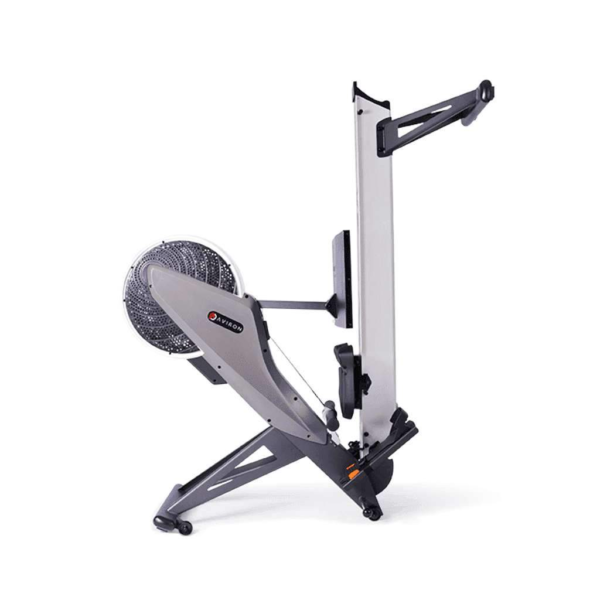 Although can't be seperated apart, Aviron features a foldable design. It also features transport wheel, so you can easily wheel it out of your way.
Warranty
This rowing machine comes with a 2-year limited warranty.
Verdict
With advanced monitor, high quality and good design, it does cost a lot. But you will get what you pay for.
The video by Training Tall
may give you a more detailed idea of Aviron rowing machine.
Bodycraft vr500 dual resistance rowing machine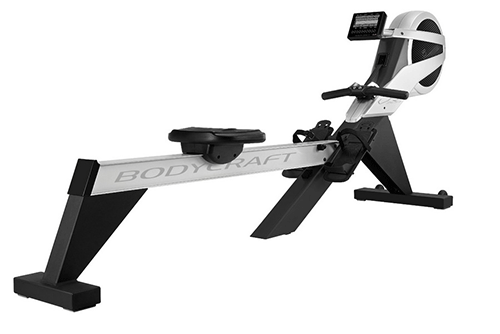 Boasting of more than a decade of development and technical research, the BodyCraft VR500 Commercial Rower is one of the most professional pieces of fitness equipment on the market. Efficient, durable and equipped with handy features, this particular machine is often used by professional athletes during their training sessions. But, as you can expect, this rowing machine costs around $1,500! Such a high price often puts customers away. But, honest, you will get what you pay for. Let's get onto the nuts and bolts. You can also
watch the video
to get quicker knowledge of this rowing machine.
Rating: 4.5
Technical specifications
Assembled Dimensions : 98.5″ x 20.0″ x 38.5″(L x W x H)
Folded Dimensions: 58.5″ x 20.0″ x 77.0″ (L x W x H):
Assembled Weight: 101 lbs.
Maximum user weight: 350 pounds
Price: $1,500 – $1,999
Why is it suitable for tall people?
The maximum inseam length is
98.5"
. This is incredibly long and provides users with plenty of room to row.
Assembly
Assembly time of the BodyCraft VR500 Commercial Rower is different among people – some taking some 30 minutes and others 2 hours.
Build design & quality
Firstly, The build-quality is excellent and you get the impression this is a machine that will go on for years. It has a lightweight anodised aluminium frame and its support legs are constructed from high-strength powder-coated steel, giving the rowing machine a sturdy base. The mono-rail seat track is also very strong, being made of high-strength T13 aluminium. Monorail might be a better choice for those who have big legs. Wondering which one is more suitable for you? Monorail or dual rail?
The article of rowing machine specific features
might give you some insights. This rowing machine also features wide footrests with sliding footpads. Sliding footpads are a really crucial feature that allows users to adjust foot placement according to their specific needs. For example, if you have big belly, you might need to lower your footpads. Now, here is something that this rowing machine needs to work on. The space between housing and footrests is not as big as that on Concept 2. The space is where users stretch their arms to get a good rowing form.
Comfort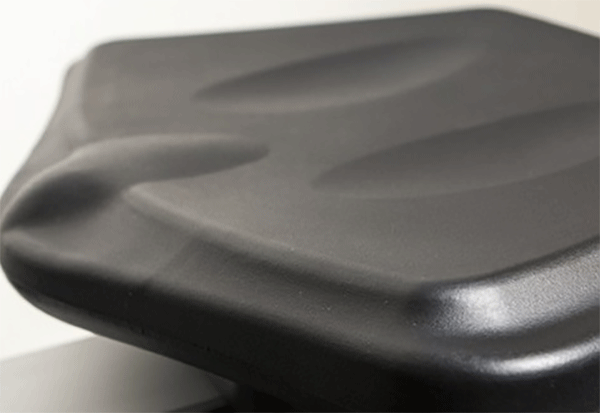 The seat at first look doesn't look as if it will be comfortable, but look can be deceptive. The seat sits on top of heavy-duty friction-free rollers that use ultra smooth industrial grade bearings. This allows a very smooth and quiet rowing stroke. Footrests come with adjustable heel rests and quick-adjust foot straps. The lightweight aluminum handlebar also allows for a comfortable grip that reduces blisters. Another great comfort feature is the seat height of 19.0″ off the floor, which allows users to easily get on and off the rowing machine.
Resistance
The VR500 uses a combination of air and magnets to provide the resistance. It fuses essentially unlimited air resistance with 32 levels of magnetic resistance. Such innovation gives the advantage of air – a realistic rowing feel of increasing resistance as you pull harder, with the functionality of a magnetic mechanism, that is, the ability for the computer to change the level of resistance – very useful for heart rate programs. At lower levels, the VR500 uses more air than magnetic resistance and as the levels increase, more magnetic resistance is incorporated.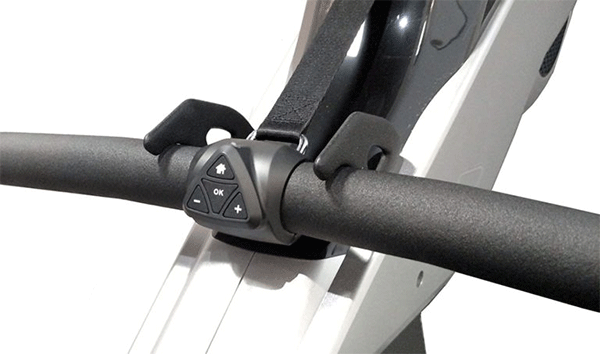 Another great feature of this machine is its
handlebar resistance control
. Users are able to control the rowing machine resistance straight from the handlebar without having to stop in the middle of workout. This allows seamless rowing without any unnecessary interruptions. Features like this help the VR500 stand out from other high-end rowing machines. However, there is also a dark side. Such a design can encourage users to keep the handlebar in the center. This is a wrong way of keeping it. The correct way to hold the handlebars is to hold them by the side. Read the article of
Indoor Rowing Technique
to learn more.
Monitor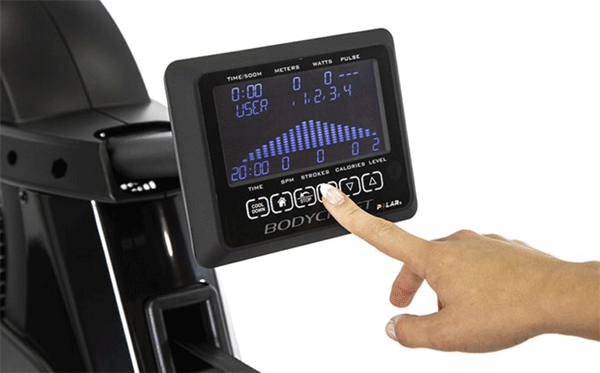 Monitor Specs
Data
Time/500m (Split time), Meters (Distance), Watts (Power output per stroke), Pulse (With optional chest strap), Time, SPM (Strokes per minute), Strokes (Total for workout), Calories, Resistance Level
Bluetooth
×
Heart rate feature
√
Preset programs
√
Games
×
Software/Apps
×
PC connectivity
×
Backlit
√
Family sharing
4 separate user profiles
The monitor has an easy-to-read LCD screen with a backlit LED display. It has 8 modes, which is Manual Mode, Profile Mode, Race Mode, Interval Mode, User Data Mode, Custom Program Mode, H.R.C. Mode, Watt Mode. Such mode design allows you to customize your workout. It also features 12 pre-set programs and the ability to store up to 4 separate user profiles – great if more than one person will be using the machine. That being said, the VR500 doesn't have PC functionality meaning you can't connect to a computer to analyze workout data with 3rd party apps or race against other rowers from around the world. Plus, the VR500 Pro Rowing Machines requires a standard outlet plug to operate. This might be inconvenient for some users.
Storage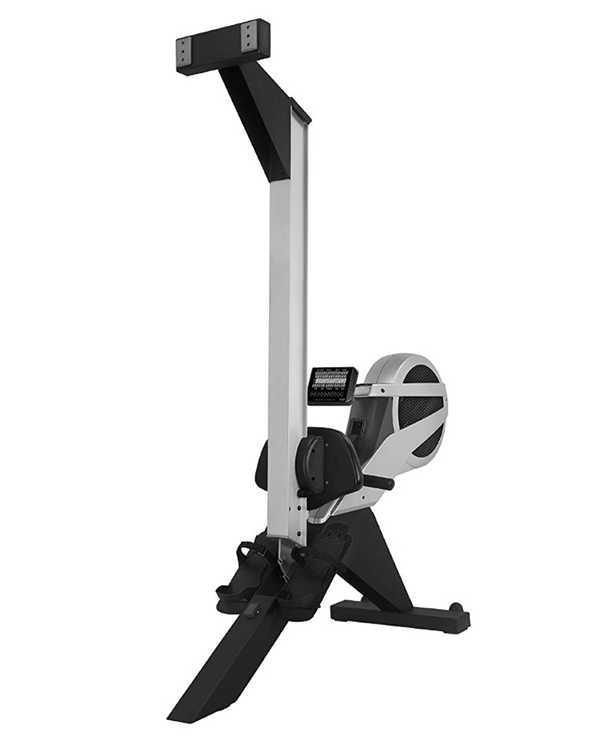 After use, it can be easily folded. It also features roll system with safety child lock.
Warranty
Frame: 10 years
Parts: 2 years
Labor: 90 days
Verdict
| Pros | Cons |
| --- | --- |
| Great display – very informative but easy to use | No online facility (or ability to store workout data to a PC or tablet) |
| Resistance controls on handle | expensive |
| Long beam – suits up to 6′ 6″ user | Chest strap is an optional extra |
| 4 user profiles | |
LifeCore R100 Rowing Machine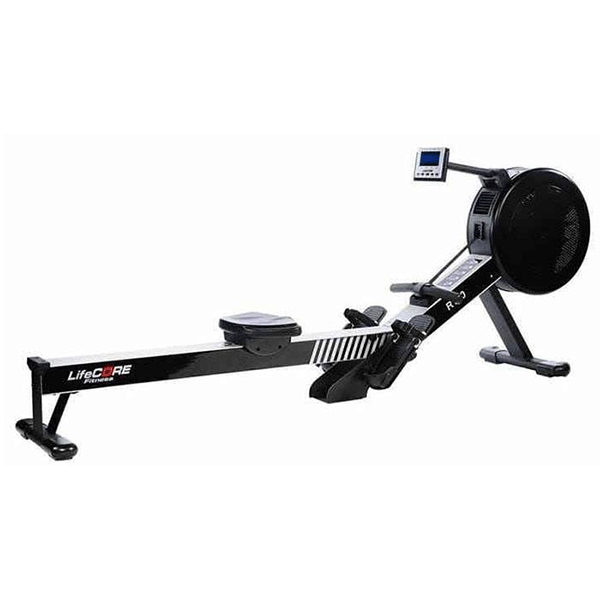 Rating: 4.5
Technical specifications
Assembled dimensions: 92.0″ x 19.0″ x 36.0″ (L x W x H)
Folded dimensions: 52.0″ x 19.0″ x 67.0″(L x W x H)
Weight: 96 pounds (44 kg)
Maximum user weight: 600 lbs
Price: $1,000 – $1,499
Why is it suitable for tall people?
This rowing machine features a gliding rail which is long enough to be suitable for tall people, up to 6'6″ (198 cm), promoting a complete leg extension.
Assembly
Assembly of the Lifecore R100 Rowing Machine is fairly straightforward. The assembling instruction of the LifeCore R100 Power is quite easy to read. The whole process requires no deep electrical or mechanical knowledge. Some users even commented they were able to put it together in under 10 minutes with the included allen wrench!
Build design & quality
Every part on the rower is made to last. It's coated with black semi-gloss paint and has an extruded aluminum frame with solid steel supports. The aluminium frame and solid steel supports give a rock solid feel and Lifecore claim it will handle a user of up to 600 lbs! Also, the machine's stabilizers have rubber pads, in order to deliver a superior grip onto the floor. The gliding rail is long enough to be suitable for tall people, up to 6'6″ (198 cm), promoting a complete leg extension. Another good design is that the space between housing and footrests is big enough for users to be fully compressed, keep their shin vertical and stretch their arms forward.
Comfort
The LifeCore R100 has a ton of great comfort features that allows people to row for hours (seriously, people have rowed marathons on this machine). The machine's seat is fairly large, approx. 16″ (40.6 cm) wide, featuring a contoured, ergonomic surface. It's built on a heavy-duty PVC frame. It glides on a set of 4 wheels which integrate industrial quality ball bearings for a long lifespan and smooth operation. The handle has an ergonomic design and a slight angle, which allows users to have a comfortable grip. The handle is attached to a heavy-duty nylon strap, not a chain, which results in a smoother and quieter operation. The footrests on the Lifecore R100 Commercial Rowing Machine are angled, wide, and have pivoting heel support. Their heels guards provide size adjustment, thus they can accommodate shoes of all sizes. They also feature adjustable straps, in order to deliver maximum foot stability during rowing.
Resistance
The Lifecore R100 Commercial Rowing Machine combines the smooth, 'variable' air resistance and the strong, 'adjustable' magnetic resistance. The dual-resistance setup provides a smooth and consistent rowing motion so you feel resistance throughout the entire rowing stroke. The R100 has 16 different levels of adjustable resistance, which makes this rower ideal for people of all fitness levels. One great benefit of air & magnetic resistance is the overall resistance strength. If you want to row slowly but still have strong resistance, you can set the resistance to level 16. If you want light resistance but still want to row fast, just turn the magnetic resistance to level 1 and rely on the air resistance. The R100 resistance level can easily be changed by pressing buttons on the performance monitor. The noise level on the Lifecore R100 Rowing Machine is also not nearly as loud as an air-only rower because the fan does not need to spin as fast due to the added magnetic resistance. Another great feature of the Lifecore R100 Rower is the adjustable cooling air vent. The vent allows users to point the air created by the rower towards them while working out, which can help keep them cool!
Console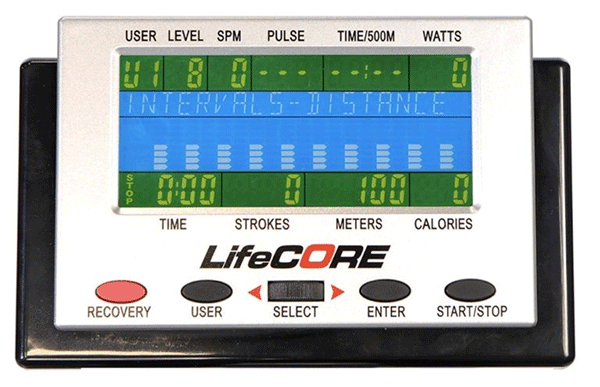 The Lifecore R100 Commercial Rowing Machine comes with a multi-function performance monitor that has a large LCD blue/green backlit display. It only has 5 buttons, which makes it super easy to use! It is attached to the front part of the frame through an angle adjustable arm, giving you the possibility to tilt it as you like, in order to benefit from the perfect view of your workout metrics. The monitor tracks various fitness data and all data is displayed simultaneously on the main screen. It also shows pulse since it comes with a built-in heart rate receiver and includes a FREE wireless chest strap to record your pulse during workouts! The monitor is compatible with 5K Polar Heart Rate Monitor products. It can also check your recovery heart rate (the amount of time it takes for your heart to recover after a workout). Users can do this by simply pressing the 'recovery' button on the face of the monitor immediately after a workout. The Lifecore R100 Rowing Machine monitor allows users to create unique user profiles for
4 different users
. Certain user details such as gender information, age, weight, and height are requested and is used to calculate workout data more accurately and to provide better experiences with future workouts. All user data is saved including historical workout data until the users manually erase profile information.
Workout programs
Out of all the monitor features, users rave about the workout programs the most! The Lifecore R100 Commercial Rowing Machine offers 15 different workout programs, including manual program, White Water & Ramp Programs, Manual Program, Pacer Program, Interval Programs, WATTS Control Program, Heart Rate Control Programs.
Manual Program
A quick start program where users select their resistance level
User then choose a target distance and time
White Water & Ramp Programs
These programs "simulate" rowing on white waters and ramps
The resistance levels will change as you go through the program and you can increase or decrease the resistance at any time
Users choose a target distance and time
Pacer Program
Allows user to race against or row beside a pace boat
User determines the speed/pace of the pace boat
Boat icons on the monitor show where you are relative to the pace boat
The monitor will let you know how many meters you're behind or ahead of the pace boat
Interval Programs
Users can set a time to row or a distance to row
Then you select the amount of rest period between the sets
These are great for tabata or HIIT exercises
WATTS Control Program
Allows user to determine watt (power) goal
Resistance level changes automatically according to your rowing speed (manual selection of resistance is disabled)
User chooses a target distance, time, and watt level
Heart Rate Control Programs
Allows user to keep training at their desired heart rate level
Programs are based off of individual user profiles
Three heart rate level options: 60%, 75%, 85%
User chooses a target distance and time
Storage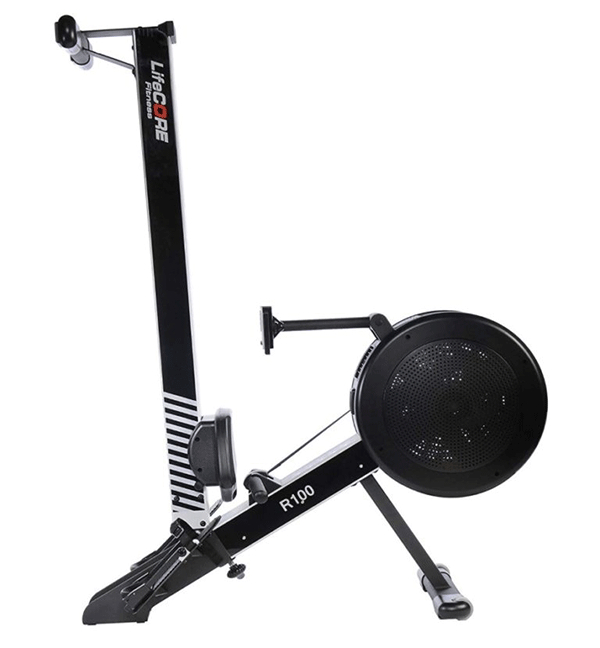 The Lifecore R100 Commercial Rowing Machine folds up in seconds by simply unscrewing a knob underneath the rower and standing up the seat rail. When folded, the rower has the following dimensions: 52 x 19 x 67 inches (L x W x H) The Lifecore Rower has dual caster wheels that make moving the rower around manageable.
Warranty
Residential Warranty
Frame: Lifetime
Labor: 1-Year
Parts: 5-Years
Light Commercial Warranty
Frame: Lifetime
Labor: 90-Days
Parts: 2-Years
---
Workout programs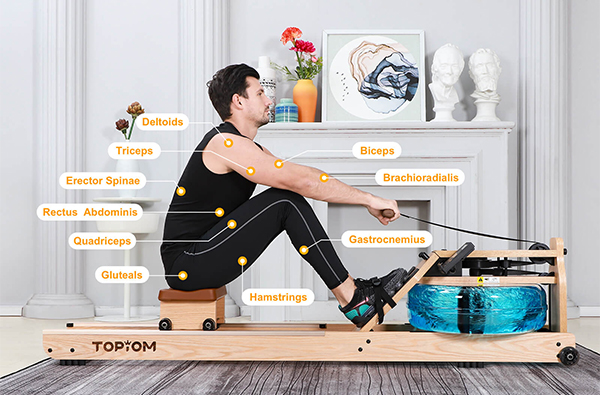 Rowing machine is a lifelone investment. Reading reviews and buying one rowing machine is only one step. More important step is to do workouts for your preferences and specific goals. If you wanna lose weight,
the article of guide of weight loss
is helpful. How about getting beautiful muscles?
The article of workouts to tone muscles on rowing machines
is what you need.
---
Upgrade rowing experience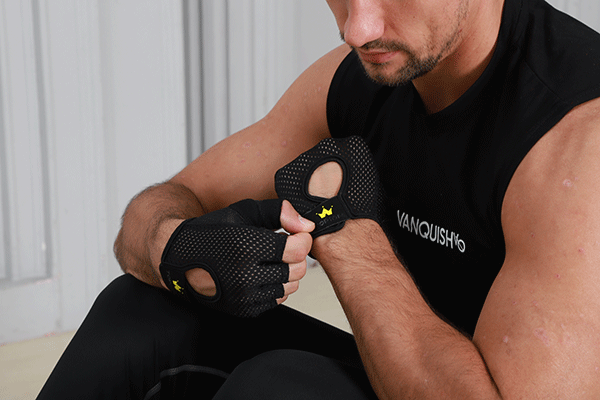 Rowing gloves can certainly help you from getting blisters, upgraing rowing workout to a more comfortable level. Wanna bring picturesque lake scene to your home? VR rowing of Holofit provides total immersion in exceptional environments and a unique experience where wonder, change of scenery do not leave any place to boredom. Do you know you can make a difference just by rowing at home? Rowing for charity is now on the swing.
Here are some ways to upgrade your rowing experience.