Looking for more authentic on-the-water rowing experience? Then look no further than an air rowing machine.
An air rowing machine uses "wind" or "air" to create resistance. It does this by having a user pull a handle, which spins a "fan flywheel". As the flywheel spins, it must move the "air" in the front and side of the flywheel.
Air resistance is smooth when in use. The lack of friction reduces wear and tear while minimizing maintenance.
Air rowers are preferred by trainees of various skill levels including competitive athletes.
Here is an article of full breakdown of characteristicsh of resistance types. Check it out.
Table of contents
Reviews of top picks of air rowing machines
Workout programs on rowing machines
How to upgrade rowing experience
---
Get your dream shape with following top-rated air rowing machines.
| Top picks | Rating |
| --- | --- |
| Concept2 Model D Indoor Rowing Machine | 4.9/5 |
| Xebex Air Rowing Machine 2.0 | 4.8/5 |
| Body Solid Endurance R300 Rower | 4.7/5 |
Concept2 Model D Air Rowing Machine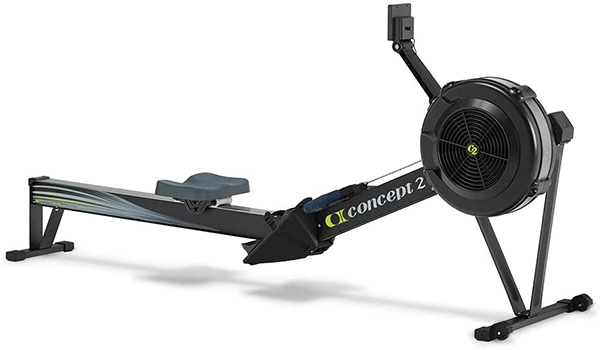 It is a big-name among air rowing machine because it provides durability, unlimited resistance, and engaging programming at a manageable price point.
Model D are used in gymnasiums all over the world and therefore built to last.
They're also first choice for the majority of rowing clubs and serious rowers.
Rating: 4.9
Technical specifications
Assembled dimensions: 96.0″ x 24.0″ x 14.0″ (L x W x H)
Folded dimensions: 25.0″ x 33.0″ x 54.0″ (L x W x H)
Weight: 57 lb (26 kg)
Maximum user weight: 500 lb (227 kg) as tested by Concept2.* / *300 lb (135 kg) as tested per European Stationary Fitness Equipment Testing Standard EN 20957-7.
Price: $500 – $999
Assembly
Assembling the Model D only takes about 20-30 minutes.
Here is Concept 2's assembly video showing how easy it is to assemble Concept 2.
Build design & quality
This rowing machine is of commercial-grade quality. The construction is very solid and will put up with years of regular use.
The machine has a powder coat finish and comes in both black and light grey hues. Its front legs are aluminium, its rear legs are steel, and its chain is nickel-plated steel.
One important feature is there is sufficient space between housing and handlebar. This space is of great importance because this is where rowers bend their knees and stretch their arms forwards to perform a good rowing posture.
However, on some lower-cost rowing machines, the space is small, not enough for users to get a correct rowing form. Read the article of buyer beware to avoid such flaw-designed rowing machines.
One beef of Concept 2 is its monitor arm. The arm on the Model D is plastic, and therefore not particularly durable.
A quick note of caution. If you have long inseams, you might want to consider the Model E model- it has a higher seat which is much easier to get on or off and also a long rail. This article of best rowing machines suitable for tall people might help you.
Comfort
The Concept2 is a 'training' rowing machine and it makes sense to have a seat that is optimized for shorter, faster sessions. The seat is made from firm rubber. The seat height of 35.5 cm is enough to provide a comfortable fit for people of different heights.
Concept2's handle measures 19″ long and features an ergonomic 10-degree bend. Such design simulates the arm position of on-water rowing and provides a comfortable rowing position throughout the rowing stroke.
The footrests are adjustable, which shows user-friendliness again, and the handle design is ergonomic. Because of such design, after you jump onto this machine and exercise for a long session, you still feel quite comfortable.
Resistance
The Concept2 is an air resistance rower, which means it's action is smooth and will closely replicate rowing on water without any lag throughout the rowing stroke.
The resistance level is determined by your rowing intensity. The faster you row, the more intensity you feel.
The Concept2 Model D resistance allows you to row at your own intensity/pace and the resistance will adjust accordingly. This automatically adjusting resistance is know as 'variable' resistance.
This 'variable' resistance is perfect for HIIT (high intensity interval training) exercises because you can row fast or slow and the resistance adjusts to your speed without having to stop and change any settings.
But a little warning, air resistance is noisy. It will be a problem if you prefer a quiet and peaceful rowing experience.
Damper settings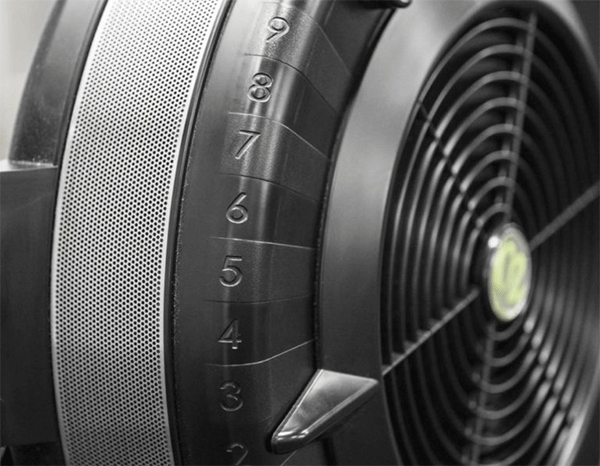 Besides adjusting resistance, users can also adjust the "feel" of the rowing stroke with the damper setting.
Users can change the damper settings from level 1 to 10 (as seen above). Instead of representing different resistance levels, they represent the amount of air going into the flywheel, which effects the "feel" of the rowing stroke. The higher settings (6-10) give you the feeling of a slower, heavier boat, whereas the lower settings (1-5) give you the feeling of a sleeker, faster boat.
Concept 2 truly brings the on-the-water feeling into dry land and into your home.
Monitor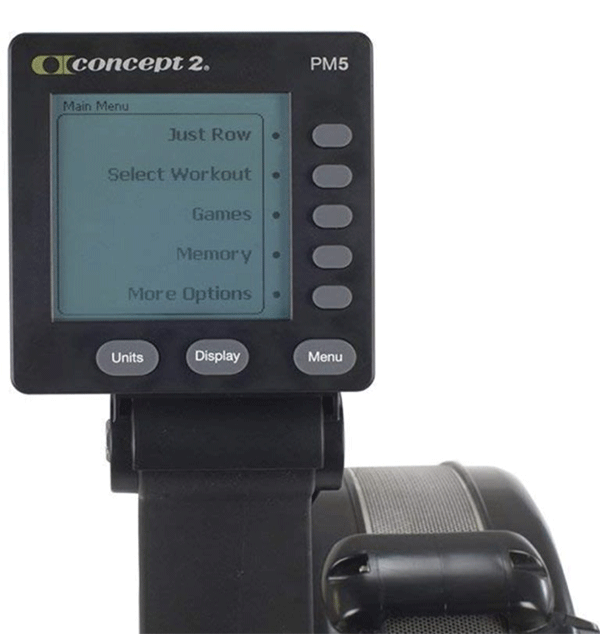 Monitor Specs
Data
Distance, 500m split (speed), Time, SPM, Calories, Watts, etc.
Bluetooth
√
Heart rate feature
√ The PM will show your heart rate, if you are using compatibale heart rate equipment
Preset programs
√
Games
√
Software/Apps
√ ErgData, asensei, Rowpro, Regatta among other apps
PC connectivity
√
Backlit
√
Monitor data
Its performance monitor is where users lavish praises on Concept 2.
The top section provides total time, number of strokes per minute, distance achieved and 500m split time.
You can choose from five different graphic displays for the bottom section:
All Data (shows additional data)
Force Curve (shows a graph for how force varies between your legs, back, and arms during the driving motion of your row [it basically tells you if your rowing motion is smooth or not])
Paceboat (shows graphic display of your boat against a pre-programmed boat; you can also set a previous workout of yours as the paceboat so you can race against yourself)
Bar Chart (shows graphic display in a bar chart format of the total watts of power generated during each phase of the workout)
Large Print (shows data with larger font)
Monitor function
PM5 is not only bluetooth enabled but also provides ANT+ connectivity as well. This gives you the freedom to connect wirelessly to fitness apps, including ErgData, asensei, Rowpro, Regatta among other apps.
It can also connect to heart rate monitors for easy tracking.
Wireless connectivity makes transferring workout data easy. You can also save the data to a flash drive for use with your own apps. Plus, if you're looking to save your data and compare it with past or future sessions, don't worry—the PM5 automatically stores your information in its internal memory or on an optional USB flash drive. If you are a data nut and love tracking progress, then the Model D is a fantastic choice.
To spice up rowing exercise, there are also some games included in it to lighten up your rowing.
Additionally, to make reading easy on your eyes it comes with backlit LCD display.
These top-of-the-line features do come with a top-of-the-line price. It soars around the $1,000 mark, which is among the highest on the list.
However, its smart design and an impressive set of features totally worth it.
Storage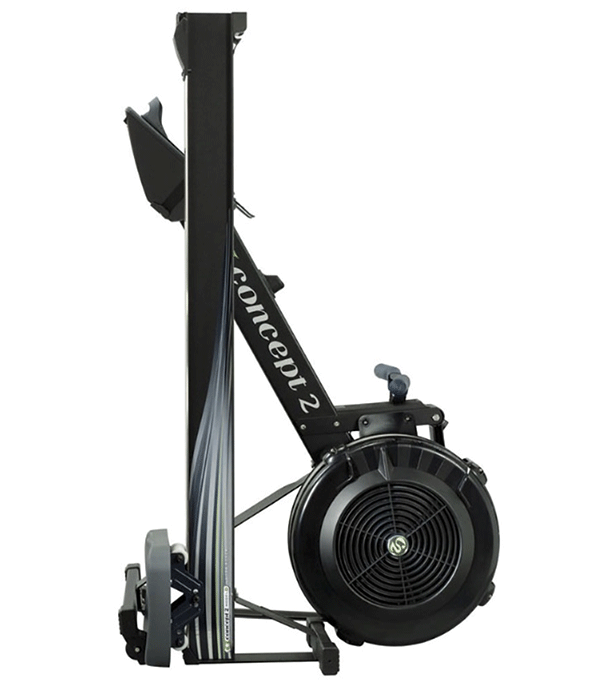 The Model D Rowing Machine has a large footprint when in use, but the size is basically cut in half when it is separated and stands up.
Yes, you read it right! All you have to do is separate the monorail and the flywheel portion of the rowing machine. Then rest the flywheel portion of the rower on its "head" and make the monorail section "stand up".
Verdict
All in all, Concept 2 is known as the golden standard in the rowing industry. This video also gives you an idea of the top 3 reasons why you should buy a concept 2.
| Pros | Cons |
| --- | --- |
| Accurate performance monitor | Pricey |
| Diverse functions and options | Noisy-ish fan |
| Easy to customise | Rough rubber handle |
| Great warranty and service | |
Xebex Air Rowing Machine 2.0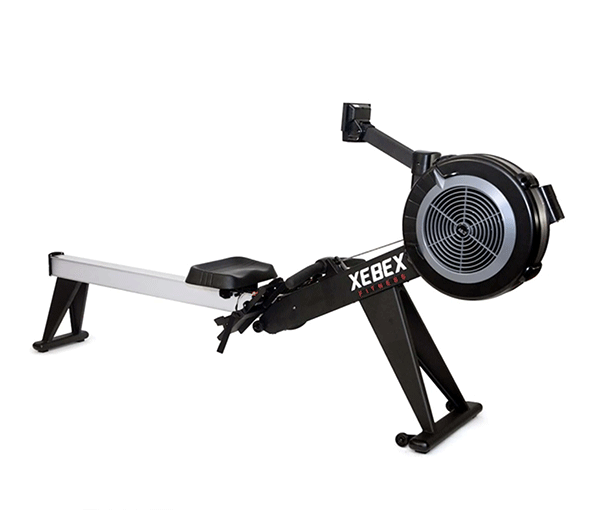 Rating: 4.8
Technical specifications
Assembles dimensions: 99″ x20″ x45″ (L x W x H)
Folded dimensions:
Maximum user weight: 227kg (500 lbs)
Weight: 42.1kg (93 lbs)
Price: $749.00
Assembly
Assembling the Xebex machine is a relatively straightforward process. It normally takes a team of two about 30 minutes to assemble; The assembly itself is not overly complicated with following instructions provided.
Build design & quality
The Xebex is a much sturdier feeling machine, using steel instead of aluminum which makes it weigh almost double a Concept 2 (97lb compared to 57lb). It is so sturdy that it's hard to shake the Xebex off the ground even if you row really hard.
Seating position feels good and there's a little more width between the footholds.
The 20.0″-21.0″ off seat height is helpful for rowers with limited mobility, larger athletes, and those who have lost some balance and have difficulty getting down onto a sliding seat.
Another importance feature is that the space between housing and footrests, though seems smaller than that of Concept 2, is enough for rowers to perform good rowing posture.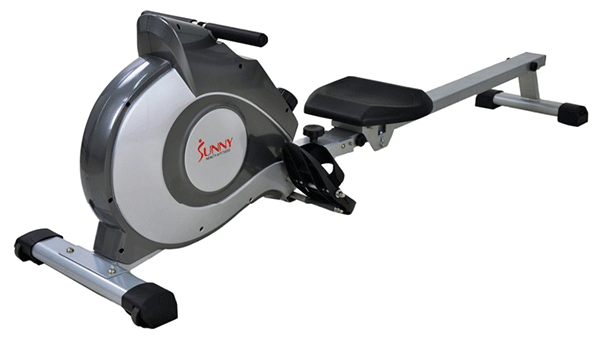 However, on Sunny Health fitness sfrw 5515, the housing is almost right above the footrests, leaving no room for rowers to stretch their arms forward. Read the article of buyer beware to learn more.
One letdown is that the unsecured straps are inferior to the nicer ones that stay in place on the C2.
Comfort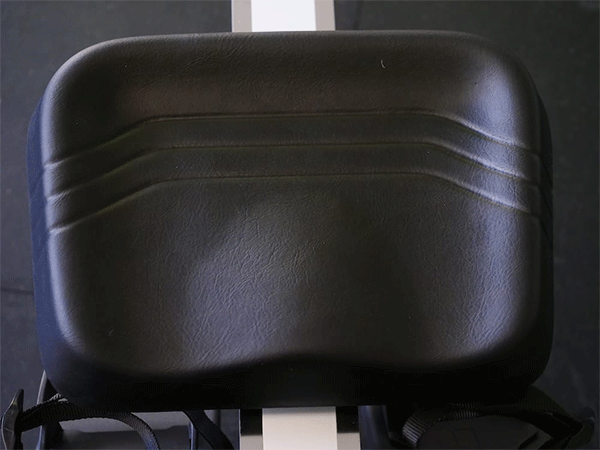 The seat is made of thick foam padding and has a very comfortable molded design that has raised edges that help keep the user planted firm and not sliding off the back when adding power from the lower body.
Therefore, it is a great blend of comfort and firmness that encourages the user to spend a few extra minutes working out.
Resistance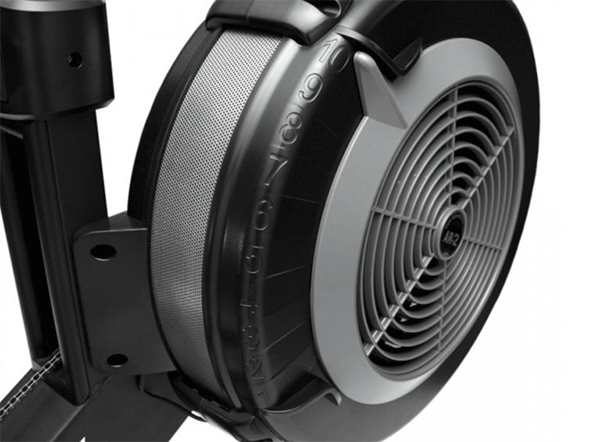 Xebex machine is an air rowing machine. It uses "variable" resistance that gets stronger as rowers row faster. "Variable" air resistance is the chosen resistance type among Olympic rowers and professional athletes.
Its flywheel is quite similar to Concept 2 and also includes a damper setting.
The settings (1-10) control the amount of air that is allowed to enter the flywheel while rowing. This creates a heavier or lighter feeling of rowing but does not technically change the resistance.
Level 1 mimics rowing near the surface with less resistance, whereas setting the damper to level 10 is similar to a deep row with heavier resistance.
The only complaint about its resistance system is that, like other air rowers, it is loud and noisy.
Monitor
Monitor Specs
Data
Time, Meters, SPM (Strokes per Minute), Calories, Watts, 500m Pace per Stroke, Total Strokes, Heart Rate (with HRM – not included)
Bluetooth
×
Heart rate feature
√ with HRM – not included
Preset programs
√
Games
×
Software/Apps
×
PC connectivity
×
Backlit
×
The Xebex 2.0 monitor tracks the following fitness data: Time, Meters, SPM (Strokes per Minute), Calories, Watts, 500m Pace per Stroke, Total Strokes, Heart Rate (with HRM – not included)
As you can see in the photo below, the data is displayed clearly in different sections.
It also features pre-set programs including Pre Quick Start, Competition Racing, Interval/Tabata, Target Time, Target Distance, Target Calories, Target Strokes, and Target Heart Rate.
But, one letdown is that it is not backlit. Nor is it bluetooth-enabled.
Storage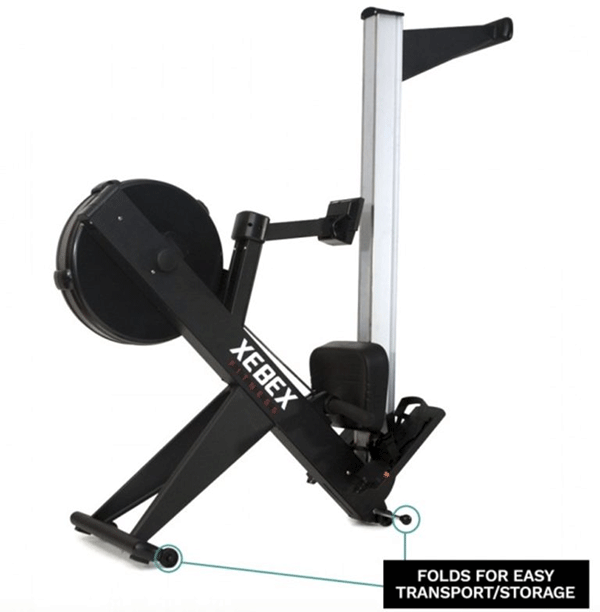 Storing Xebex 2.0 is extremely easy and can be done in 2 simple steps.
First, pull the pop-pin and allow the seat rail to collapse down.
Second, lift the seat rail vertical until you hear the pin "click" back into place.
The Xebex Rowing Machine will then be resting on its 4 transport wheels, which enable users to move it around. To return back to normal just pull the pin, lower the seat rail, and lift up on the designated handle.
Warranty
Frame: 5-Years
All Parts: 2-Years
Verdict
Xebex is an outstanding and solidly built piece of hardware. This rower performs just as good as the concept 2 rower. If you don't wanna wait for a Concept 2(there is often shortage of Concept 2), Xebex air rowing machine might be a good choice for you.
| Pros | Cons |
| --- | --- |
| 10 damper settings | Lacks some monitor features |
| Easy storage | Noisy |
| 21.0″ seat height | |
Body Solid Endurance R300 Air Rowing Machine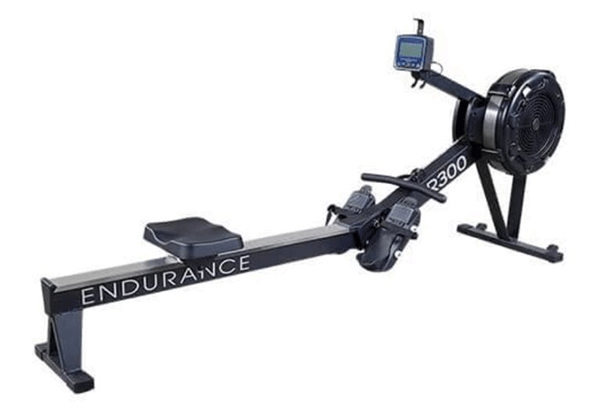 Rating: 4.7
Technical specifications
Assembles dimensions: 95.10″ x 24.40″ x 39.80″(L x W x H)
Folded dimensions:
Maximum user weight:
Weight: 81.1 lbs
Price: $500 – $999
Assembly
The assembly instructions in the manual are very straightforward and it will probably take a good 30-45 minutes to complete.
There are a few more steps than the Concept2 (which comes mostly preassembled)
Build design & quality
The Body-Solid Endurance 300 air rowing machine features a heavy-duty steel frame, but also integrates several ABS parts. For example, the covers of the flywheel and several other small parts are made of durable ABS plastic.
The R300 is heavier than the Concept2, which is surprising because they seem to be the same size. Being heavier does add a solid base that makes it harder to move when rowing intensely.
It is approx. 95″ (241 cm) long, and 24.4″ (62 cm) wide. The rail is long enough to accommodate users up to 6'5″ (196 cm), allowing a complete leg extension and a complete range of motion.
The seat sits on top of smooth rollers with industrial grade bearings. The seat is placed at approx. 13″ (35 cm) above floor level. Therefore, entry and exit shouldn't be too difficult even for users with certain disabilities or elderly users.
The footrests and handle are very durable. Its footrests, which do not pivot, are fixed at an angle of approx. 45°. Such design is good for beginners as it encourages correct posture.
More importantly, the rower is designed to enable a perfect rowing stroke. This is possible due to the handle going into the housing way in front of the users feet.
If you look at cheaper models, the handle may be forced to stop right in front of a users feet which means you really can't extend your arms all the way forward when in the "catch" or "start" position. The article of reviews of flawed designed rowing machines will help you avoid bad investment.
The footrests, which do not pivot, are fixed at an angle of approx. 45°.
Comfort
The Body Solid Endurance Rower is built more for performance than comfort, but that doesn't mean it's uncomfortable!
The unit's pulling handle features an ergonomic design. It is slightly curved towards the user in order to provide a more natural hand positioning and minimize the impact on the wrists.
The Body-Solid Endurance 300 includes a seat designed for optimal comfort. Its top is made of high-density foam; it's not super soft, but not extremely hard either. Its surface is contoured to provide better positioning and to prevent you from sliding backward during the push phase of the rowing motion.
The rower features two adjustable footrests. They offer 7 adjustment positions each and can accommodate athletic shoes of all sizes. They also have heel guards and adjustable straps for maximum foot stability.
Resistance
The Endurance 300 from Body-Solid is an air resistance rower. This means the resistance is mostly controlled by how fast a user rows since air resistance is variable.
The feedback has been overall very positive and most users say the resistance is no different than any of the other leading air rowing machines.
Plus, the R300 Rower has a "gear-like" design on the flywheel housing, which looks pretty cool.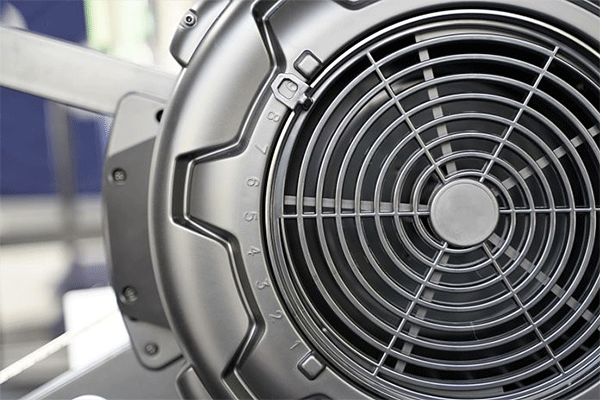 This rower also comes with a feature called a "damper" setting. A damper controls the amount of air let inside the flywheel housing. It has 9 different "damper" settings.
The damper, instead of changing resistance, changes the rowing feeling.
One small gripe about all air rowers is the noise they make when in use. Since the fan is spinning fairly fast, it will make noise while using.
Monitor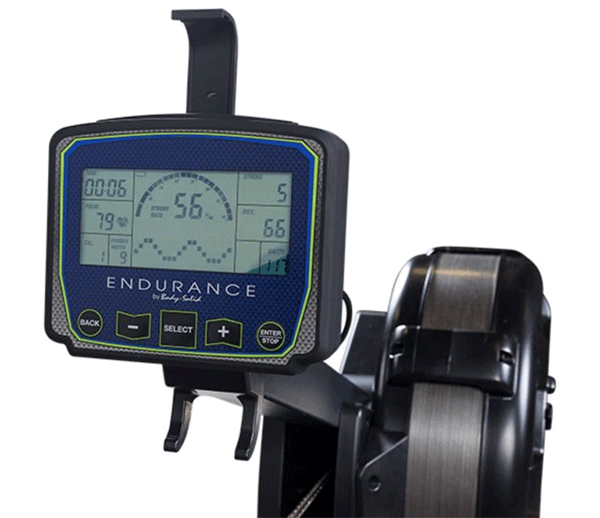 Monitor Specs
Data
Time, SPM, Total Strokes, Distance, Watts, Calories, and Pulse
Bluetooth
√
Heart rate feature
√ with HRM – not included
Preset programs
√
Games
×
Software/Apps
×
PC connectivity
×
Backlit
×
To begin with, it has an LCD display divided into multiple sub-sections in order to show as many workout metrics as possible at once, so you don't have to use a scan function to rotate them.
The display tracks time, strokes per minute, total strokes, distance, watts, calories burned, and pulse. It also indicates "paddle width" which essentially is the distance per stroke, a function that very few other rower computers show. To utilize the pulse feature, you will need a Polar heart rate monitor. The most common one on the market is the Polar H10 Heart Rate Monitor.
One cool feature about the monitor is the 8 different programs.
The 1st program is the Quick Start program which basically allows you to row freely while the console simply monitors all your workout stats.
The next three programs are goal programs for distance, time, and calories. For each one of these, you can select a goal and the console will count down from it until you finish it.
The 5th program is a game program which requires you to row slower or faster in order to move a line (your boat) through a set of obstacles. The last three programs are 20/10, 10/20, and 10/10 interval programs.
Plus, the monitor does come with a really convenient cellphone holder. This allows you to view fitness apps or enjoy a YouTube video while working out!
The monitor requires two C size batteries. It starts up when you begin rowing or when you press on of the buttons. It also automatically shuts down after 20 seconds of inactivity on the machine.
Storage
Storing the rower is super easy and very similar to the Concept2. There are 2 ways to store the R300.
First, you can tip the rower forward and store it vertically. This is how most Crossfit gyms store their rowers since it is fast and easy.
Second, you can remove the pin where the rail connects to the main housing (right near the footrests). You can then lift the seat rail and remove it from the main housing. This allows you to flip the housing forward and place the seat rail upright.
Storing the R300 Rowing Machine is super easy and both ways can be done in a matter of seconds!
The Body Solid R300 comes with built-in caster wheels on the front of the rower so you can easily roll it around.
Warranty
Home Warranty:
Frame: Lifetime
Parts: 5-Years
Electronics: 2-Years (excludes batteries)
Wear Items: 6-Months
Labor: 1-Year
Light-Commercial Warranty:
Frame: 15-Years
Parts: 3-Years
Electronics: 2-Yars
Wear Items: 6-Months
Labor: 1-Year
Verdict
| Pros | Cons |
| --- | --- |
| Easily detachable rail for better storage possibilities | No backlit |
| Long rail – can accommodate users up to 6'5″ | An HR chest strap is not included |
| 8 workout programs | |
| Padded, contoured seat | |
---
Workout programs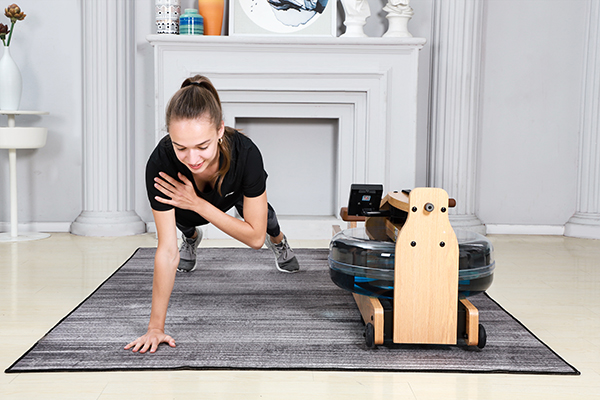 Rowing machine is a lifelong investment. Reading reviews and buying one rowing machine is only one step. More important step is to do workouts for your preferences and specific goals.
If you wanna lose weight, the article of guide of weight loss is helpful.
How about getting beautiful muscles? The article of workouts to tone muscles on rowing machines is what you need.
Rowing your belly off and getting abs is not a fantasy. Read the article to make your abs pop.
Upgrade rowing experience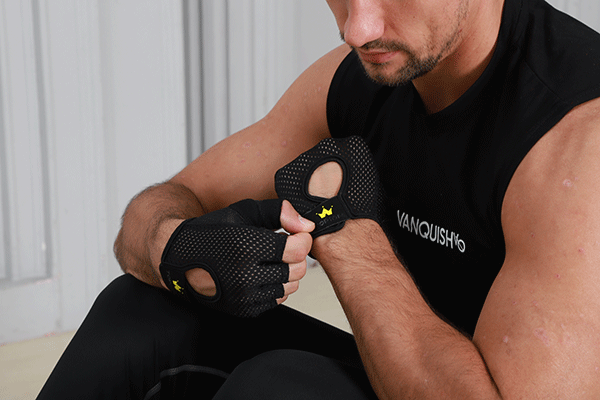 Rowing gloves can certainly help you from getting blisters, upgrading rowing workout to a more comfortable level.
Wanna bring picturesque lake scene to your home? VR rowing of Holofit provides total immersion in exceptional environments and a unique experience where wonder, change of scenery do not leave any place to boredom.
Do you know you can make a difference just by rowing at home? Rowing for charity is now on the swing.