'Am I too old to row? Are rowing machines good for seniors?' Do you have the question that most senior people have?
First of all, it's never too late to start. Secondly, indoor rowing is not just suitable for strong young men and women.
Rowing is best-known as low impact exercise that is even good for an aging body. Studies have also shown that using a rowing machine as an older person is good for building physical stamina, stimulating bone growth and building bone mineral density. Read rowing machine benefits to get to know more about rowing machines.
But, it's essential to begin with short, gentle exercise.
Table of contents
Rowing tips for seniors
Rowing machines for seniors-buying guide
Good choices for seniors
---
How much exercise do older people need?
Here is the exercise suggestion according to the NHS:
150 Minutes (2 and a half hours) of moderate aerobic activity per week
2 sessions of strength training covering the main muscle groups
You can do fewer minutes of aerobic exercise if these are 'intensive'
Now let's read the exercise suggestions according to the U.S. Department of Health and Human Services:
All adults should avoid inactivity. Some physical activity is better than none, and these adults who participate in any amount of physical activity gain some health benefits.
For substantial health benefits, adults should do at least 150 minutes a week of moderate-intensity, or 75 minutes a week of vigorous-intensity aerobic physical activity.
Aerobic activity should be performed in episodes of at least 10 minutes, and preferably, it should be spread throughout the week.
Adults should also include muscle-strengthening activities that involve all major muscle groups in 2 or more days a week.
Older adults should follow the above-mentioned guidelines. When older adults aged 64~69 years cannot meet the adult guidelines, they should be as physically active as their abilities and conditions will allow.
It is better for older adults with fall-down risk to add 2 times of resistance training a week to their exercise routine to slow down muscle loss and improve balance.
Older adults with hypertension or dyslipidemia are advised to have 30 minutes of medium-intensity aerobic exercise in 5 days a week, and add 3 times of resistance training a week to their exercise routine.
Older adults suffering diabetes are recommended to combine aerobic exercise with resistance training. For example, try 30 minutes of brisk walking and then 15 minutes of resistance training every day.
What's worth noting, it is better for older adults to pay special attention to exercise-related safety issues. Here are some handy tips.
Understand the risks, yet be confident that physical activity can be safe for almost everyone.
Choose types of physical activity that are appropriate for your current fitness level and health goals,
Be under the care of a health care provider if you have chronic conditions or symptoms.
Use appropriate gear and sports equipment.
Make sensible choices about when, where, and how to be active. For example, exercise in the cool of early morning.
Warm-up and cool-down through dynamic stretching activities such as jumping jack, and butt-kicks while walking briskly for 10~15 min before and after actual exercising.
Try resistance training before cardio training to increase fat-burning effectiveness and decrease risk of undue stamina drain and the accompanying injuries.
For more exercise suggestions, please click here to explore how older adults can get started with exercise.
With that being said, rowing machine, being low-impact and highly effective in less workout time, is perfect for seniors. Here is a wonderful video explaining the benefits of rowing for seniors.
(b)Tips for Seniors
Now that you have made the decision to purchase a new rowing machine, here are a few tips to keep in mind as you become a more active senior.
Always consult your doctors before you start on your exercise journey. They can help you narrow down different activities you can participate in as well as what you should avoid.
Any health conditions may affect workout results. So, you may need to find the right balance between your physical activity, medications, and meals.
Baby steps. Don't go all out if you've just started rowing. Build up your workout program step by step.
Always listen to your body. If you feel something is wrong, then slow it down. Never ignore any signs such as chest pains, shortness of breath, dizziness, disorientation, or headaches.
Stretch and warm up before each workout and don't forget to cool down at the end of each workout.
Drink water throughout the day and keep hydrated as you exercise.
Rowing machines for seniors-buying guide
For elderly, perhaps the most important thing to factor into decision on buying a row machine is the ease of use of the machine.
There are some designs such as higher seat or lumber seat exist on the market.
Such design allows for greater user stability and flexibility. Therefore, it is especially good for elderly people.
Following are top choice for senior rowers :
| Top picks | Rating |
| --- | --- |
| Concept 2 model E | 4.7/5 |
| Concept 2 rowing machines with a tractor seat | 4.6/5 |
| Waterrower rowing machines with hirise adapter kit | 4.6/5 |
| First degree fitness rowing machines with lumbar support seat | 4.6/5 |
| First degree fitness rowing machines with seat at office chair height | 4.5/5 |
| FDF rowing machines with elevate kit | 4.6/5 |
| ProRower RX-950 rowing machine with optional lumbar seat | 4.4/5 |
Concept 2 Model E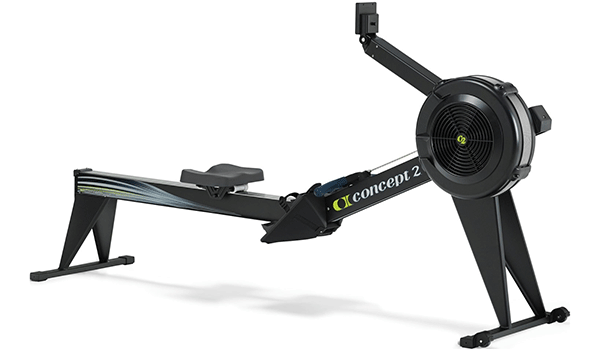 Technical Specifications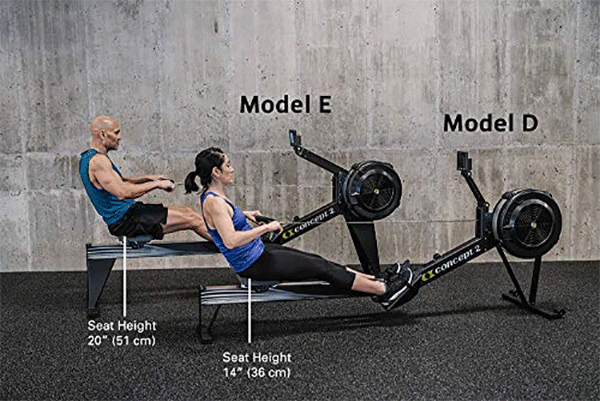 Assembled dimensions: 96.0″ x 24.0″ x 20.0″(seat height) (L x W x H)
Folded dimensions: 27.0″ x 33.0″ x 54.0″(L x W x H)
Weight: 65 pounds
Maximum user weight:
Price: $1,000 – $1,499
Why is it one of the rowing machines for seniors?
You might suffer from impaired mobility due to bad knees or other conditions, but you don't necessarily need to shy away from rowing exercise.
The Concept 2 Model E got your back.
It has a higher seat 20 inches off the floor. That extra height is supported by a wide, one-piece leg design that makes the unit feel really sturdy—no wobbly, loose parts here. Thus it has the advantage of being much easier to get on and off.
Build design
There is no doubt you'll be getting a beautifully made machine. And the sleek good look is definitely a feast for eyes.
The frame features an extruded aluminum I-beam monorail with stainless steel seat track and is powder-coated with a clear topcoat for extra durability. Both legs are one-piece of welded steel to provide great stability and strength for the user.
Concept 2 is quite professional in design. It features a pair of footrests fixed at around 43° – an optimal degree on a rowing machine. The footrests feature sliding footpads, which allow users to adjust foot placement according to their height, weight and specific needs.
For example, for those who suffer knee pains, raising footpads up a little bit might a good idea. This will relieve strain on the Achilles tendon. Read the article of rowing machine specific features to learn more.
Comfort
Apart from being higher, the contoured seat is padded and comfortable for most users.
The rowing handle is ergonomic with a 10-degree bend for the most natural hand positioning. It felt solid, but it's a large handle, so the size may be a little overwhelming initially. It took us a little while to get used to the feel.
The footrests are comfortable. Users have also mentioned the footrests are perfect for not wearing shoes, which is a huge plus for barefoot rowers!
Monitor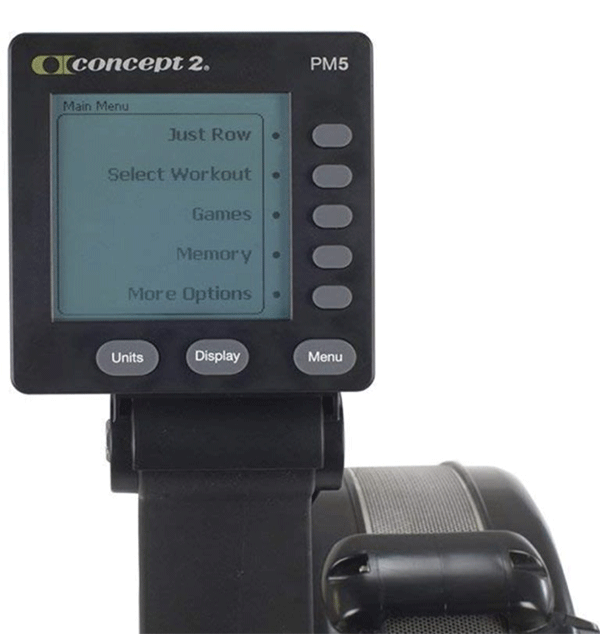 Its performance monitor is where users lavish praises on Concept 2.
The top section provides total time, number of strokes per minute, distance achieved and 500m split time.
You can choose from five different graphic displays for the bottom section:
All Data (shows additional data)
Force Curve (shows a graph for how force varies between your legs, back, and arms during the driving motion of your row [it basically tells you if your rowing motion is smooth or not])
Paceboat (shows graphic display of your boat against a pre-programmed boat; you can also set a previous workout of yours as the paceboat so you can race against yourself)
Bar Chart (shows graphic display in a bar chart format of the total watts of power generated during each phase of the workout)
Large Print (shows data with larger font)
PM5 is not only bluetooth enabled but also provides ANT+ connectivity as well. This gives you the freedom to connect wirelessly to fitness apps, including ErgData, asensei, Rowpro, Regatta among other apps.
It can also connect to heart rate monitors for easy tracking.
Wireless connectivity makes transferring workout data easy. You can also save the data to a flash drive for use with your own apps. Plus, if you're looking to save your data and compare it with past or future sessions, don't worry—the PM5 automatically stores your information in its internal memory or on an optional USB flash drive. If you are a data nut and love tracking progress, then the Model D is a fantastic choice.
To spice up rowing exercise, there are also some games included in it to lighten up your rowing.
Additionally, to make reading easy on your eyes it comes with backlit LCD display.
These top-of-the-line features do come with a top-of-the-line price. It soars around the $1,000 mark, which is among the highest on the list.
However, its smart design and an impressive set of features totally worth it.
Storage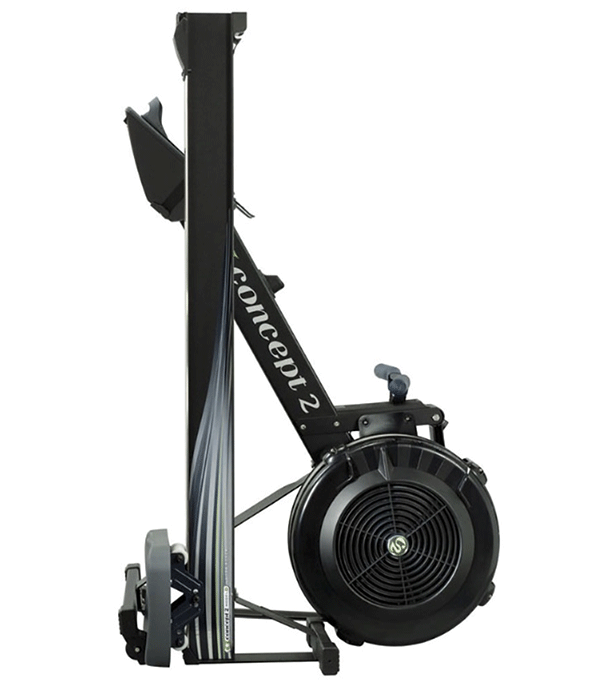 The Model D Rowing Machine has a large footprint when in use, but the size is basically cut in half when it is separated and stands up.
Yes, you read it right! All you have to do is separate the monorail and the flywheel portion of the rowing machine. Then rest the flywheel portion of the rower on its"head" and make the monorail section "stand up"..
Concept2 rowing machines with a tractor seat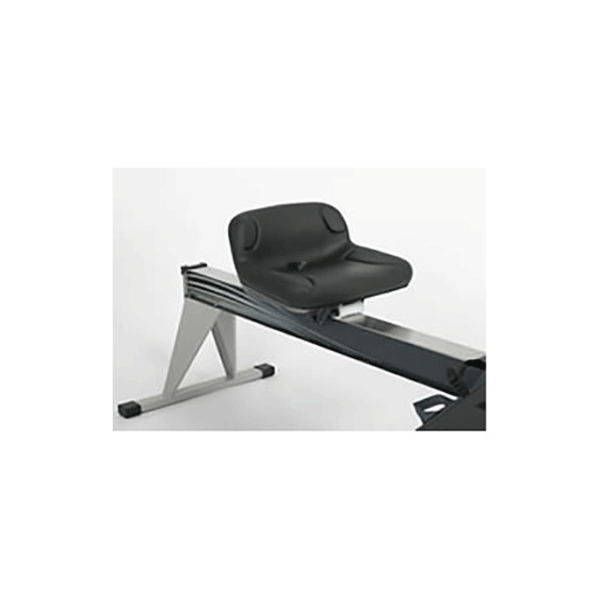 Why is it one of the rowing machines for seniors?
The Concept2 Tractor Seat is an after-factory alternative sliding seat available for Concept2 Indoor Rowers Models A, B, C, D, and E. It features:
A wider, more stable base for people who like more support while rowing.
A larger size that makes getting on and off the indoor rower easier.
Easy installation using thumb screws.
The Concept2 Tractor Seat is an after-factory alternative sliding seat available for Concept2 Indoor Rowers Models A, B, C, D, and E.
Concept model E review is mentioned above. If you prefer Concept 2 model D, I have written an article of its review.
Waterrower rowing machines with hirise adapter kit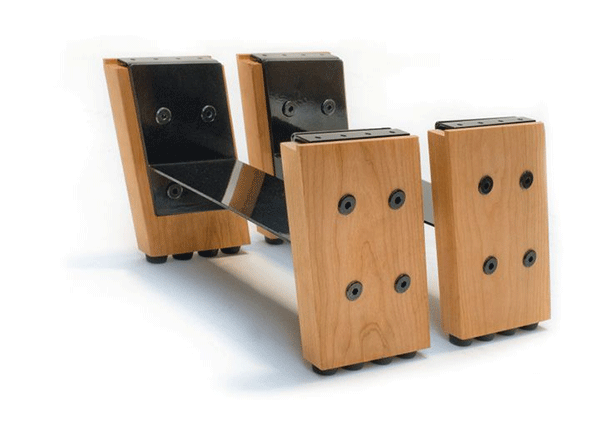 For ease of entry and higher positioning when in use, the WaterRower HiRise Adapter has been designed to raise the WaterRower 8″ (200mm). The WaterRower HiRise adapter attaches easily to all Wood WaterRower Models.
If that choice seems good for you, I have once reviewed WaterRower Natural rowing machine. Check it out.
First Degree Fitness rowing machines with lumbar support seat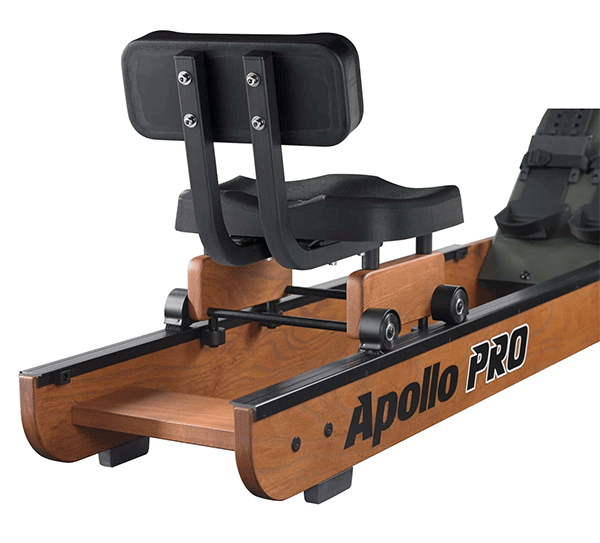 Why is it one of the rowing machines for seniors?
With the intent of keeping the elderly and disabled more active through indoor rowing, First Degree Fitness have introduced an optional lumbar support chair back.
It provides a safer way to exercise by taking the weight off the user's hips and back and reducing the risk of injury through instability.
When completing a full rowing stroke, the lumbar support bolsters and protects the lower back and shoulders, while still allowing ample lean back on the pull. Therefore, the user continues to benefit from the cardio and strength training, without the added stress of core stability required on traditional rowing machine seats.
Beneficial for anyone who is elderly or undergoing rehab, this modified rowing seat enables greater participation in indoor rowing.
According to First Degree Fitness, it fits all models. I have written a review of First Degree Fitness Newport AR water rowing machine. Check it out.
First Degree Fitness rowing machines with Seat at Office Chair Height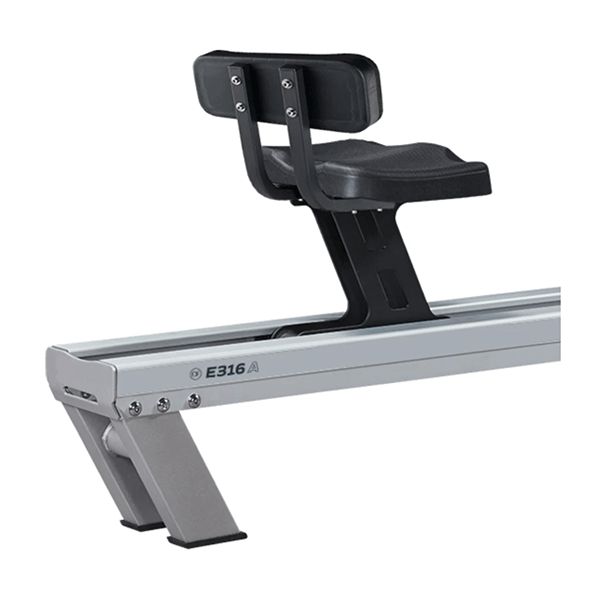 Why is it one of the rowing machines for seniors?
Some rowing machines from First Degree Fitness companies offer a seat at office chair height.
With a such seat height, it is good for easy entry and exit. This feature can be extremely useful for elderly users, or users with certain disabilities.
FDF rowing machines with elevate kit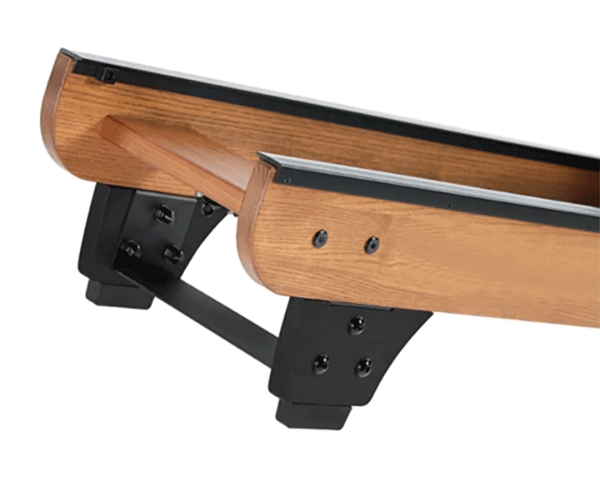 Why is it one of the rowing machines for seniors?
Heighten your indoor rowing experience
Elevate kit doubles the height off of the ground, providing users with a raised entry and exit point.
Such elevated positioning allows for greater user stability and convenience when getting on-and-off your FDF indoor rower. Therefore it is ideal for the injured, elderly, and even less flexible.
It is suitable for Viking and Apollo models.
ProRower RX-950 Rowing Machine with Optional Lumbar Seat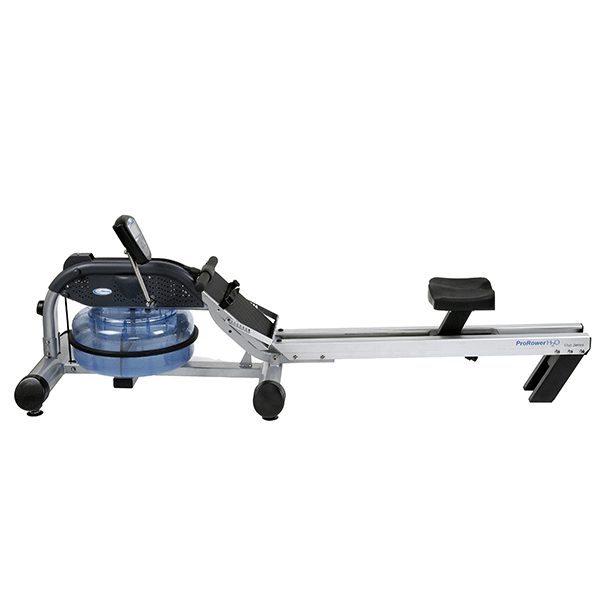 Why is it one of the rowing machines for seniors?
The H2O ProRower RX-950 features a seat without cushioning, but with a contoured design, excellent ergonomics, and top-quality rollers. It can be furnished with a lumbar support. This accessory is not included though, but available as an optional purchase.