On the fitness industry, there are certainly rowing machines sit at the high spectrum of price range. You might be put off by a rowing machine around $1000, but you will certainly get what you pay for.
Table of contents
Top picks of rowing machines
Workout programs on rowing machines
How to upgrade rowing experience
| Top picks | Rating |
| --- | --- |
| Concept2 Model D Air Rower | 4.9/5 |
| WaterRower Natural Rowing Machine | 4.8/5 |
| NordicTrack RW500 Dual Resistance Rowing Machine | 4/5 |
Concept2 Model D Air Rower – a rowing machine around $1000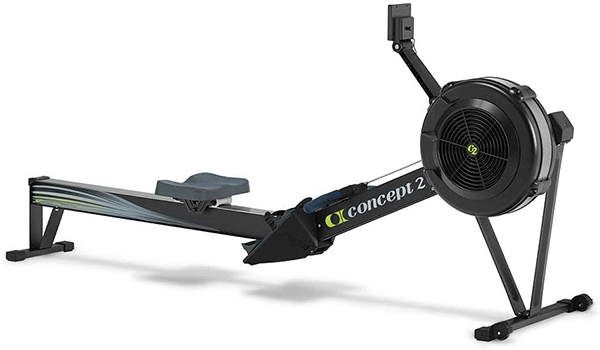 It is a big-name among air rowing machines because it provides durability, unlimited resistance, and engaging programming at a manageable price point.
Model D are used in gymnasiums all over the world and therefore built to last.
They're also first choice for the majority of rowing clubs and serious rowers.
Rating: 4.9
Technical Specifications
Assembled dimensions: 96.0″ x 24.0″ x 14.0″ (L x W x H)
Folded dimensions: 25.0″ x 33.0″ x 54.0″ (L x W x H)
Weight: 57 lb (26 kg)
Maximum user weight: 500 lb (227 kg) as tested by Concept2.* / *300 lb (135 kg) as tested per European Stationary Fitness Equipment Testing Standard EN 20957-7.
Price: $500 – $999
Build design & quality
This rowing machine is of commercial-grade quality. The construction is very solid and will put up with years of regular use.
The machine has a powder coat finish and comes in both black and light grey hues. Its front legs are aluminium, its rear legs are steel, and its chain is nickel-plated steel.
When it comes to design, Concept 2 is professional. One important feature is that the footrests feature sliding footpads. Such design allows users to adjust footplacement according to their specific needs.
For example, for those who suffer knee pains, raising footpads up a little bit might a good idea. This will relieve strain on the Achilles tendon. Read the article of rowing machine specific features to learn more.
Another good feature is the space between footrests & housing and footrests. This room is where users keep their shin vertical, maintain their body straight and stretch their arms. On Concept 2, this space is large enough.
However, some lower-cost rowing machines have design flaws. For example, on Sunny Health Fitness SFRW5515, the housing & handlebar are almost right above the footrests, preventing users to be fully compressed. Read the article of buyer beware to learn more.
One beef of Concept 2 is its monitor arm. The arm on the Model D is plastic, and therefore not particularly durable.
Comfort
The Concept2 is a 'training' rowing machine and it makes sense to have a seat that is optimized for shorter, faster sessions. The seat is made from firm rubber. The seat height of 35.5 cm is enough to provide a comfortable fit for people of different heights.
Concept2's handle measures 19″ long and features an ergonomic 10-degree bend. Such design simulates the arm position of on-water rowing and provides a comfortable rowing position throughout the rowing stroke.
The footrests are adjustable, which shows user-friendliness again, and the handle design is ergonomic. Because of such design, after you jump onto this machine and exercise for a long session, you still feel quite comfortable.
Resistance
The Concept2 is an air resistance rower, which means it's action is smooth and will closely replicate rowing on water without any lag throughout the rowing stroke.
The resistance level is determined by your rowing intensity. The faster you row, the more intensity you feel.
The Concept2 Model D resistance allows you to row at your own intensity/pace and the resistance will adjust accordingly.This automatically adjusting resistance is know as 'variable' resistance.
This 'variable' resistance is perfect for HIIT (high intensity interval training) exercises because you can row fast or slow and the resistance adjusts to your speed without having to stop and change any settings.
But a little warning, air resistance is noisy. It will be a problem if you prefer a quiet and peaceful rowing experience.
Damper setting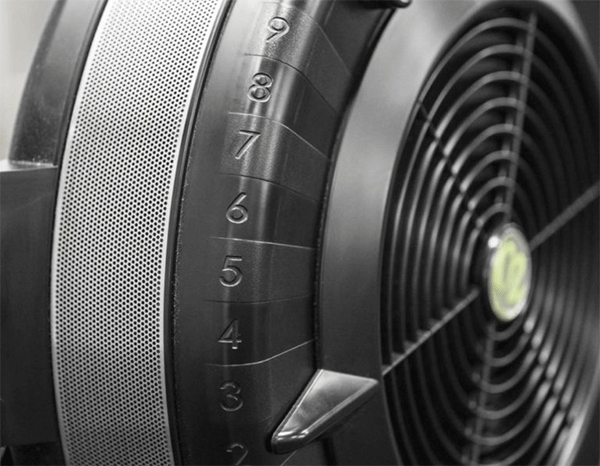 Besides adjusting resistance, users can also adjust the "feel" of the rowing stroke with the damper setting.
Users can change the damper settings from level 1 to 10 (as seen above). Instead of representing different resistance levels, they represent the amount of air going into the flywheel, which effects the "feel" of the rowing stroke. The higher settings (6-10) give you the feeling of a slower, heavier boat, whereas the lower settings (1-5) give you the feeling of a sleeker, faster boat.
Concept 2 truly brings the on-the-water feeling into dry land and into your home.
For more knowledge of air resistance and a full comparison of resistance types, read the article of the differences of rowing machine resistance types.
Monitor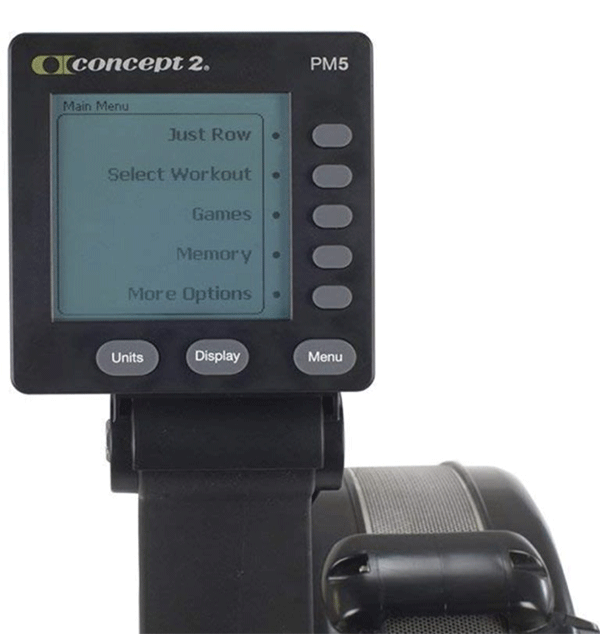 Monitor Specs
Data
Distance, 500m split (speed), Time, SPM, Calories, Watts, etc.
Bluetooth
√
Heart rate feature
√ The PM will show your heart rate, if you are using compatibale heart rate equipment
Preset programs
√
Games
√
Software/Apps
√ ErgData, asensei, Rowpro, Regatta among other apps
PC connectivity
√
Backlit
√
Monitor data
As a rowing machine around $1000, you can expect a highly advanced monitor. As a matter of fact, PM5 is the most sophisticated monitor on the market. As for a rowing machine around $1000, you can expect many advanced functions.
The top section provides total time, number of strokes per minute, distance achieved and 500m split time.
You can choose from five different graphic displays for the bottom section:
All Data (shows additional data)
Force Curve (shows a graph for how force varies between your legs, back, and arms during the driving motion of your row [it basically tells you if your rowing motion is smooth or not])
Paceboat (shows graphic display of your boat against a pre-programmed boat; you can also set a previous workout of yours as the paceboat so you can race against yourself)
Bar Chart (shows graphic display in a bar chart format of the total watts of power generated during each phase of the workout)
Large Print (shows data with larger font)
Advanced function
PM5 is not only bluetooth enabled but also provides ANT+ connectivity as well. This gives you the freedom to connect wirelessly to fitness apps, including ErgData, asensei, Rowpro, Regatta among other apps.
It can also connect to heart rate monitors for easy tracking.
Wireless connectivity makes transferring workout data easy. You can also save the data to a flash drive for use with your own apps. Plus, if you're looking to save your data and compare it with past or future sessions, don't worry—the PM5 automatically stores your information in its internal memory or on an optional USB flash drive. If you are a data nut and love tracking progress, then the Model D is a fantastic choice.
To spice up rowing exercise, there are also some games included in it to lighten up your rowing.
Additionally, to make reading easy on your eyes it comes with backlit LCD display.
These top-of-the-line features do come with a top-of-the-line price. It soars around the $1,000 mark, which is among the highest on the list.
However, its smart design and an impressive set of features totally worth it.
Storage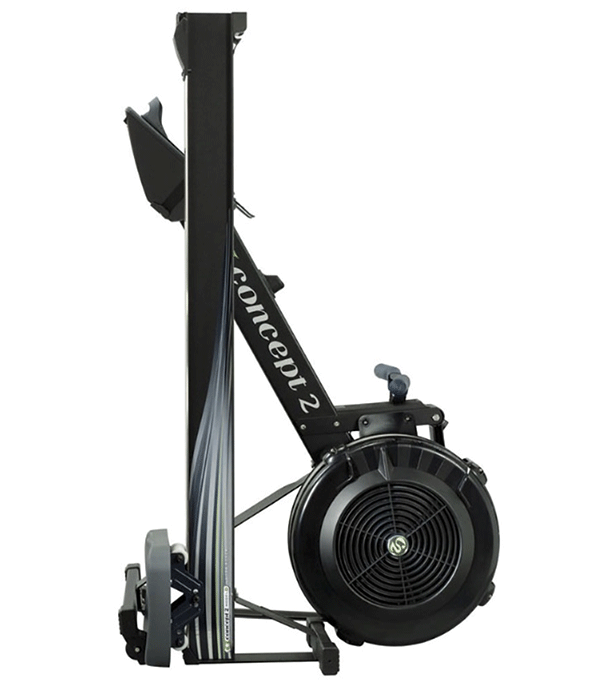 The Model D Rowing Machine has a large footprint when in use, but the size is basically cut in half when it is separated and stands up.
Yes, you read it right! All you have to do is separate the monorail and the flywheel portion of the rowing machine. Then rest the flywheel portion of the rower on its "head" and make the monorail section "stand up".
Verdict
As a golden standard of rowing machine industry and a rowing machine around $1000, Concept 2 is truly a good investment and you'll fall in love with it.
| Pros | Cons |
| --- | --- |
| Accurate performance monitor | Pricey |
| Diverse functions and options | Noisy-ish fan |
| Easy to customise | Rough rubber handle |
| Great warranty and service | |
WaterRower Natural Rowing Machine
Here is the official video of waterrower natural rowing machine.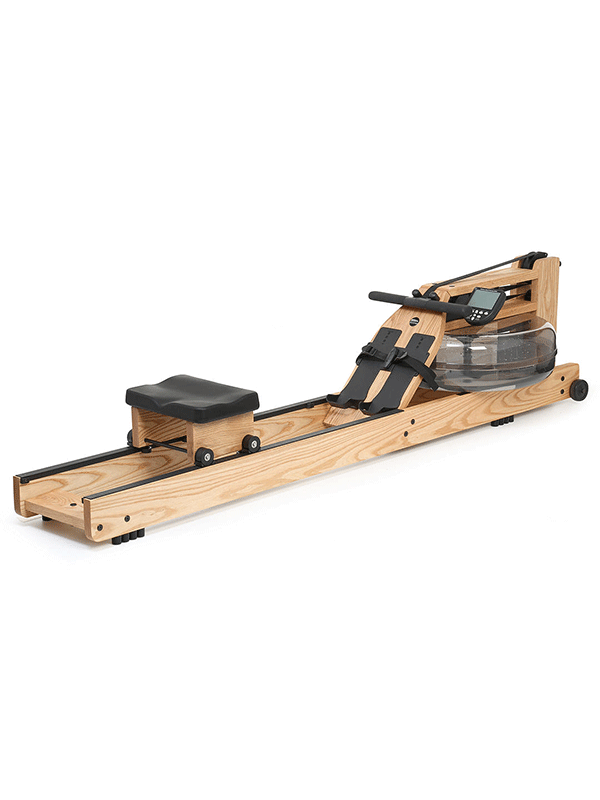 Rating: 4.8
Technical Specifications
Assembled dimensions: 83.0″ x 22.0″ x 21.0″ (L x W x H)
Folded dimensions: 21.0″ x 22.0″ x 83.0″ (L x W x H)
Weight: 117 pounds [53 kg] (full water tank) / 73 pounds [33 kg] (empty water tank)
Maximum user weight: 250 pounds
Price:$1,000 – $1,499
Assembly
According to WaterRower, assembly should take no more than 30 minutes.
Assembly instructions are provided to help users assemble. There are also plenty of YouTube videos walking through the WaterRower assembly.
Build design & quality
As soon as you lay your eyes on the WaterRower, you'll fall in love with it.
It looks robust, well-constructed out of quality wood, exuding a sense of nature. The WaterRower Natural frame is built using solid Ash wood, sustainably sourced from the Appalachian mountain range. Stained in honey oak and finished with a light Danish oil, this sleek machine is the company's flagship offering.
Such delicate construction absorbs sound and vibration, making rowing smoother and quieter.
This rowing machine features fixed footrests with sliding footpads. Footrests are fixed in a scientific angle, encouraging users to perform correct rowing form with corret feet angle.
Sliding foodpads allow users to adjust footplacement to better meet their needs. For exmaple, for those who have big belly or are pregnant, lowering the footpads might provide more comfortable rowing posture. Read the article of rowing machine specific features to learn more.
However, here comes one letdown. As a rowing machine with dual rails, the space between footrests is narrower compared with those rowing machine with monorail. This might be a question for those who have big legs.
Comfort
The molded seat has an ergonomic design and comes with extra padding to provide superior comfort while rowing.
A few users commented that this seat was the most comfortable they've experienced. So smooth in fact that many users don't realize how hard they have been working out until they get off the machine!
Aluminum-made, the handle is durable and light. Its tear-drop shape makes it easy to grip and also minimizes any development of wrist problems.
However, the footrests are where Waterrower gets mixed comments.
Some uses find the footrests are too straight and close and would be better if adjustable. If you have 'big' legs (muscular or otherwise) you may find your knees and thighs knocking together.
Resistance
As its name indicates, it uses water resistance.
It works your muscles with a flywheel spinning in water. Unlike other rowing machines you don't have the option to select the resistance level. The faster you row, the greater the resistance of the water – just like rowing on a lake.
Console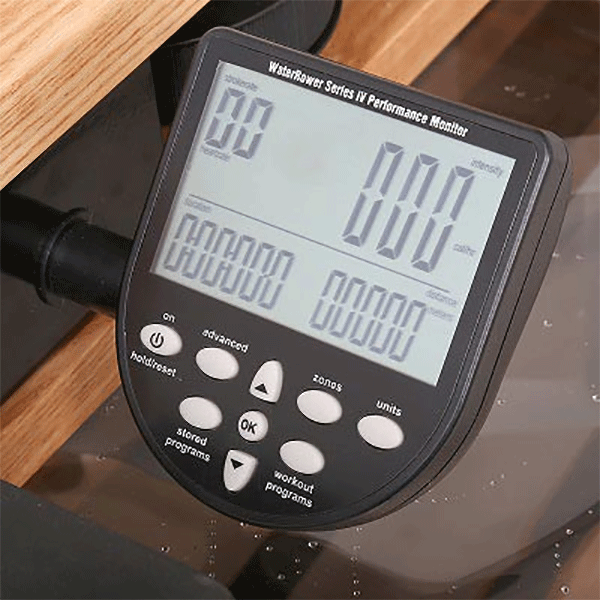 Monitor Specs
Data
Time, Distance, Intensity, SPM, Heart Rate Monitor, etc.
Bluetooth
√ with ComModule
Heart rate feature
√ Option is available when optional heart rate monitor is used
Preset programs
√
Games
×
Software/Apps
WaterRower Connect App, CITYROW Go App, Coxswain App, and SmartRow App, etc.
PC connectivity
√
Backlit
×
As a rowing machine around $1000, Water Rower is more than just a pretty face!
Another good feature for this rowing machine around $1000 is its easy-to-read Series 4 (S4) monitor.
Series 4 performance monitor tracks workout's watt/intensity, stroke rate, heart rate, and more.
Additionally, WaterRower Natural provides six preset workouts.You can set simple time/distance goals using the workout button. You could also set distance interval and target mode workouts to spice up your workouts a bit.
On top of this, S4 features PC connectivity and you can turn S4 Performance Monitor into a Bluetooth enabled device with ComModule. There are several commercially available software products for the WaterRower, including WaterRower Connect App, CITYROW Go App, Coxswain App, and SmartRow App. With apps, you can store training data, race online against others, or try better times from previous training sessions.
Storage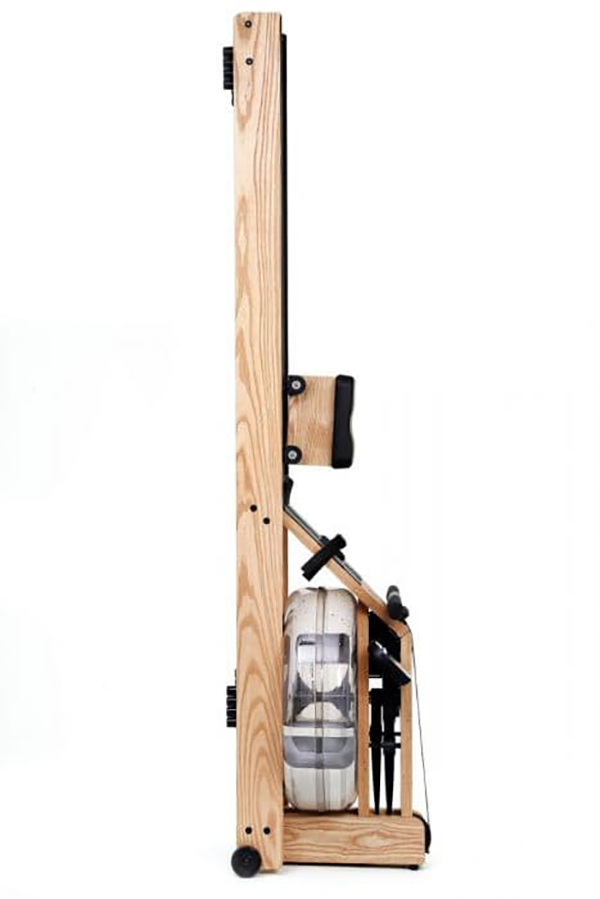 Despite the assumptions that it will be too heavy to move around after your workout, it is surprisingly portable with its wheel at the front on the rower. It is also an elegant fitness furniture, which can be stored upright when not in use.
Warranty
It provides three-year-warranty on all components, excluding touchscreen electronics, electronics accessories and rechargeable batteries, and five-year-warranty on the structural frame by registering the Product within the first year of purchase.
Verdict
Waterrower rowing machine is pleasing to the eyes and the ears and it works up to 84% of your muscle. Overall this piece of beautifully tuned, hand-crafted, water-resistance workout equipment sits at the high end of the water rowing machine spectrum.
[fusion_table fusion_table_type="1″ animation_speed="0.3″ animation_offset=""]
| Pros | Cons |
| --- | --- |
| The whoosh sound is soothing | The console/ monitor is not easy to reach |
| Very solid and well-made construction | The foot rests may not be comfortable if you're tall |
| Natural wood looks elegant | Lacks backlit |
| Console can be plugged into your PC for additional features | |
| Fairly accurate monitor | |
| Easy to store upright with transportation wheels | |
[/fusion_table]
NordicTrack RW500 Rower – a rowing machine around $1000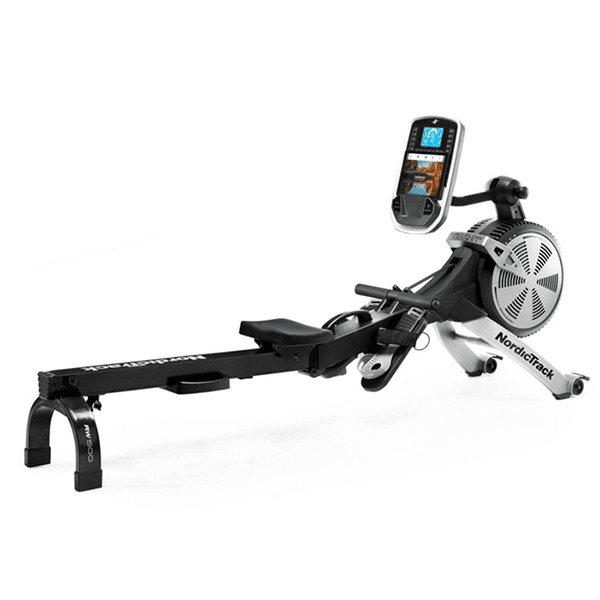 Rating: 4
Technical Specifications
Assembled dimensions: 86.5″ x 22.0″ x 42.8″ (L x W x H)
Folded dimensions: 52.4″ x 22.0″ x 47.2″ (L x W x H)
Weight:
Maximum user weight: 250 pounds
Price: $999
Build design & quality
The build quality on the NordicTrack RW500 Rower is as excellent as what you might expect from a rowing machine around $1000.
The RW500 frame is constructed of steel track, which is long but secure to support a smooth, sturdy rowing stroke.
A strap is used instead of a chain on the pull mechanism to reduce noise, but the strap is made to last and shows no signs of fraying or breaking from extended use.
The seat glides on industrial-grade ball bearing rollers and the seat & handle are made from durable foam material.
Its footrests feature sliding footpads, a good and necessary design. Rowing machine is not 'one size fits all'. Therefore, it needs some adjustment to allow users to adjust according to their height, weight and flexibility.
For example, if you are a barefoot rowing lover, you need to raise the footpads a little bit higher. If you have a big belly, you might need to lower your footpads. The article of rowing machine specific features will give a more detailed idea of the importance of sliding footpads.
Some low-cost rowing machines lack such design. Read the article of buyer beware to learn more.
But this rowing machine still needs improvement. Its handlebar is almost right above its footrests. And its housing is also quite near its hanlebar. Thus, this rowing machine leaves little space for users to stretch their arms and be fully compressed.
If you buy this rowing machine, you might end up enjoying 2/3 strokes. Read the article of rowing machine specific features to learn more about the importance of the location of handlerbar, footrests and housing.
Comfort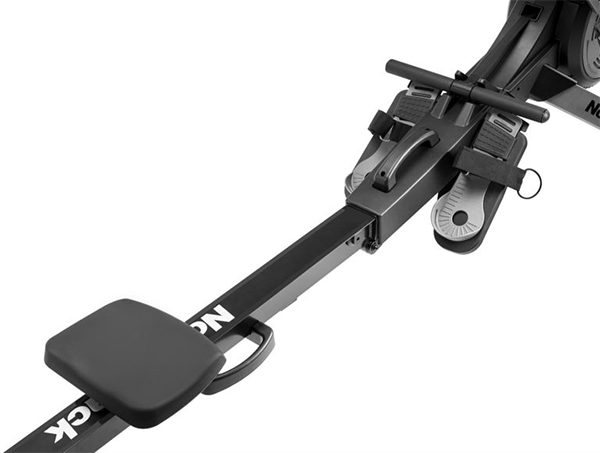 Its "SoftTouch" ergonomic handle allows for longer rowing routines without hand fatigue.
The ergonomic, molded seat is comfortable enough to use for long rowing sessions, although some people do say their butt starts to hurt a bit.
The pedals are reinforced with a solid foot surface underneath and a molded overlay that holds your shoe securely. The double layer provides stability underfoot while still allowing for a gentle flex and give as you row.
Resistance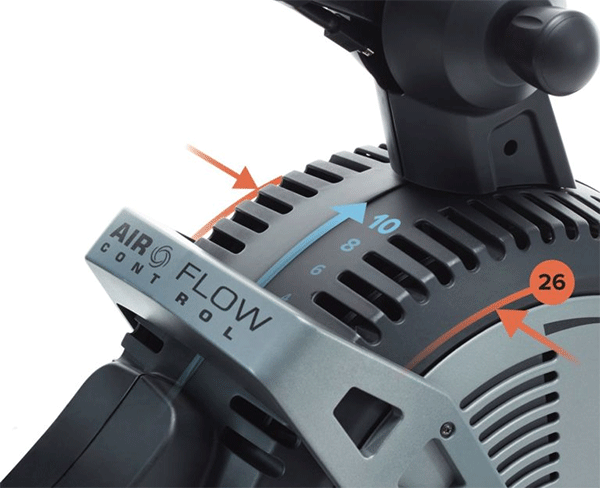 As a rowing machine around $1000, the NordicTrack RW500 Rower features a combination of air and magnetic resistance. With such resistance setting, users can enjoy the high-end benefits of air resistance and the low-end benefits of magnetic resistance.
The NordicTrack RW500 Rower offers 10 different air resistance settings and 26 different SMR Silent Magnetic Resistance settings.
It features a damper. It does not control the "resistance" but controls the "feel" of the rowing stroke. Damper settings allow more or less air into the flywheel, which makes the rowing stroke feel lighter or heavier.
On the other hand, the magnetic resistance adjustment is a bit easier, which is controlled by pressing a "+" or "-" button on the console (shown in the photo below).The resistance will automatically change if you are using any of the iFIT workout programs.
Console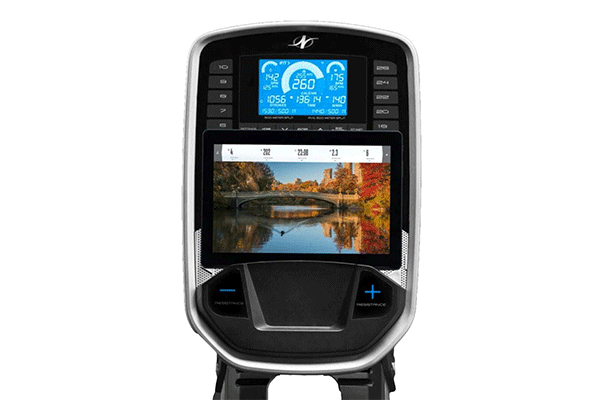 Monitor Specs
Data
Watts, Strokes Per Minute, Total Strokes, Time, Calories, Distance, Speed, Heart Rate, 500m Split
Bluetooth
√
Heart rate feature
×
Preset programs
√
Games
×
Software/Apps
√ iFIT training program
PC connectivity
×
Backlit
√
Requirements
The monitor does need to be plugged into an outlet and be unplugged after each session
Nordic comes with a 10" HD touchscreen tablet and 5" backlit display. Its 5" backlit monitor tracks necessary data, including Watts, Strokes Per Minute, Total Strokes, Time,etc.
Each resistance has one corresponding touch button flanking on both sides of the screen along the sides of the console. This makes it very convenient to adjust resistance quickly.
It has 30 built-in training programs designed to challenge you and help you burn more calories and increase your strength.
Ifit app
Plus, when you buy this rowing machine, it comes with a one-year membership of iFit, an interactive online training program. You need to, or correctly, must, sign up for the ifit.
And iFit app gets mixed comments. If you are new to rowing, it might be helpful to give you some basic idea of rowing.
What's good is that The iFIT membership gives you access to over 12,000 workouts, many of which are rowing specific. This means you can follow along as world-class trainers take you through a rowing workout or follow them as they row down famous rivers.
You can even use Google Maps to "row" down different streets or rivers around the globe! When following these courses, your magnetic resistance is controlled by the course instructors.
But, if you are an advanced rower, this app might be too basic for you, for it doesn't have some progressive instruction.
And after 1-year you don't want to use iFit app, you can simply don't renew and use the 30 pre-loaded workouts that come on the monitor. This is better than Proform rowing machine. To get Proform rower works, you need to continue to pay your iFit membership.
Another letdown is that this model also doesn't come with a heart rate monitor, so one will need to be purchased separately if you want to utilize that feature.
Storage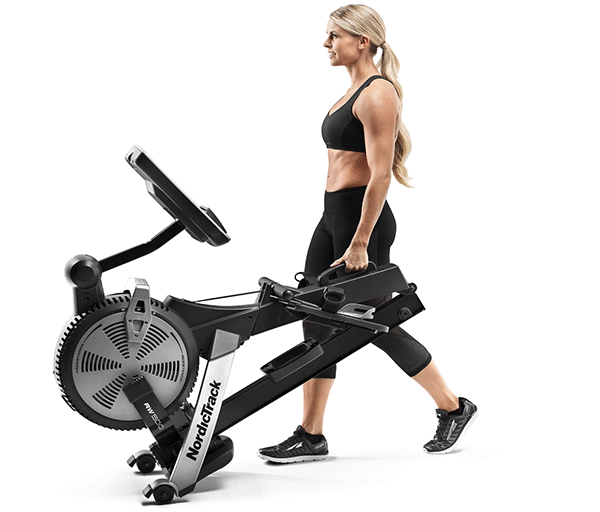 The RW500 does have a patented SpaceSaver® design. You can fold the RW500 by following these two very easy steps:
Lift the center handle and allow the seat rail to fold inward.
Tip the rower forward and allow the seat rail to fold in and clip into the front support bar.
The folded dimensions are roughly: 52.4″ x 22.0″ x 47.2″ (L x W x H)
Warranty
It offers 10 years on frame, 3 years on parts and 1 year on labor.
Verdict
| Pros | Cons |
| --- | --- |
| 30 pre-set workouts to use | Low weight capacity |
| Great warranty | |
| Foldable design | |
---
Besides the rowing machines mentioned above, there are other highly-qualified rowing machines out there, though being expensive. Some of them even cost up to $2000. But I guess you get what you pay.
Take Hydrow as an example. It stands on the top of magnetic rowing machine lists. If you are interested, you can read the review of best magentic rowing machines to get to know the beauty of Hydrow.
---
Workout programs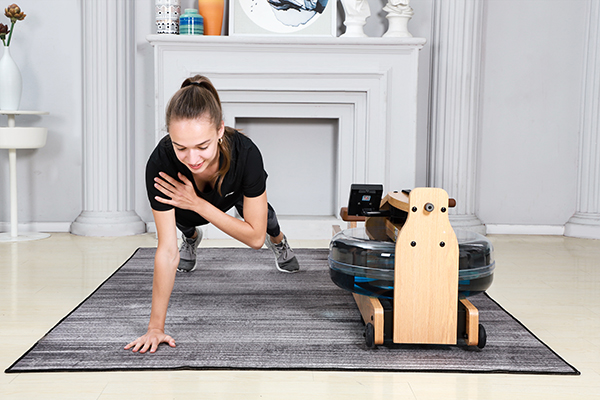 Rowing machine is a lifelone investment. Reading reviews and buying one rowing machine is only one step. More important step is to do workouts for your preferences and specific goals.
If you wanna lose weight, the article of guide of weight loss is helpful.
How about getting beautiful muscles? The article of workouts to tone muscles on rowing machines is what you need.
---
Upgrade rowing experience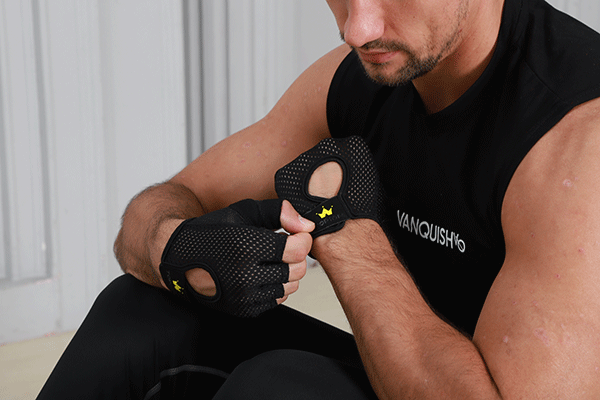 Rowing gloves can certainly help you from getting blisters, upgraing rowing workout to a more comfortable level.
Wanna bring picturesque lake scene to your home? VR rowing of Holofit provides total immersion in exceptional environments and a unique experience where wonder, change of scenery do not leave any place to boredom.
Do you know you can make a difference just by rowing at home? Rowing for charity is now on the swing.